We were asked to review this Crock-Pot slow cooker last spring. It was one of three we tested at the same time and, safe to say we've given them all a very, very thorough testing throughout lockdown and out the other side. This one has cooked soups, stews, whole joints of meat and even porridge. And – to save you the suspense, we loved it – but will you? And is it worth the price tag of just under £100? Read on to find out.
For more great buys, see our best slow cooker expert buying guide.
Crock-Pot CSC026 DuraCeramic Sauté 5L Slow Cooker: the basics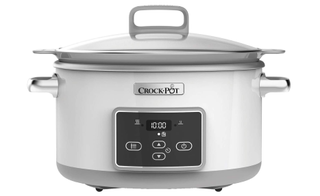 Slow cookers are all about intense flavour, tender and well cooked results, all achieved with minimum effort. So it stands to reason that a very simple slow cooker with very few complicated functions should tick the boxes that a busy cook might have on their list.
Yes, you might be interested to try the Russell Hobbs Sous Vide Slow Cooker (see our review on that, too), but if all you want is a family-sized slow cooker that, er... slow cooks, then this type of model is one that you should seriously consider. So what can – and can't – it do?
Sauté-ing – you can't sauté in this slow cooker (despite its name), but you CAN remove the inner bowl and put it on the hob for easy sauté-ing. The good news? It works on induction hobs, too.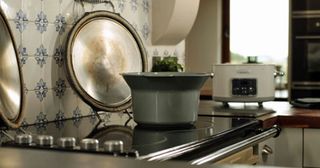 Slow cooking: well, you'd hope so. And it's really easy to get up and running. There are three temperature settings: high, low and keep warm. You simply turn on the slow cooker, select the temperature (high temperature = the three flames symbol; low temperature = two flames symbol; keep warm = three flames in a pot symbol). If we had to be picky, we'd say that it's a little slow to heat up, but once it gets going (allow at least five to 10 minutes), it's a great performer.
Keeping food warm: let's talk about this a bit more. Once the timer (more on that below) has run down, the slow cooker will automatically switch to the warm setting; ideally, food shouldn't be kept on this setting for more than four hours.
Timing your food: the timer can be set up to 20 hours but only in 30 minute intervals.
And that's it – but if all you ask of your slow cooker is slow cooking without any fiddly additions or fancy features, that's really all you need.
Other handy features of the Crock-Pot slow cooker
The removable bowl is bulky, no doubt about it. Or, to look at it another way, it's the perfect size for a large family or party food. Before lockdown, we used it to cook a huge chili in advance, transferring the bowl into the fridge overnight before reheating it the next day. That did mean emptying part of the fridge to make space for it and we didn't use the lid but swapped it out for a plate to gain a bit more space back in the fridge.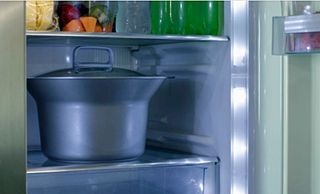 And yes, the removable bowl can go in the oven, too. However, you'd have to have a decent-sized oven to fit it in, and while we thought about it, we figured it was easier and more energy efficient to use the bowl within the slow cooker itself to heat food – and stick to our wider, shallower casserole dishes for oven-cooking. You can put the bowl under the grill as well, but, again, you'd have to have a whacking great big oven to do so.
Oven to tableware? It's not the best looking piece of kit out of the slow cooker, but we did put the bowl on the table when we cooked a big stew so everyone could help themselves. The bonus above all bonuses? The bowl and lid are dishwasher-proof, so cleaning up is super fast.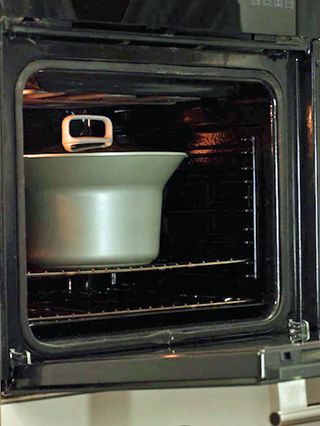 Let's big up that bowl a little more: it is tough. The DuraCeramic coating is scratch-proof and super easy to clean, and it's designed to transfer heat faster and more efficiently than ordinary non-stick coatings.
The downside? It gets hot so you'll need some good oven gloves to handle it.
Other things to note about the Crock-Pot CSC026 DuraCeramic Sauté 5L Slow Cooker
Size
There's no getting away from it: it's quite big (H32cm x W25cm x D35cm), so either ensure you have plenty of worktop space and/or cupboard space. We actually keep ours on an open trolley because it looks handsome enough and it gets lots of use, so we don't want to tuck it away, but neither do we have room for it on the worktop all the time.
Cleaning
As we've said above, the bowl and lid are dishwasher-safe – the rest of the slow cooker just needs a wipe over to keep it clean.
Our verdict
Honestly, we loved it. Here's why:
It's convenient and easy to use
Follow the recipes in the book you get with the Crock-Pot and you can't go wrong; then, when you're familiar with this model, you can start to be creative. We happily shoveled a load of ingredients into it at the start of the day (sounds appetizing), left it on low and came back for dinner hours later to find a (truly appetizing) meal waiting for us. We particularly liked the easy controls – so easy to pick up that we even handed over its operation to a bored teenager with great results. Were we annoyed by sauté-ing on the hob rather than in the slow cooker? No.
Sumptuous results
We have tested a range of different foods in the cooker from chili and fish stew to a range of slow roasted meats and even porridge. All were amazing, tastier than if we'd cooked them in the oven or on the hob and so low maintenance. And you know what? It inspired us to try new recipes, most of them heartier and healthier than our usual fare.
Price
Is it worth around or about £100? In our book: yes, and then some.