Fall is for PSLs and Gilmore Girls, winter is for hot chocolates and Christmas movies, and spring is for spring cleaning. But summer? Summer is the time for ALL of the outdoor activities, baby! But if you're broke AF (like me) and don't have the dollar bills to head to all of the festivals, parties, and events you'd like to, then it might be time to finally jazz up your outside space instead. That way, you can still enjoy the sunshine without having to pay $30 for a cocktail or wait 45 minutes to use a porta-potty.
Yep, sometimes it pays to spend a *little* bit of money on your rental — especially if you're buying outdoor furniture that can be taken with you to your next place. By sprucing up your space and giving yourself somewhere to chill with your besties, top up your tan, or even catch up on your work, you can really enjoy what the summer months have to offer and enjoy the sunshine in all of its glory. But what kinda furniture should you buy? In my opinion, it's time to get metal!
Quick Menu:
1. Metal patio furniture sets
2. Metal patio chairs
3. Metal patio tables
Metal patio furniture is a great option for those who want durable and easy-to-clean pieces that won't break the bank (or your back, because they're normally pretty light, too). And in this guide, I've scoured the internet for the best metal furniture sets, tables, and chairs, which means that you can find pieces that suit you and your space — no matter what you're working with. But don't worry, you'll still have money to buy some ready-mixed cocktails and hot dog sausages when you're done. Everything in this guide is under $300, so it's time to rock on bestie!
9 of the best metal patio furniture pieces that shoppers are loving RN
Why you can trust Real Homes Our expert reviewers spend hours testing and comparing products and services so you can choose the best for you. Find out more about how we test.
Metal patio furniture sets
If you're someone who likes everything to be perfect, perfect, perfect, then a metal patio furniture set might just tickle your pickle. With chairs and tables included, these sets have everything that you could possibly need for your individual space — and you don't need to worry about buying anything extra. With everything included in one fell swoop, you can spruce up your outdoor space with larger sofa sets, conversation sets, or even a full-on dining table setup! The choice is yours.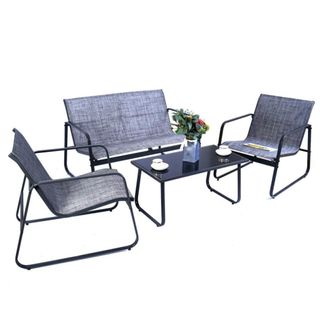 So much space
1. Wrought Studio™ Virginio 4 Piece Complete Patio Set
Includes: 2 x chairs, 1 x sofa, 1 x table
Chair size (in.): H29.5 x W24 x D18.5
Table size (in.): H16.1 x L32.7 x D17.3
Price: $169.99
I'm someone who likes to keep my circle small, so you won't catch me throwing any ragers in my yard. Well, not yet, anyway. If you're the same (high five), then this 4-piece metal patio set could be IDEAL for your patio or balcony. Made from powder-coated steel, these chairs, sofa, and table are totally rust and UV resistant, and they're super elegant, right? These stylish pieces are all separate, which also means that you can configure them however you'd like. And if you're not a fan of the gray color, you could choose to buy the navy blue option instead!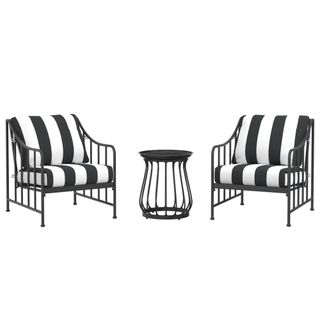 Stylish stripes
2. Better Homes & Gardens Aubrey 3-Piece Stationary Chat Set
Includes: 2 x chairs, 1 x table
Chair size (in.): H31.81 x W26.22 x L30.63
Table size (in.): H20.79 x W17.72 x L17.72
Price: $274
If you want to give your patio a makeover but you're not sure where to start, can I recommend some stripes? I am utterly OBSESSED with this Walmart beauty, and I'm actually kinda impressed it's less than $300. It looks super stylish and super expensive but is great for those looking to go bougie on a budget. Yep, this conversation set features a metal frame, while also offering the comfort of the giant and very fluffy-looking cushions. Plus, the table is just big enough to hold a pitcher of your favorite alcohol. For when you're drinking solo, ofc.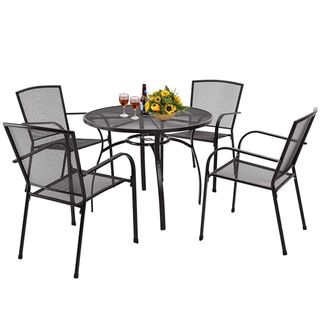 A full dining set
3. AECOJOY 5 Piece Patio Outdoor Dining Set
Includes: 4 x chairs, 1 x table
Chair size (in.): H34 x W21 x D18
Table size(in.): H28.5 x D37.2
Price: $189.99
There's nothing quite like being able to eat your dinner al fresco. From the warmth of the sun hitting your face to the gentle breeze tickling the lettuce on your plate, eating outside is the bomb. So, why not add a full 5-piece metal dining set to your shopping cart? This incredible set comes complete with four chairs and a table, and the table even has an umbrella hole so you can shade yourself from the sun with a cute parasol if it gets a bit too apocalyptic out there. Remember your sunscreen, kids.
Metal patio chairs
Let's be honest; chairs are pretty important. From cute li'l reading nook chairs to dining room chairs, these things can make or break a space. That's why I've searched high and low for some of the best metal patio chairs on the market RN. These bad boys can be mixed and matched with other chairs, you could buy a set of them, you could keep them on their own, or you could buy a table to go with them. Whatever you choose, I have a feeling that you'll love them as much as I do.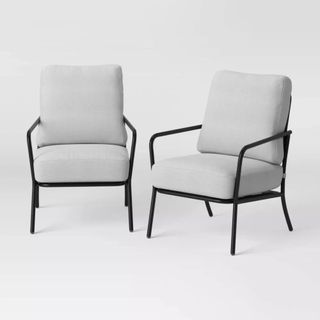 Nice and neutral
4. Room Essentials™ 2pk Metal Mesh Patio Club Chairs with Double Cushions
Includes: 2 x chairs
Size (in.): H34.06 x W26.54 x D30.55
Price: $300
When looking for metal patio chairs, you need to decide what you want. Do you want bold and bright? Or do you want chic and neutral? If you want the latter, then say no more! These two metal club chairs are simple and stylish, but still stand out with their chunky gray cushions. I have NO DOUBT that these chairs will match any metal patio table you choose, and you can rest easy knowing that the cushions are completely fade-resistant. So, you don't need to worry about covering them up when you're not using them.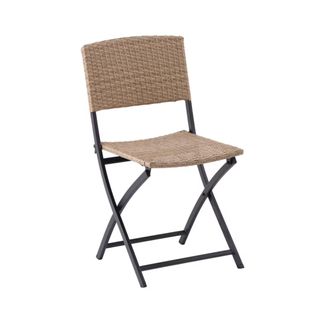 Wonderfully wicker
5. Style Selections Wicker Black Metal Frame Stationary Dining Chair
Includes: 1 x chair
Size (in.): H32.28 x W16.54 x D21.46
Price: $48.98
Sure, metal is great. But a metal and wicker combo? Man, that's a match made in outdoor furniture heaven! And if you're opting for a more boho look with your outside space, then I think this dining chair nails that brief. Of course, you'll have to buy this a few times over if you're looking to deck out your whole outdoor dining area, but for just $48.98 a piece, I'd say that they were a pretty good price. You could choose to make your own bistro set or buy 4 or even 6 of them to go around a larger outdoor dining table. The options are endless.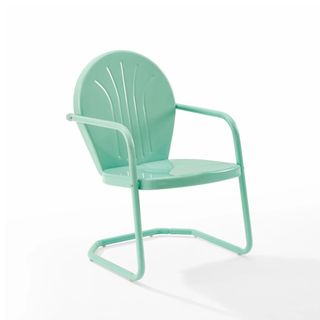 So many colors
6. Crosley Griffith Metal Chair
Includes: 1 x chair
Size (in.): H34.5 x W21 x D28.5
Price: $77.94
Anyone else getting major Wes Anderson home decor vibes from this one? This bright metal chair really is something else, and is both retro and modern at the same time. But the main thing I absolutely LOVE about this chair is the fact that it comes in so many cool and quirky colors. From blue to yellow, there are 7 (!!!!!) amazing colors to choose from here. You don't need to worry about this color fading, though. This chair is made from non-toxic, powder-coated, and UV-resistant metal, which means that it will look as good as new for years.
Metal patio tables
If you're planning on using your outdoor space for garden parties and chilled morning coffee breaks, then you're probably going to want a patio table. After all, they come in pretty handy when you need somewhere to eat, drink, and be merry! Thankfully, metal patio tables are super easy to maintain, as most of them are wipe-clean and weatherproof. All you need to focus on is choosing your favorite patio chairs and making yourself the best cup o' Joe (or Aperol Spritz) in all of the land.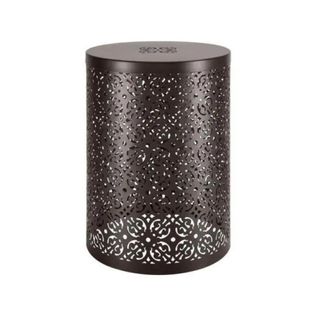 Small and compact
7. Hampton Bay Metal Outdoor Patio Garden Table
Size (in.): H18.5 x W14 x D14
Price: $71.10
If you're looking for a small side table that doesn't take up too much space on your small patio or balcony, this table has got you covered. It's not huge, but it's still big enough to hold your summer read, a large cocktail, a bag of Cheetos (NB: very essential), and your phone. And it's pretty cute, too, right? It's made from iron but with a bronze finish and offers decorative accents that make it stand out from the crowd. And the best bit? It doesn't need to be assembled!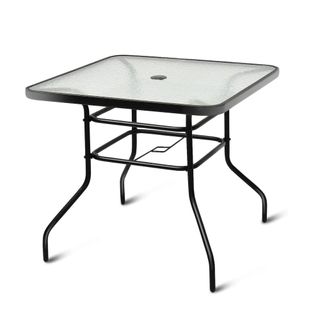 The budget option
8. Tangkula Outdoor Dining Table with Umbrella Hole
Size (in.): H28 x W32 x D32
Price: $85.99
I'm not made of money (I wish), which is why I always love to include a budget option in these guides. So, it's time to introduce the Amazon metal patio table… complete with an umbrella hole! But while this table might be cheaper than some of the alternatives you can find online, it's still great quality. In fact, shoppers have rated it 4.4 stars out of 5 based on its affordability, sturdiness, and ease of assembly. The main frame and legs of the table are super durable thanks to the metal, but the glass looks super stylish thanks to the glass. It really is the best of both worlds.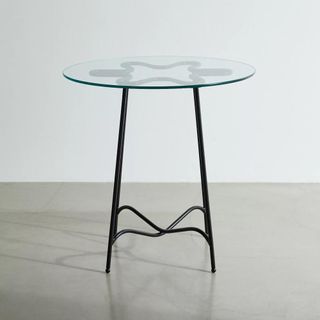 Cute and quirky
9. Ophelia Indoor/Outdoor Bistro Table
Size (in.): H30.1 x D30
Price: $299
One thing about me is that I will be a hardcore Urban Outfitters home furniture fan until the day I die. Although their pieces are a little pricier than other retailers, the quality is always TOP NOTCH, and the designs are always so cool! That's why I'm absolutely obsessed with this indoor/outdoor bistro table. Not only can this be used both indoors or outdoors (it's super versatile, y'all), but it's also pretty neat. The glass tabletop is great for making small outside spaces look bigger, but the unusual metal pattern underneath gives it a lil' edge. It's awesome.
FAQs
How we chose this metal patio furniture
All of the metal patio furniture in this guide has been chosen because the Real Homes team believes they are the best on the market. We always choose products that are rated highly by customers — and don't worry, we always choose ones that won't break the bank, either.
Where to buy metal patio furniture
Still looking for the best metal patio furniture? Check out some more at our favorite retailers below.