When your home needs a little TLC, it's easy to forget about the harsh chemicals that come with so many of today's cleaning products. Sure, you're caring for your home, but are you doing so at the expense of the planet? While going completely sustainable is a tall order, there's nothing stopping us from making small steps to improve our cleaning practices. I, for one, could do a lot better.
That doesn't mean spending hours trawling the web, though. Lucky for you, we have done the hard work already. All you need to do is read on, and pick out your essential eco-friendly cleaning products to fill the space underneath your sink. Whether it's time for a bathroom blitz (AspenClean, we're looking at you!), you're fixing up the roof, or simply putting a wash on, every chore has an easy-to-use solution, designed mindfully. This might just mean your chosen cleaner comes in recycled packaging, uses plant-based ingredients, or is non-aerosol. Perhaps, it's simply the ever-resourceful microfibre cloth that helps you do more and create less waste. Together, these form a move in the right direction.
See our favourite eco-friendly and non-toxic cleaning products just below, and start the year by slowly stacking your cabinets with solutions that are kinder on the planet. You definitely won't regret it.
18 eco-friendly cleaning products for your sustainable home
Why you can trust Real Homes Our expert reviewers spend hours testing and comparing products and services so you can choose the best for you. Find out more about how we test.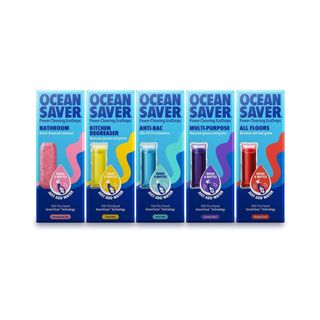 1. OceanSaver Cleaning EcoDrops Collection
The best eco cleaning product out there
Cruelty-free? Yes
Biodegradable formula? Yes
Packaging: Recyclable box, dissolvable pod
We swear by these cleaning drops, and this multi-pack will sort your entire home in an instant. So long as you have a few empty spray bottles they'll be super easy to use. Mix them with water, give the bottle a shake, and you're ready to spray. This way you won't be left with any plastic waste, and you can dilute them to your preference. Our favourite has to be the Anti Bac solution that can be used pretty much in any room.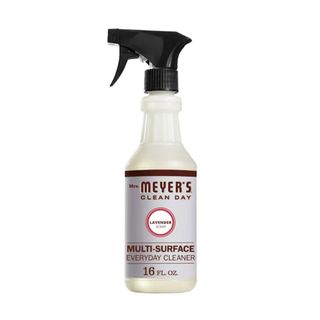 2. Mrs. Meyers Clean Day Multi-Surface Cleaner Spray
Our favourite eco cleaning spray
Cruelty-free? Yes
Biodegradable formula? Yes
Packaging: Recyclable plastic bottle
The perfect everyday cleaning supply, this cleaner is great for all around your home. Affordable, well-scented and cruelty-free, this is essential for your cleaning caddy. This spray is a golden pick because it's made with plant-derived ingredients and avoids artificial colours, parabens, and glycol solvents. Well-scented and thoughtfully made, what could be better to spritz your home with?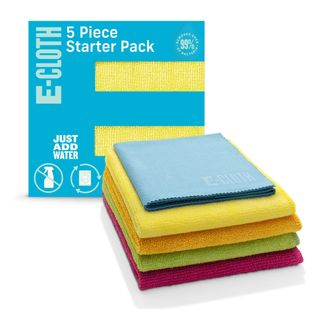 Our favourite eco cleaning cloths
Cruelty-free? Yes
Packaging: Washable cloths
Using these E-Cloths alongside your cleaning products makes a big improvement to the sustainability of your set-up. You can get any and every cleaning task done with these cloths, which are suitable for countertops, appliances, and glass. Thanks to the precision-engineered microfiber texture, they work wonders for dustier spots, and with the option to wash them up to 300 times, they're sure to last. I practically swear by mine.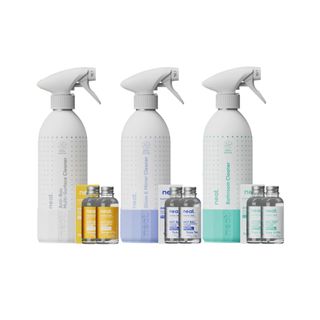 4. Neat Anti-Bac Essentials Bundle
Our favorite eco cleaning kit
Cruelty-free? Yes
Biodegradable formula? Yes
Packaging: Reusable stainless steel bottles
You know what they say: buy cheap, buy twice. And this is certainly proven to be true by this eco cleaning bundle from Neat. You need only spend £28.50 once, and you'll have these stainless steel cleaning bottles for life. You buy recyclable refills to use with them, otherwise you can fill them with your own cleaning sprays. Included in this set are anti-bac, glass and mirror cleaner, and bathroom cleaner. Each one comes with two refills. That's six bottles of solution in total.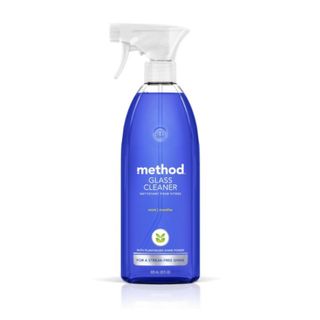 Our favourite eco glass cleaner
Cruelty-free? Yes
Biodegradable formula? Yes
Packaging: Recycled & recyclable plastic bottle
This is without a doubt our favourite glass cleaner. We use it for cleaning everything, including our windows, glass coffee tables, shower screens, and even our television. It gets rid of streaks with one wipe, and you can either wipe it on with newspaper or a microfibre cloth. Plus, its mint scent means it smells way better than vinegar!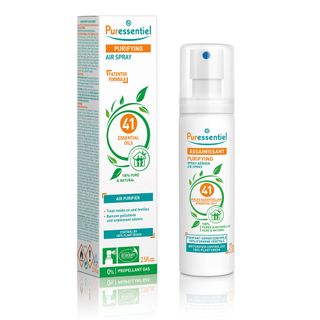 6. Puressentiel's Purifying Air Spray
Our favourite eco air freshener
Cruelty-free? Yes
Packaging: Recyclable spray bottle
Puressentiel's Purifying Air Spray is our favourite air freshener, and the best part is that it's made with no synthetic chemicals — just a unique blend of 100% pure and natural essential oils. Just one spray will make a difference and you'll immediately notice the air clearing. As for the scent, it's natural and fresh with notes of tea tree, peppermint, and eucalyptus.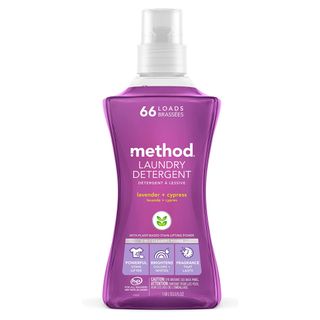 7. Method Liquid Laundry Detergent
The best eco-friendly laundry detergent
Cruelty-free? Yes
Biodegradable formula? Yes
Packaging: Recycled & recyclable plastic bottle
Method is an eco-friendly brand that goes the extra mile with its excellent packaging, amazing scents, and plant-based stain removers. This laundry detergent is just one example of the excellent work Method is doing to make cleaning your home a little kinder on the planet. You can also choose a refill option that comes in a recyclable pouch instead.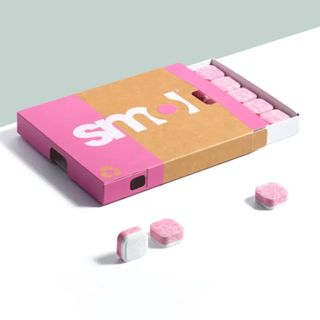 8. Smol Dishwasher Tablets
The best eco-friendly dishwasher tablets
Cruelty-free? Yes
Biodegradable formula?
Packaging: Dissolvable pods, recyclable box
We swear by these dishwasher tablets for streak-free glassware and sparkling cutlery. Plus, they are pink in colour so they look very cute on display in your kitchen. Essentially, they work on a subscription basis. You tell Smol how many times a week you use your dishwasher and it delivers you the exact number you'll need over a month. They arrive in fully recyclable packaging and the cover on the pods dissolves in your dishwasher. You also get your trial box for free. Switching supermarket-bought tablets for these ones means you'll use 46% less carbon.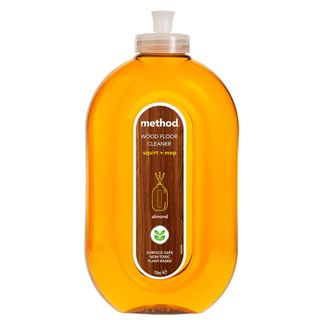 9. Method Daily Wood Cleaner
Our favourite sustainable cleaner for wood surfaces
Cruelty-free? Yes
Biodegradable formula? Yes
Packaging: Recycled & recyclable plastic bottle
Yet another plant-based icon to add to your caddy, this wood cleaner is ideal for daily use, not to mention non-toxic. Capable of removing dust and grime, and created to prevent harm to your surfaces, this handy squirt and mop solution can be used to your heart's content. Oh, and that almond fragrance reminds us of the marzipan in a cherry Bakewell... Or an amaretto sour.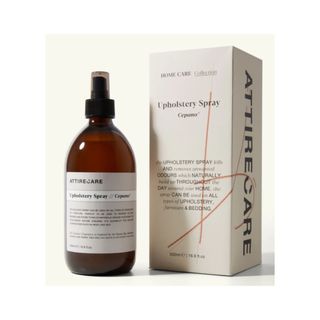 10. Attirecare Upholstery Spray
Our favorite eco upholstery refresher
Cruelty-free? Info not available
Biodegradable formula? Yes
Packaging: Recyclable glass bottle & lid
If you're looking to buy an upholstery refresher, then let this one from Attirecare be it. It comes inside an amber glass bottle that you can fully recycle and doesn't have that expected chemical scent. It offers peace of mind when it comes to refreshing your sofa or mattress, and it kills bacteria. A few sprays go a long way, so although it is pricey you won't be buying a bottle a month. They also plant a tree for every order.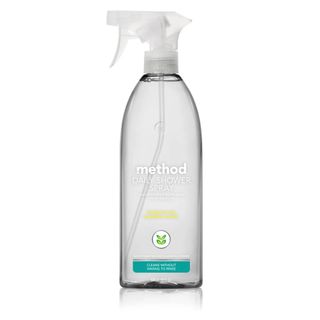 11. Method Shower Cleaner Spray
Our favourite eco shower cleaner
Cruelty-free? Yes
Biodegradable formula? Yes
Packaging: Recycled & recyclable plastic bottle
Take it from us: This is the easiest shower cleaner to use in the history of all shower cleaners. Simply spritz it around your shower (when it's wet), and it gets on with the job, dissolving watermarks, soap scum, and residue. It's free from toxic chemicals, has a fresh eucalyptus and mint scent, and contains that rinse-free formula. Talk about a legend in the making. Now that you know how to clean a shower quickly (and thoroughly), you've got no excuse.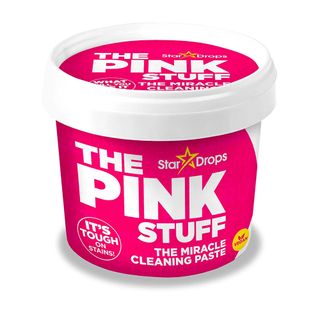 12. Stardrops The Pink Stuff All-Purpose Cleaning Paste
Our favourite eco cleaning paste
Cruelty-free? Yes
Biodegradable formula? Yes
Packaging: Recyclable pot
Whether you're cleaning saucepans, your BBQ, or even rusted garden furniture, this mighty paste has your back. Designed using a non-toxic, environmentally responsible formula, the Pink Stuff is our definition of an all-rounder. Its ingredients are 99% natural and biodegradable. There's not much this cleaner won't work wonders on.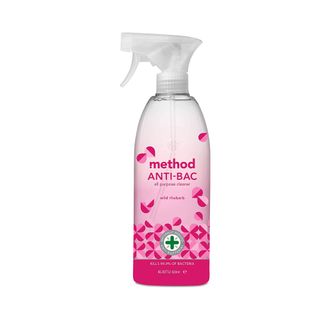 13. Method Anti Bac Spray
Our second favourite eco all-purpose cleaner
Cruelty-free? Yes
Biodegradable formula? Yes
Packaging: Recycled & recyclable plastic bottle
This cleaner is a staple in several Real Homes team members' homes. Why? It's a multi-purpose solution so you can use it pretty much anywhere, and it smells AMAZING — just like fresh rhubarb. Just spray, leave for a few minutes, and wipe away. It kills bacteria yet is plant-based and cruelty-free. Its bottle is recyclable but the cap, trigger, and pump aren't, just an FYI.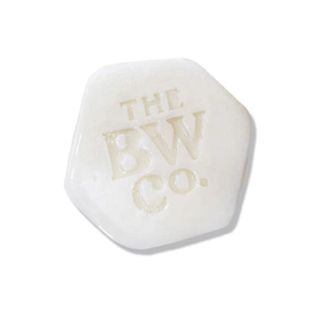 14. The Beeswax Wrap Co Solid Dishwashing Soap
The best eco-friendly dish soap
Cruelty-free? Yes
Biodegradable formula? Info not available
Packaging: None
If you're fed up with buying plastic bottles of dish soap, then we're right there with you. This solid bar might take some getting used to, but it's totally worth it in our eyes. It lathers well and it's fragrance-free, so your plates won't smell like artificial strawberries (always a bonus, eh?). It's handmade and also palm oil free, too. For best results, fill your sink with hot water and dirty dishes and using your favourite scrubber, brush some of the soap into the sink as it lathers. A little goes a long way with this stuff.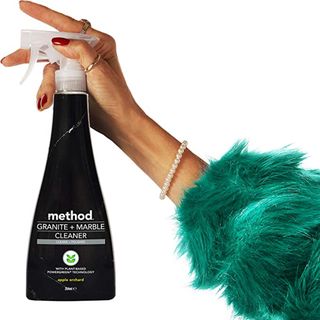 15. Method Daily Granite & Marble Cleaner Spray
For cleaning granite
Cruelty-free? Yes
Biodegradable formula? Yes
Packaging: Recycled & recyclable plastic bottle
Granite surfaces can be a real problem, so invest in this cleaner for a smoother cleaning experience. This one can be used daily and is plant-based too. It'll leave your worktop sparkling and won't damage the precious granite material.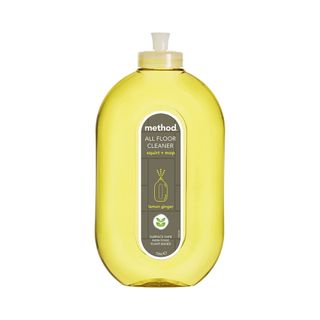 16. Method Lemon Ginger Floor Cleaner
Our favourite eco-friendly floor cleaner
Cruelty-free? Yes
Biodegradable formula? Yes
Packaging: Recycled & recyclable plastic bottle
Use this with your mop and you'll be left with floors that look brand new and smell incredible. The best part? It's totally non-toxic so you can use it peacefully knowing your pet or a little one is safe to roll around as much as they like. It's as easy as squirting it on your floors from the bottle and working it in with a mop. Some people prefer to dilute it to make it last longer as it's not the cheapest stuff. It won't leave a waxy residue either.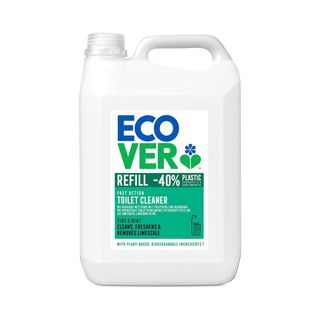 17. Ecover Pine & Mint Toilet Cleaner
Our favourite eco-friendly toilet cleaner
Cruelty-free? Yes
Biodegradable formula? Yes
Packaging: Recycled & recyclable plastic bottle
Choose this environmentally-friendly toilet cleaner to keep your loo hygienic without using harsh chemicals. It cleans, decalcifies, and freshens at the same time. It's only for those who have a septic tank, and the fresh fragrance it leaves behind is derived from plant-based ingredients. In terms of the packaging, we recommend buying the larger 5-litre bottle if you can store it as it saves both money and plastic. Otherwise, its bottle, label, and cap are all 100% recyclable.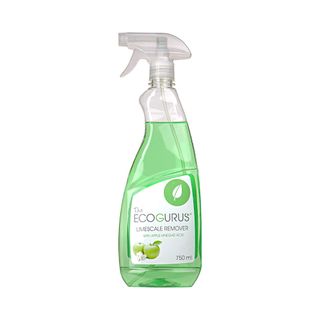 18. The EcoGurus Natural Limescale Remover
The best eco-friendly limescale remover
Cruelty-free? Yes
Biodegradable formula? Yes
Packaging: Recycled bottle
Ugggh, limescale. You can officially wave goodbye to scrubbing and hello to this eco-friendly solution. It can get rid of limescale build-up that you'd given up on, including rust and soap scum in the bathroom as well as calcium deposits on shower screens. It's perfectly safe to use around children and pets as it's preservative-free with no added phosphates and it's biodegradable. It also works wonders on glass and it can remove mould and mildew from tiles, sealing, and more. Its solution is produced using solar power and its packaging is made of recycled materials.
Real Homes review process: How we chose these eco cleaning products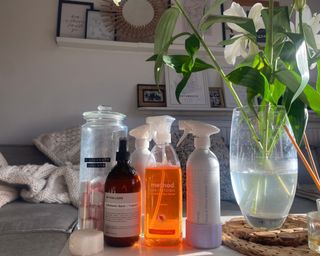 The vast majority of the eco-friendly cleaning products we've included above have been tried, tested, and (obviously) loved by a member of Real Homes. Now, in order to test a load of products from a range of brands, we split this task between the team. This way, no one has to unnecessarily clean or use any products they don't actually need as we're very keen on trying to be eco-friendly.
We're not going to go through each product one by one and say who reviewed it, but what we will list is our favourite eco-friendly brands that we buy when shopping for underneath our sink. Here's what we love...
Hi! I'm Annie, the head ecommerce editor at Real Homes. This means I am in charge of all of the money-making content on the site, from eco-friendly cleaning products all the way to furniture roundups and more. I'm forever trying to be more eco-friendly at home, whether through my cleaning or buying habits. The two eco-friendly brands I truly couldn't live without would be Smol and Ocean Saver Drops. I've had a Smol subscription for years which means I get eco-friendly dishwasher and laundry tablets delivered through my letterbox based on how often I use them. It's convenient, affordable (I did a price comparison with supermarket tablets), and they're pretty great. Otherwise, if I ever run out of cleaning stuff I will always go for Ocean Saver Drops as they're sold at most major supermarkets. I have so many empty bottles that I put them into and use my label maker to keep track of what's in each container.
Hello, I'm Christina, Real Homes' ecommerce editor. I look after all of our small kitchen appliance content, which is both a blessing and a curse. Yes, this means I spend a lot of time cleaning appliances. So, you can bet I always have a bottle of Method's Anti Bac (rhubarb scent ftw) or Mrs. Meyers Clean Day spray (in lemon verbena) under my sink.
Hi, I'm Nishaa, staff writer at Real Homes. I swear by the entire Method range of cleaning products, but my three staples are the clementine kitchen cleaner, eucalyptus mint bathroom cleaner, and the glass cleaner. The products are all plant-based and biodegradable, so they're pet-friendly and planet-friendly too.
What else to do when searching for eco-friendly cleaning products
1. Limit how much packaging you buy
Decide whether you want separate items for different uses or if you'd prefer something multi-purpose. Doing so will cut down on the number of bottles you need to buy.
Check that the bottle is recycled and/or recyclable and that the bottle top and label are too. Ideally, choose something that either comes in a large container that will last for ages or something where you can buy refills.
2. Check the list of ingredients
This way you can make sure they are chemical, bleach, chlorine and phosphate-free and look for natural and plant-based extracts, especially if something has a fragrance. Essential oils are fine but artificial perfumes or additives aren't.
3. Look for natural remedies
If you want to create your own eco-friendly cleaning products, you can always stock up on things like the E-cloths we featured above, baking soda, vegetable soap, lemon juice, and vinegar, as these can be used in so many ways to clean just about anything!
Browse more eco-friendly cleaning products...
If it's really important to you to be able to switch your normal buys for an eco-friendly or non-toxic cleaning product alternative to clean every corner of your house sustainably, then you might still be looking for more cleaning products. These are our favourite retailers for picking up planet-friendly options...