Looking for the best chaise sofas? As one of the key pieces of furniture in the living room we know choosing a new sofa can be a difficult decision. After all, a sofa needs to fulfil a lot of criteria, including suiting your decor, your budget, and, most importantly, being a place to relax and get comfortable. And with most options proving a fairly hefty investment, it's a purchase we all want to get right.
You'll find plenty of options in our guide to the best sofas you can shop right now, but if you want a little more bang for your buck, then a chaise sofa can be just the ticket. A chaise sofa features an L-shaped seat design, with that extended section offering some oh-so-vital extra lounging space and allowing you to kick back and relax with your feet up at the end of a long day. However, not every sofa model comes with a chaise option, and not all chaise sofas are created equal, which is where this round-up is designed to help.
Whilst nothing can beat going to test out a sofa for yourself – after all, one person's 'too soft' can be another person's 'just right' – it can be useful to have a few tips on where to start in your search, plus not all sofa showrooms are within easy reach for everyone.
That's why we've done the legwork to help to narrow down the options in the hunt for the best chaise sofa. We've walked multiple miles around multiple sofa showrooms and tried and tested all of the bestsellers, toning our glutes with sit-test after sit-test. We've also read multiple reviews from existing owners, grilled the Real Homes team for their expert opinions, and considered upholstery options, lead times, and, of course, pricing when coming to our verdicts.
For in-depth buying advice just scroll to the end of this page, but if you're ready to start shopping now then you'll find our edit of the best chaise sofas available right now – in terms of style, price, and budget – listed directly below.
---
Best chaise sofas tried and tested: stylish, comfortable, and affordable
Why you can trust Real Homes Our expert reviewers spend hours testing and comparing products and services so you can choose the best for you. Find out more about how we test.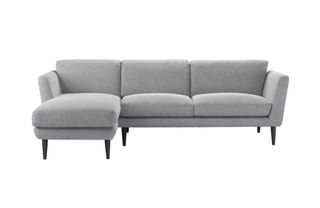 A reasonable price point, wide range of upholstery options, great selection of coordinating furniture and 'just right' comfort levels that offer both squish and support, plus a seat depth that works for either sitter-uppers or curler-uppers, mean the Holly chaise sofa comes top of our list as a great all-rounder.
Its stylish high-legged design lifts the sofa frame clear of the floor to add visual spaciousness to a smaller room, whilst the narrow armrests maximise seating space without adding too many inches to its overall footprint. Plus, the chaise section isn't as deep as many options, so it makes a great option if you're working with a compact space. Those tapered legs also mean the design has the versatility to work well in a contemporary home and enough refined elegance to blend perfectly into a period property.
The seat cushions feature our favourite hybrid construction (find out more about choosing your sofas cushion fill in the buying advice at the end of this page); in this case, a feather-wrapped foam mix that offers a layer of sink-in comfort with a low-maintenance supportive foam core that won't need plumping, whilst the feather-filled back cushions offer squish that's supported by a high back frame, so you get comfort without too much deflation. We also liked the high armrests which mean there is back support if you like to sit sideways with your feet up too – although that height does make reaching for the coffee table a little harder.
We tested a velvet upholstered model, which may have made the sitting experience a little softer than alternative fabric options, and liked the tactility velvet adds to the otherwise quite structured frame. However, there are 70+ upholstery options to choose from, including some great family-friendly smart velvets and cottons, textured bouclés, leather, and linen-mix options, plus two shades of leg colour to create a look you love.
---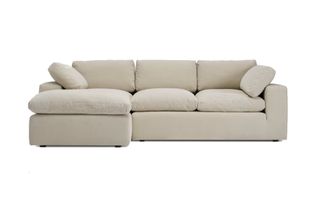 Ever fancied reclining on a cloud whilst catching up on your favourite Netflix series? MADE's Samona sofa aims to offer just that, with super soft, enveloping seat cushions that feel like sinking down into a deep puffy duvet and generous proportions that make it akin to climbing into bed.
That said, those super-soft feathers and fibre mix cushions did split opinion on our team, with some reviewers loving the enveloping experience, and others finding the whole thing a little too soft and claustrophobic for their liking... 'like being eaten alive by your sofa'...
If you're looking to find a sofa that's super sink-in-able though – and you don't mind doing the regular plumping that those fibre and feather-filled cushions are going to require – then this option comes in at a good price point.
We tested the cotton and linen mix upholstered sofa, which in two light shades has a luxe-looking designer feel (although bear in mind the seat cushions aren't reversible, so spillages won't be easy to hide) or there are darker velvet options, including a rich pistachio green that caught our eye.
---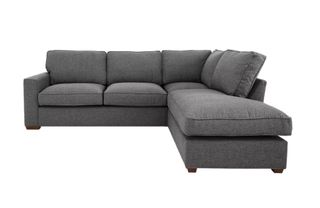 You are going to need a slightly larger living room for this option, as at 280cm this is one of the widest chaises in our round-up, but that does mean generous seating space, and for the long-legged amongst us the chaise section is one of the longest too.
Having tested a few models in different upholstery options – with both the classic back cushion or scatter back cushion design – we've been impressed by their comfort levels, with a seat depth that's the perfect compromise between loungey and upright to keep both sitters and curler-uppers content, and sink-in yet supportive back and seat cushions, plus good height armrests.
And, unusually, that goes for the chaise sofa bed version too, which was barely distinguishable from the dedicated sofa in terms of seat comfort – somewhat of a rarity if you're looking for a multifunctional sofa that will allow you to host guests without compromising on your own comfort if the sofa bed also needs to be your main living room seating.
The potential downside is the shortage of upholstery options. We weren't blown away by either the slightly-too-shiny Dallas woven chenille or the slightly too thin Cosmos polyester option, although all are versatile neutrals. But, as long as you're happy with grey or beige (and statistics show most of us end up playing it safe this way) then this sofa still remains a good all-rounder at a great price point that's well worth considering, especially if you time your purchase with one of Furniture Village's fairly regular sales.
---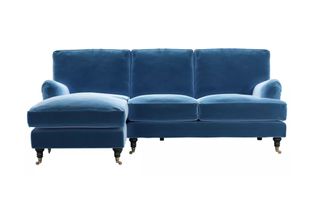 If you're looking for a chaise sofa that's a little more classic in style, then the Bluebell from Sofa.com could be right up your street.
Rolled arms, smart piping, turned wooden feet and castors give this sofa plenty of period charm, which makes it a great fit if you're looking for seating that will work in a Victorian terrace or Edwardian townhouse – or you want to add some character to a new build.
The cushions are a good mix of hybrid materials, with seat cushions made from feather-wrapped foam to give that authentic traditional sink-in feel (without the constant plumping or flattened seats of pure feather cushions), and the feather & fibre back cushions – although a little prone to deflation – were still comfortably supportive, they may just need a little extra TLC to keep them in shape.
As one of Sofa.com's bestselling styles, the Bluebell also benefits from a wide range of coordinating furniture and a wealth of 90+ upholstery options, making finding a suitable colour and fabric an easy proposition. Just bear in mind that upgrading the fabric will mean some steady jumps in price.
---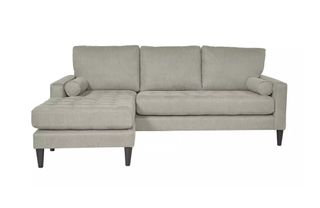 It's rare to find a chaise sofa that's under £1,000 (at full price this option comes in at just a smidge over) so we weren't expecting great things from Habitat's Hudson, but although it doesn't come top of our list in comfort terms, we were still pleasantly surprised by the seat comfort, with this foam and fibre option offering a firmer sit than most other options on our list, but still a good amount of softness for the price.
If you're renting, or likely to move house anytime soon, then this option also offers the invaluable benefit of allowing you to swap the chaise from one side to the other, and it really couldn't be simpler; the base of the chaise section is actually a footstool base, so all you need to do is transfer that from one side to the other, and then swap the longer chaise cushion (this is all one piece) and the seat cushion over.
The downside is the lack of upholstery options, with only three colourways on offer, and one of those a slightly hard-to-cordinate bright yellow. However, despite the low price point, an effort has been made with the details, with the Chesterfield-style buttoned seat and bolster cushions adding some welcome detail.
---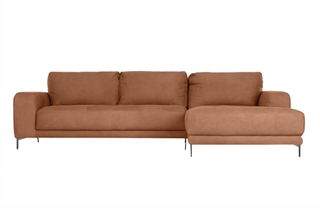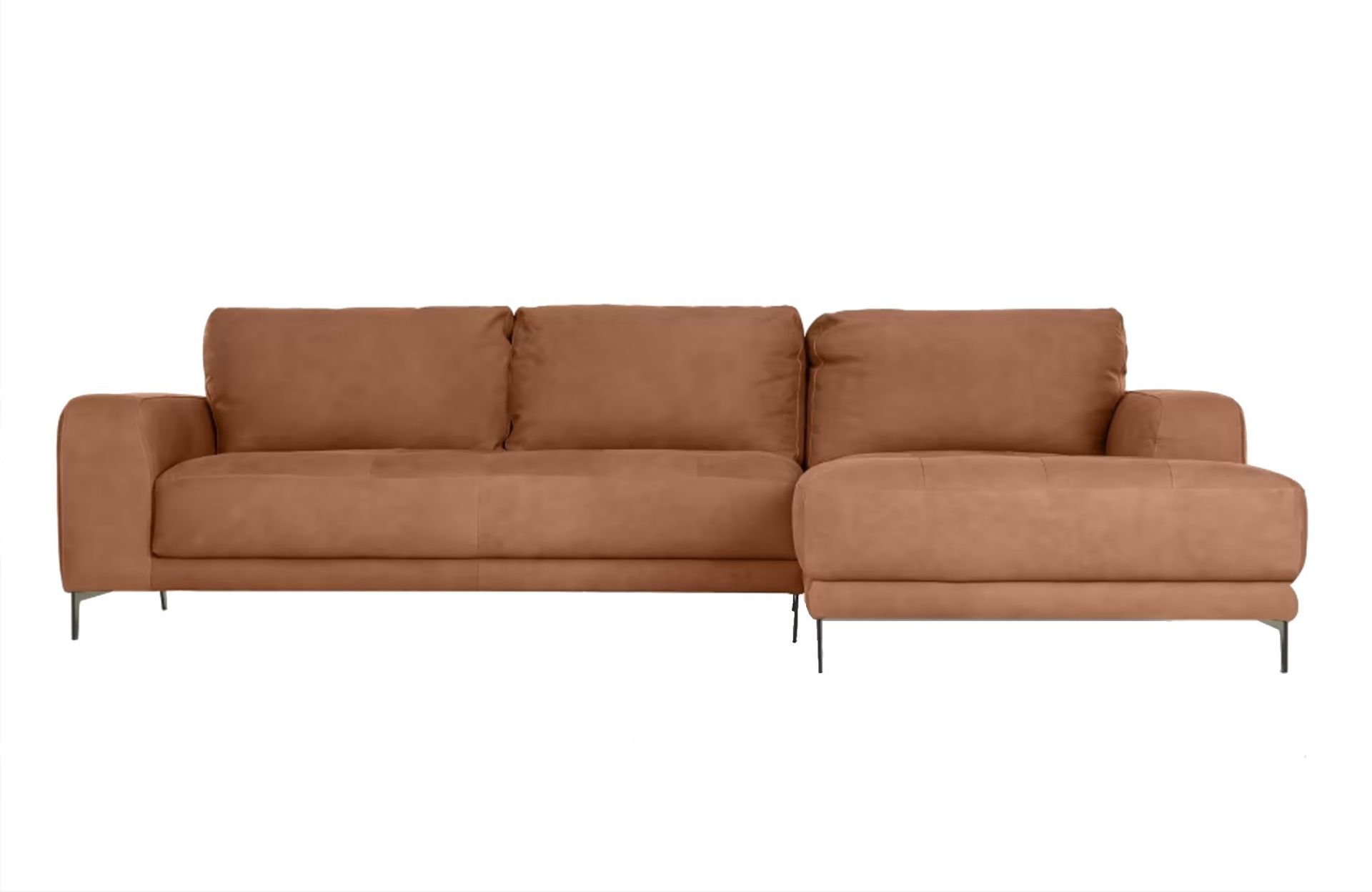 A leather upholstered sofa always means an increase in price, however, leather's added durability and handsome good looks still make it a very popular choice, and we think MADE's Luciano leather chaise is a great option to consider.
The tan leather model we tested had the perfect amount of bounce and squish-factor to the seat, whilst we found the angled backrest to be super comfortable, soft and supportive, unlike many leather couches which can be fairly rigid. The armrests are also nice and wide, and the slanted angle of the internal arm makes it comfortable for lying down and resting your head on the armrest when you're ready to activate full lounge mode (if you're not the person who lucks out with the chaise section).
The three colour options of leather upholstery also feel great to the touch, with a soft, buttery feel and a matt velvety texture that's a world away from the cheaper looking leathers you generally find at this price point. And, all are great desaturated neutral shades that look much more luxe than their price tag suggests.
We were a little less impressed by the velvet upholstery options, and although we couldn't test a velvet option in person, the online reviews are more of a mixed bag, with many suggesting it seems a much firmer proposition than its leather counterpart. Other than that the only other downside is that you might need to be prepared for a bit of a wait. MADE usually has fairly long lead times, and it's not uncommon for those waits to get a little lengthier after you've ordered if stocks are low. Something to consider if you need somewhere to sit pronto.
---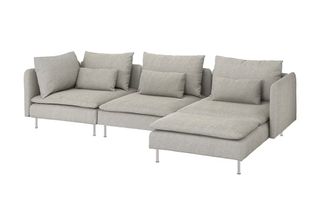 IKEA's Soderhamn sofa is all over Instagram for a reason, and that's because it delivers a cool and contemporary look at a very affordable price point.
The modular flat-packed design is also brilliant for homes that have awkward access as it can be built in situ, and the sectional units offer a wide scope to create the configuration that works best for your home, plus it can easily be reconfigured to suit a new interior if you move home.
We were also far more impressed by its comfort levels than we expected to be from its admittedly pretty thin seat cushions, mainly due to the mesh seat frame that allows for a little sink and makes the sitting experience gentler than expected. Those seats are deep and very low though, so the style won't be for everyone. But, if you don't mind your feet not touching the floor then the loose lumbar cushions make for a relaxed yet comfortable reclining position.
The standard upholstery options are limited, although IKEA's replacement covers are a brilliant option for families and anyone who wants to extend their sofas lifespan beyond the inevitable spillages. If you want to switch things up a little more, then Stockholm-based Bemz has built an entire brand offering covers to restyle IKEA's most popular sofa designs, with over 100 upholstery choices available for the Soderhamn, plus a great range of legs to swap out the default chrome the sofa comes with.
---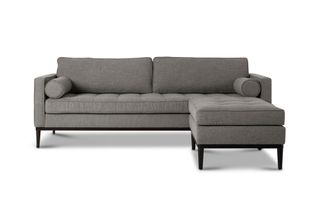 Offering more sofas that can cope with tricky access requirements, are sofa-in-a-box specialists Swyft. The brand's flat-pack designs make getting your new sofa to its final destination a stress-free experience, with each box far more likely to fit through narrow doorways, tight hallways, and up multiple flights of stairs than a fully-built sofa.
Having tried and tested a good selection of Swyft models (see our Swyft Model 02 sofa review and Swyft Sofa Model 03 review) we can also confirm that self-assembly is a fairly easy process, with no tools needed (although plenty of cardboard to dispose of in the aftermath). Plus, if time is of the essence and you're looking for a sofa with quick delivery, then a Swyft sofa is likely to be one of the fastest options going. In-stock designs arrive in under 7 days and can be delivered in just 24 hour hours if you buy direct from the Swyft website with next-day delivery – a rare attribute in the world of sofas where seating is usually built to order which means long lead times.
The Model 02 sofa is more traditional in style, and although it's not technically a chaise, a matching chaise footstool is available to turn it into one, with the added benefit that it can be swapped from side to side or used as a freestanding ottoman if you decide to switch up your living room layout.
The seating is a little on the firmer side, but we found it a happy compromise for those who want both a sit-up sofa and seating that's deep enough to curl up on if required. And, whilst upholstery options are a little limited, they're all great shades and fabrics, with our review team giving Swyft's stain-resistant technology a good run through and all tests resulting in spotless sofas to date!
---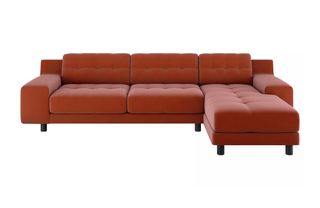 If you have the space to work with then you're unlikely to regret opting for more sofa to stretch out on, especially if you have multiple housemates, family, or friends to seat comfortably.
A large sofa generally means (a lot) more expense though, which is probably why the great value Kendrick sofa is one of Habitat's most popular designs, offering spacious seating at a very affordable price point compared to other designs of this size.
What's more, we loved the comfort levels on all the models we tested. The seat is deep, especially if you're on the shorter side, but we found it very comfortable for sitting or lounging, with comfortable seat cushions that have a nice amount of sink, and soft yet supportive back cushions. The padded armrests are also super comfortable, with the low arms a great height for resting your head for a nap.
Although the back may be a little low in height for some, this low profile design also works especially well in an open plan room where it won't interrupt the flow from one zone to another, delivering a designer look without the designer price tag.
And, while the colour choices may be limited, all are great shades in Habitat's luxe-look velvet upholstery that lend statement style to this contemporary design.
---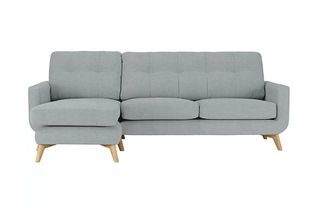 The Barbican chaise sofa offers slightly retro vibes that make it perfect for a mid-Century inspired home, or, with its pale oak legs and grey upholstery it can work just as well in a contemporary Scandi-inspired home.
It's compact proportions and high-legged design also make it a great chaise option for a smaller space, with the sofa frame lifted well clear of the floor to add visual spaciousness. Plus, the slightly shorter chaise section allows for lounging without taking up too much space.
Like most of John Lewis & Partners sofas, this design also comes in a wide range of upholstery options – over 125 in fact! – which should make choosing a colour to match your decor, and a fabric to match your lifestyle, a far easier proposition.
There are two leg options as well, either light wood or dark, plus plenty of matching furniture options. And, if you're looking for the ultimate in versatility, there's also a chaise sofa bed version available for overnight hosting.
---
How to buy a chaise sofa
Decided a chaise sofa is for you? It can be easy to rush in and throw your cash at that dreamy velvet chaise sofa in the showroom window, but a little prior planning can ensure that your investment is a sound one long-term and that there are no nasty surprises on delivery day. Read on to find our top tips for chaise sofa shopping.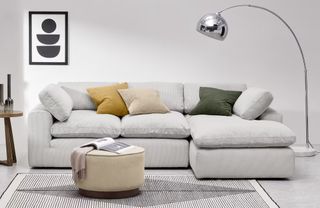 Measuring up for a new sofa
Just like with any sofa – or large furniture purchase – the first step to finding the chaise sofa of your dreams is getting your measurements right.
You'll need to make sure the sofa fits well into its destination room, and looks in proportion to the room size, whether that means going a little smaller so as not to overwhelm a small living room, or going big enough that seating doesn't look lost in a larger room or an open plan layout.
A good rule of thumb is to use the two-thirds rule, so if your sofa will be pushed back against a wall, opting for a sofa frame width that's two-thirds of the wall length tends to work well. This also leaves enough room for side tables or standing lamps to frame the sofa.
There are no hard and fast rules to sofa sizes. Although a two-seater is obviously smaller than a three-seater, there can still be huge differences between one sofa model's 'three seats' and another models, so always check the specifications before assuming something will fit.
Opting for a chaise sofa means you'll also need to consider the chaise depth. There's no standard measurement for the chaise section, with options ranging from roughly 150–220cm. If you're tall, you may want to consider a longer version to ensure you have plenty of leg room to stretch out, but you'll also be limited by room depth. You want to make sure there's plenty of space to walk around the furniture easily, and that nothing feels too cramped – a sure-fire way of making a small room appear smaller.
Using newsprint on the floor to mark out a sofa's footprint can be a useful way to visualise how much space those measurements will really take up. And don't forget to think about the sofa's frame height – especially if it needs to fit under immoveable architecture like a windowsill. If every inch counts, then remember that skirting may push a sofa a little further into the room too.
For added versatility, you might also want to look for a 'reversible' chaise sofa that allows the chaise section to be swapped from the left to the righthand side. This can be especially useful if you're likely to move house in the foreseeable future and want to invest in an option that has the flexibility to be adjusted to a different room layout.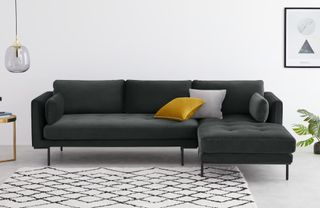 Choosing a sofa style
Next up there's the style to consider. If you're updating a worn-out couch then you might already have furnishings and decor that you want to work with. If you're starting from scratch, then the world is your oyster. Either way, as one of the largest pieces of furniture in the living room, the sofa is likely to set the tone for the whole room, and as an investment piece it's an item that you're unlikely to want to update very often, so opting for a style you won't tire of quickly is important.
Clean lines, boxy frames, and low-to-the-ground silhouettes tend to create a more modern feel, whilst classic details like roll-back arms, Chesterfield-style pin-tucks, or castor feet will work well in a period property, and add character to a new build.
If space is at a premium then a high-legged design will often work best as it lifts the sofa frame away from the floor to create a feeling of spaciousness. Because the eye can travel under the sofa – potentially all the way to the wall skirting – this will also make a small room feel much bigger. A sofa with a low frame that sits on the ground can be useful for grounding a larger room or open-plan space.
If space is tight then consider armrests too. Wide armrests will take up a lot of extra inches of floor space, so narrow options could be a space-saving solution. Some sofas also have the option of removing the armrests completely, which can be a useful way to get more seating into less space.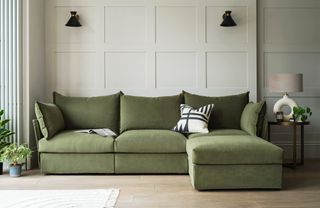 What's the most comfortable sofa?
Once you've decided on a sofa size and style, it's then all about comfort. Obviously, nothing beats being able to go into a store to test seating in person as height, weight, and personal preference will all have a bearing on how comfortable any individual finds a particular sofa. However, there are a few key points that are worth zoning in on during your search to find the most comfortable chaise for you...
Seat depth and height
In our experience sofa sitters tend to fall into two camps; those who prefer to sit upright with their feet on the floor, and those who instantly curl up or lay down when they hit the couch. How comfortable a sofa is for either preference tends to come down to seat depth – a seat of 60cm+ depth is likely to make it hard for even the longest of legs to touch the floor, so you'll be tipped into a lounging position or need to curl up to get comfy, whereas a shallower seat depth means you can sit with your feet on the floor and still be supported by the backrest. In our tests we found around a 55cm seat depth offered the best of both worlds, but this will change depending on your height.
If you're a fan of cushions – and we certainly are for the cosy-factor – then make sure to look for a sofa that has enough depth to fit some in, shallower sofas are likely to mean you might have to remove throw cushions before you can get comfortable.
Your own height may also affect the seat height you prefer, with longer legs potentially preferring a higher seat that allows the thigh bones to be parallel to the floor when the legs are bent at the knee in a sitting position. And mobility will also play a part; low-to-the-ground sofas can be much harder to get up from.
Backrest
Next up it's the backrest. A higher sofa back is likely to be more supportive and potentially more comfortable to sit on over long periods of time, however many people prefer the modern silhouette of a lower-backed model. When testing the backrest look to see how high the sofa frame is and not just the cushions. Over time the cushions are likely to sag a little and deflate, especially if they're not fully supported by a frame behind them.
Armrests
Don't forget about the armrests when you do your sit test. You might want armrests that are the perfect height for, well, resting your arms, or you might prefer lower options that can form a comfortable headrest for an afternoon nap or high armrests that you can lean against to sit horizontally on the sofa. If you regularly use a side table for drinks then think about ease of access too; higher armrests can be an unnecessary obstacle in reaching for that cup of tea.
It's easy to focus on seat comfort when testing a sofa, but it's worth checking the arms to see how well padded they are too. If you can feel sharper or harder edges through the padding then these areas are likely to wear more quickly when the sofa's in use.
Seat and back cushions
Possibly the most important part of the comfort of a sofa is the amount of squish it can offer, and finding that elusive Goldilocks 'just right' can be easier said than done. A lot of this comes down to the seat filling, with three main options on offer; feather, foam, and fibre, which can be available singly or in combination. Each has plus and minus points which we'll cover below.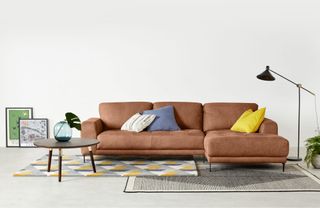 Are feather, foam or fibre sofa cushions the most comfortable?
Why is one sofa so much more comfortable than another? A large factor tends to be the material that offers the cushioning, and in sofa terms that generally means feather, fibre or foam. Which option is right for you will tend to depend on personal preference, but budget and lifestyle factors will all come into play too. We've broken down the main pros and cons of each below.
First up, feather. Feather seat cushions are often heralded as a luxury option, with a just-plumped feather cushion offering that deep sink-in feeling that many of us dream of when we picture the perfect sofa. However, that luxuriously soft seat can often be short-lived affair, with the plumped air gradually deflating out of the cushion to leave a rather flattened and hard clump of feathers that needs daily (if not hourly) plumping to look and feel its best.
Foam is pretty much the exact opposite of feather, bouncing back into shape after it's been sat on and requiring very little maintenance. There are different densities of foam so the feel can vary, but generally this is the firmest option; you're likely to feel like you're sat on top of the sofa rather than sinking into it, as such it can be a good option if you prefer plenty of support.
Fibre is the man-made and vegan-friendly alternative to feather. A fibre cushion is made from hollow-fill polyester fibres that are blown into the seat cushions so that pockets of air are formed which makes for a much softer and more sink-in feel than foam. As you sit and compress these air pockets the seats will mould to your body shape. This means you will need to plump fairly regularly to maintain the aeration though, and cushions can tend to become a little flatter over time.
In an effort to achieve the best of both worlds, some of the most popular cushion types are now hybrids that offer a keeps-it-shape foam core wrapped with an outer layer of feather or fibre for that sink-in-comfort. In our tests, majority of the team tended to prefer a hybrid seat cushion for some squish-factor with a foam back cushion for reliable support, but it's well worth testing as many options as possible to find your personal preference.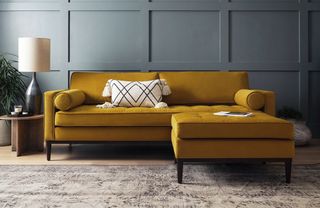 How to choose sofa upholstery options
Whether you prioritise looks or comfort, upholstery is always going to be a big factor in any sofa purchase, whether you're looking for a fabric that's easy to maintain or just the right shade of pistachio green to achieve that Pinterest board vision.
Upholstery can also affect both the feel of the sofa – looser weaves have more give that can affect how soft or firm the sofa feels to sit on; something to bear in mind if you're store testing a sofa in a different fabric to that you'll end up opting for – and the sofa's price, with velvets and leathers generally adding quite a significant increase to a sofa's cost.
Then there's the type of upholstery covering to consider. Most sofas have fitted and fixed covers, but some options offer slipcovers or removable covers that make for much easier washing – and potentially mean you could update your sofa's look in the future. This generally means a slightly higher price tag, but it can be a money saver in the long run if it means you only need to refresh covers rather than swap out the entire sofa. It's also a much more sustainable option.
Think about finishing details too. Piped edges both look smart, and help give the sofa cushions a little more structure so they keep their shape better.
You'll find plenty of top tips in our expert guide to choosing the best sofa fabric including which are the best upholstery options for pets and families, and for creating a statement or keeping things neutral.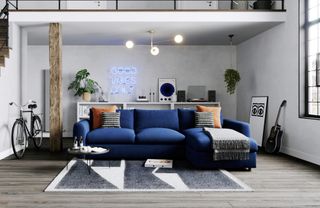 Don't forget about delivery access
The measuring doesn't just stop at working out what size sofa will best fit your room. There are also access measurements to consider; which means all of the entrances and angles between your front door and the destination room. If you have a wide hallway this may not be a problem, but narrow access routes, staircases, and tight corners may limit the sofas you can consider.
Most manufacturers list the access requirements for each sofa model in the product specifications, or they can be discussed with a customer advisor, but this is well worth considering before you place your order to save the time, expense, and stress of a sofa delivery that doesn't fit.
And if your access is tricky, don't despair. It's a common problem and as such there are solutions. Many brands offer sofas that can be broken down and built-in situ (either by you or, for a charge, the delivery service) for just this reason, as well as dedicated flat-packed sofas, like IKEA, Snug, or Swyft that come in easily maneuverable sections to make light work of trickier access.
Another bonus is that many of these flat-packed sofas also offer super quick lead times (although you'll likely be limited in upholstery options as a compromise) which leads on to our next point...
Remember to factor in sofa lead times
You've found a sofa you love, and it fits! And it comes in just the shade of raspberry red you've had your heart set on! And then lead times are mentioned and you realise you're going to be sitting on a beanbag for a looonnnng time waiting for it, because lead times mean the length of the wait between your ordering your sofa and it actually being built and delivered to your door. And they can be lengthy, with the average wait from order to delivery anywhere from 4–16 weeks.
There are manufacturers which specialise in fast turnarounds – check out our guide to sofas with quick delivery to find out more – but in most cases, this will mean a smaller selection of sofa styles and upholstery options to choose from. After all, a sofa is pretty big, so it's not something a manufacture can store ready-built in every shade of velvet under the sun, so if you want something a little more bespoke, then that will mean a wait for it to be built. On the plus side, this can make a sofa with a lead time a more sustainable choice, as nothing is being created without a guaranteed end-user.
It does mean you need to plan ahead though. Lead times get especially long in the build-up to Christmas when everyone is thinking about hosting, so shop out of season and you may not have as long a wait as anticipated.
---
How we chose the sofas included in this guide
To find the best chaise sofas for all budgets we've walked multiple miles around multiple sofa showrooms and toned our glutes doing sit test after sit test to try out all the latest releases, plus grilled the Real Homes team for their expert knowledge, along with their friends, and their friend's friends, to find out how their sofa choices are holding up to the rigours of day to day life. We also take into account the wider views of those who own each product, whether that's via online reviews or social media. Click here to find out more about how we review products on Real Homes.