Looking for sofas with quick delivery? Most made-to-order sofa manufacturers closed their pre-Christmas order books at the end of October, but if you're looking to switch out your seating or furnish a new pad before the festivities commence, all is not lost.
You can still find some great quick delivery sofas if you know where to look, and we're here to help you track down the sofas with the shortest lead times. In many cases that means you can have a sofa that's stylish, comfortable, and fast-to-appear in just 24-hours. Yep, you heard us right.
Of course, when it comes to an investment piece like a sofa, it still pays to do your research. You'll find our tried and tested favourites in our guides to the best sofas and sofa beds, along with some top tips on what to look for when you shop.
But, if time is of the essence and you don't want to wait the 8-14 weeks that is the average sofa lead time, then these fast delivery finds could get you out of a beanbag-on-the-floor shaped hole and kicking back on a new settee as quickly as the very next day.
---
Sofas with quick delivery: get festive seating sorted in just 24-hours
Why you can trust Real Homes Our expert reviewers spend hours testing and comparing products and services so you can choose the best for you. Find out more about how we test.
Forget about pre-Christmas delivery, you can be sitting pretty on these sofas just 24-hours after ordering.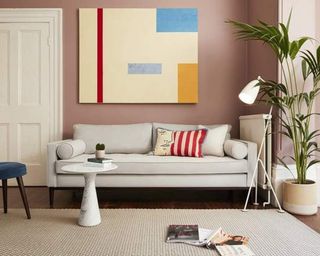 SWYFT One of the new generation of sofa-in-a-box brands, Swyft's USP is making sofa – and sofa bed – lead times a thing of the past, with three models of sofa and one sofa bed available that can be delivered in just 24-hours.
Furniture arrives flat-packed – not that you'd be able to tell from the final results – and Swyft's no-tool locking mechanisms make assembly super quick and easy. The sectional builds also make getting your new sofa into any rooms with tricky access a doddle.
We've done plenty of testing out of the brand's range in our Swyft Model 02 sofa review and the Swyft Model 03 sofa reviews, and if it's quick and easy convenience – plus a good helping of style – that you're after, then we think its range is well worth the investment, and perfect for Christmas seating in a hurry. swyfthome.com.
---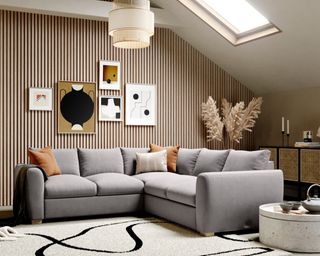 SNUG One of the forerunners of the sofa-in-a-box concept, Snug offers four styles of sofa, all of which are also available in sofa bed form with a pull-out mattress hidden within, and all of which can be delivered with next-day delivery.
The brand has a great range of size options on offer, with all of Snug's sofa styles coming in a corner sofa option, and most offering 1.5, 2, and 3-seater layouts, plus chaise and 4.5-seater configurations in some models – perfect if you want to seat large numbers of friends and family this festive season.
Similar to other sofa-in-a-box offerings, furniture is delivered flat-packed to make getting even the most spacious seating options into the destination room a stress-free experience. snugsofa.com
---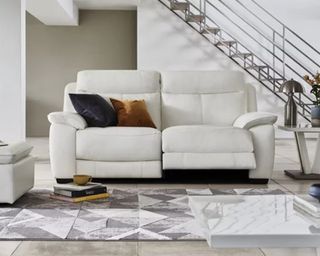 FURNITURE VILLAGE With a huge selection of sofa models, handily placed showrooms dotted across the country, and some very reasonable pricing on offer, the Furniture Village can be a good bet for finding seating everyone in the house can agree on.
And, if you're shopping in a hurry, the brand allows you to filter online options by despatch date, with up to 14 day, 21 day, and 28 day delivery times offering a Christmas countdown of a different kind. furniturevillage.co.uk
---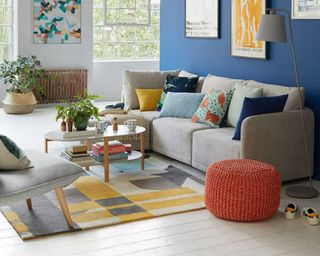 JOHN LEWIS Another great option for a wide range of sofa styles with delivery well before Christmas – many within 7 days – John Lewis is the perfect place to find a classic chaise, contemporary 2-seater or modular sectional sofa.
In order to get the quickest delivery times, you'll need to shop the ready-made sofas with more limited upholstery options than the usual John Lewis ranges, but they are all good, versatile shades, and after all, grey is still the most popular sofa colour going for a reason. johnlewis.com
---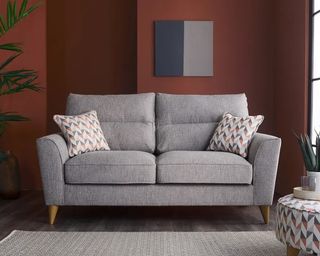 OAK FURNITURELAND Home to all things furniture, Oak Furnitureland also stocks a wide selection of sofas, with many available within just 7 days, allowing you plenty of time to get your seating set-up sorted before any festive guests arrive.
There's also a good selection of styles and upholstery on offer, from leather recliners to fabric 3-seaters and compact or generous corner sofas. oakfurnitureland.co.uk
---
Fast delivery sofa beds: sleeper sofas with next-day delivery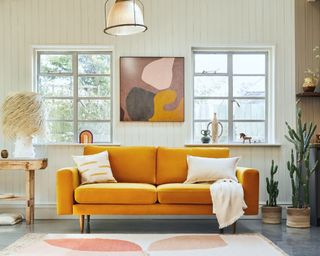 SNUG Just like its next-day delivery sofas, Snug sofa beds operate by the same principles of super-fast delivery, convenient access requirements, and a good range of styles to choose from - including corner sofa bed options.
Other than the compact Small Biggie daybed, all sofa beds also feature pull-out mattresses, ranging from the Rebel's 10cm deep sleep surface to the Cloud Sundae's 6cm deep mattress. snugsofa.com
---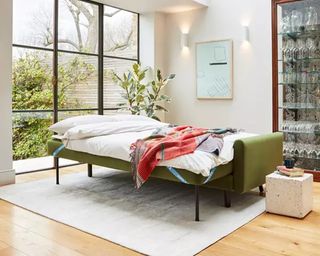 SWYFT This sofa-in-a-box brand just has the one sofa bed on offer, but we've tried it and it's well worth consideration, especially as you can have it delivered and be ready to host in just 24-hours.
The Model 04 sofa bed folds out so the seat cushion and backrest become the sleeping surface, but pocket-springs embedded in the foam core ensure there is still a good amount of give. Plus, this option offers a great choice of stain-resistant fabrics, and comes with a mattress topper included that packs away into the hidden storage compartment when not in use. swyfthome.com
---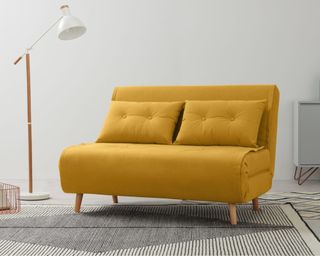 MADE In our experience, MADE's delivery estimates can occasionally be a little bit hit and miss, not helped by the current global shipping issues. But, the brand has a wide selection of sofas and sofa beds that are currently available on its 'express' delivery timeframe, meaning many options should arrive with you in under a week – great news if you're looking for modern design with a super-fast turnaround.
Just be careful when choosing your fabric options, as different colours and upholstery options can have very different leadtimes. made.com
---
Black Friday sofa deals
Want to make the most of fast delivery and snap up a bargain? Black Friday is just around the corner and if you can wait until Friday 26th November to shop then that could mean some great prices on big-ticket items. Keep an eye on our sofa bed sales and Black Friday furniture deals pages for all the latest sales worth shopping. Plus, for the best deals on all things interior-related, our Black Friday deals hub has you covered.