As we enter the chillier months, you may be wondering if you can wash your wool in the washing machine. You've broken out your sweaters and cozy blankets and if they're made of natural wool, they're probably great quality. However, one of the biggest challenges with wool is keeping it clean.
While cozy — wool tends to trap sweat and odors from things like sweat and smoke. Whether you are trying to clean a finer type of wool such as cashmere, something thinner like Marino wool, or a classic thick wool Christmas sweater, you want to make sure your clothing is kept in the best shape possible.
So, can you wash wool items in the washing machine or use any of your laundry room essentials? Here's what laundry experts have to say.
Quick Menu: Can You Wash Wool in the Washing Machine
Can you wash wool in the washing machine?
Yes, you can wash wool in the washing machine, but proceed with caution. According to Cyndi Prince, founder and CEO of LooHoo, which is a brand of wool dryer balls, before washing anything, it's crucial to read the label. "Wool can be a bit of a mystery and not all types of wool are friends with the washing machine," says Prince.
"The care instructions are really important, so grab your magnifying glass, find the care tag, and see if it's a washing machine-friendly wool. Wool can be very sensitive and caring for it will vary depending on the type of wool and whether the fabric is blended with other materials."
How to machine wash wool
Whether you're washing your wool sweaters, blankets, or even socks, do not just put them in with the rest of your clothing, especially towels and bedding. It's best to wash wool on its own and use the delicate cycle. "Laundry cycles are the heroes of our daily routines. When it's wool's turn, treat it like it's really fragile — with extreme gentleness. Go for the most delicate cycle your washing machine offers, and make it a spa day for your wools," says Prince.
Alternatively, Poplin laundry pro Laurie Fulford (Poplin is the world's largest on-demand laundry service), tells me that some newer washing machines have a wool setting. "If your washing machine does not have the setting available, you can choose the delicate cycle and wash in cold water. "
Fulford also recommends turning any wool clothing inside out before you load your washer and setting your washing machine for an extra rinse cycle.
Best detergent to use
While you might be tempted to use whatever detergent you have on hand, it may not be the best choice for cleaning wool. "Wool wants to be treated royally so regular detergents can be too harsh for your wool garments. Using a very mild detergent is best and we are currently loving Soak laundry soap. It's like a gentle bubble bath for your woolens," says Prince. You can stock up on a six-pack laundry detergent set from Soak for $96.
Another really good option is the High-Performance Laundry Detergent from L'Avant Collection because it can be used for both delicates as well as all of your regular laundry. The fresh linen scent also makes your clothing smell good without being overly perfumed.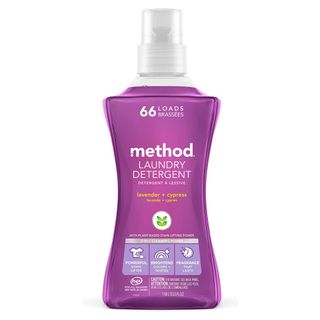 1. Method Liquid Laundry Detergent
Covering up to 66 loads, this detergent combines notes of lavender and cypress for one deliciously herbaceous scent and a cleaner, greener wash. Think plant-based stain removers and a biodegradable, hypoallergenic formula.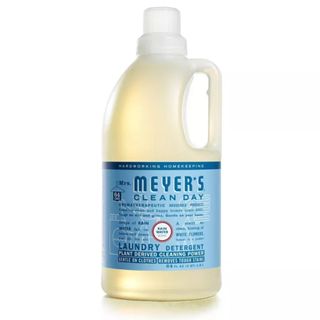 2. Mrs. Meyer's Clean Day Liquid Laundry Detergent
Tackling dirt and stains with enzymes, this plant-based formula comes in a biodegradable bottle and works in both high-efficiency and standard washing machines. In fact, the softness of the scent is a welcome alternative to the often sterile smell left by many other non-eco detergents we're so used to.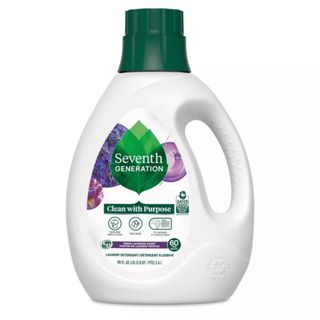 3. Seventh Generation Liquid Laundry Detergent Soap
Ticking off a host of green credentials, this cruelty-free, biodegradable product shows no mercy on stains without attacking Mother Nature. As well as containing no dyes, artificial brighteners or synthetic fragrances, it's also certified by the USDA as a Biobased product.
Dry cleaning wool
To make things easier, dry cleaning may be the solution for you. "If you're unable to clean your wool garment using the above methods, then finding an eco-friendly dry cleaner would be a good option. Clothes marked on the care tag as dry clean only or items like suits or formal wear are like VIPs at a fancy gala — best cleaned by the pros to keep them looking sharp and sophisticated," says Prince.
Frequently asked questions
How often should you wash wool?
Unlike your undies or activewear, it's best to avoid washing wool every time you wear it."It's all about that less-is-more philosophy when it comes to wool. Wash wool clothes less often. Wool is so incredible and it's resistant to stains and odors and does not get dirty as quickly as other fibers," says Prince.
Instead of washing wool, Fulford recommends hanging clothes to let them air out and spot clean stains when needed. Make sure to use a padded or velvet hanger to ensure the garment does not lose its shape.
How should you dry wool?
Wool should never be put in the dryer or it will shrink. Dry it flat whenever possible, as opposed to on a hanger. "A flat drying rack or laid on a clean towel on the floor is ideal. Be sure to shape and reshape you as it's drying in order to prevent getting oddly shaped clothes," said Prince.
Laurie Fulford is a laundry pro at Poplin — the world's largest on-demand laundry service. Poplin is based in over 500 cities across the United States.
Cyndi Prince is CEO and founder of LooHoo, a brand of wool dryer balls. LooHoo Provides a reusable, energy-saving alternative to dryer sheets that are safe for the environment.
---
Figuring out how to wash your clothes can be a pain, but it's totally worth it in the end. If you're like and actually enjoy doing your laundry then you'll enjoy these laundry detergent storage ideas for an Insta-worthy set-up.