Finding the best cleaning supplies for your own space can be pretty overwhelming, and real talk — not every single product is necessary (I'm looking at you, washing machine cleaner).
With a humble bottle of vinegar, you can actually clean basically every room and appliance in your home from the bathroom to the kitchen to the laundry room. Vinegar is a perfect natural solution to bleach in these scenarios if super-strong chemicals aren't really your thing.
Even though washing machines do the cleaning, they also need to be cleaned themselves at least twice a year. If your machine needs some TLC and you're looking for an easy and affordable method, this is exactly how to clean your washing machine with vinegar, step-by-step.
Good to know
Time: About 5 hours. The exact timing will depend on your washing machine, but it'll be the length of two heavy and warm cycles.
Difficulty: Easy
Helpful hints: Don't do this on laundry day! Since you're running your washing machine twice at its longest setting and hottest temperature, this could end up taking all day. Luckily, cleaning your washing machine with vinegar takes minimal hands-on work, but the appliance will be occupied for a good chunk of time.
Here's what you'll need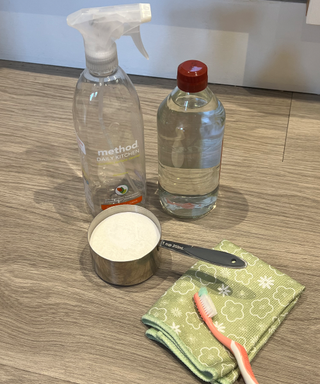 How to clean a washing machine with vinegar
Step 1: Clean the drum, rubber, and detergent dispenser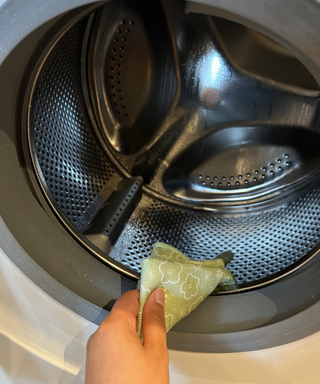 Start by pouring some vinegar into your spray bottle (we're big fans of Heinz's large bottle). Then spray and scrub down every part of your washing machine's interior with your cloth and brush. Pay extra attention to the drum, the rubber seal around the door, and the detergent dispenser, as these are the main spots where you'll find a buildup of hair, dirt, trapped water, and old laundry detergent. If your dispenser can be removed, it's ideal to soak this in some warm water mixed with vinegar before cleaning it.
Tip: No spray bottle? You can also soak your cleaning cloth and dip your brush in vinegar and wipe the surfaces down that way instead.
Step 2: Add vinegar and run a warm cycle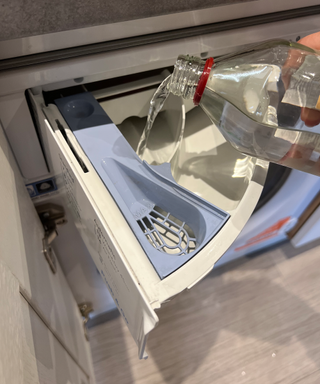 Next, set your washing machine to its heaviest setting and highest water temperature. Start the cycle, and measure out and add a quart (4 cups) of vinegar to your machine.
For top-loading washing machines, you'll want to start the cycle first and add the vinegar while the water is filling up, and for front-loading models, pour the vinegar into the detergent dispenser to incorporate it into the warm water.
Step 3: Clean the exterior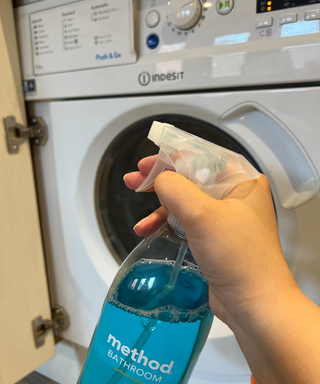 If you're feeling extra motivated by your cleaning playlist while you're waiting for the washing machine's vinegar cycle to finish running, you can work on getting the outside of your machine sparkling. This can be done with the vinegar and spray bottle as well, but you can also use a nicer-smelling bathroom spray or cleaning wipes (which I personally do with the bathroom spray from Method and classic Clorox cleaning wipes from Walmart).
Step 4: Run a second cycle with baking soda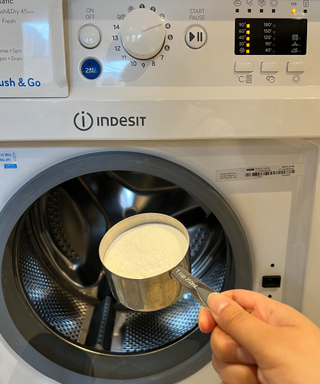 TBH, vinegar is an amazing natural cleaning solution to use all over your home, but the smell? Not a vibe. Neutralize any leftover vinegar scent by running a second washing machine cycle with the exact same settings as the first, but with one cup of baking soda this time.
Step 5: Final wipe and leave the door open to air dry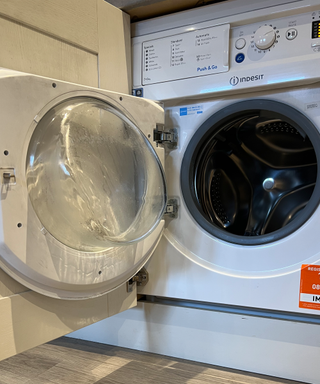 Now that your washing machine is super clean and free of odors, you can give the door a final wipe-down with your cleaning cloth. To finish, you'll want to leave the door open to let any water left evaporate naturally. One of the top reasons a washing machine gets stinky is trapped water, which can be easily avoided by making sure you keep the door open after every load of laundry, too.
FAQs
Is white vinegar good for cleaning washing machines?
White vinegar is a major key to most home cleaning hacks, laundry room included. It's a great natural alternative to bleach or other harsh chemicals when it comes to cleaning your washing machine and is super-effective in breaking down the buildup of trapped water, dirt, hair, and lint.
Can you use white vinegar and baking soda to clean a washing machine?
Short answer: yes, but we don't suggest using both at the same time. Basically, the bubbles are great for dislodging buildup in drains and to break through grime on kitchen surfaces, but after the reaction calms down, the cleaning properties of both the baking soda and vinegar will cancel each other out. Instead, use the vinegar first and then follow up with the baking soda to get maximum power out of both.
Can I use white vinegar to clean my front loading washing machine?
Yes, you can! To clean your front-loading washing machine with vinegar, you'll want to pour it into the detergent dispenser. You can also use white vinegar to spray and wipe the drum, rubber seal, and any other interior surfaces in your machine as regular maintenance between cleaning cycles (which you should run about every six months).