Dreaming about kitting your bedroom out with the best bedroom furniture? Waking up on the right side of the bed is all fine and dandy, but sometimes a perfectly functional bedside table just isn't quite enough to put a spring in your step first thing. We've seen to that with a carefully curated selection of the best bedside tables to wake up to this year, courtesy of West Elm, Ercol, MADE and more.
As with so many elements of a bedroom design, buying a bedside table is largely about looks – after all, there's no point shelling out for a purely practical drawer unit if it sticks out like a sore thumb in your space. Our picks number among them options for achingly cool Mid-century modern and Art Deco interiors, picking up on the key design features of their eras without adding an antique-shop price tag. Looking for traditional bedroom ideas? We've got those, too. Boutique hotel bedroom inspiration on a Premier Inn budget? Look no further.
1. Loire Bedside Table
Take your bedroom from 'meh' to 'magnifique!' with these fanciful French-style tables
Specifications
Best for: French design
Dimensions: H58cm x W46cm x D36cm
Material: Mango wood
Number of drawers: Two
Reasons to buy
+ Gorgeous French-style details + Sturdy, long-lasting mango wood
If there's one surefire way to make it feel as if you've woken up in the French boudoir of your dreams, it's a carefully-chosen piece of château-inspired furniture. This Loire bedside table from Cox & Cox is exactly that kind of piece. Made from solid mango wood, it promises longevity and durability delivered in a gorgeously ornate package, courtesy of elegant curved legs, decorative iron drawer pulls and delightful carved details.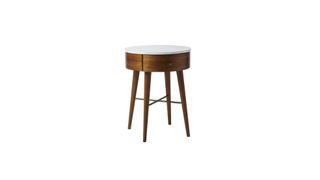 2. West Elm Penelope Bedside Table
Owners of Art Deco pads need look no further for bedroom furniture inspiration
Specifications
Best for: Vintage-inspired
Dimensions: H60cm x W46cm x D46cm
Material: Eucalyptus wood, acacia, marble
Number of drawers: One
Reasons to buy
+ Amazing retro style + Unusual circular shape
You might have been outbid for that antique bedside table on eBay, but look on the bright side: with Mid-century modern and Art Deco being such big players in the interiors world right now, you can get the same vintage vibes courtesy of contemporary designers, as in this Penelope table from West Elm. A circular end table makes a statement twist on the usual square and gives the illusion of more space by not sitting tight to the wall on all sides, and reviewers were rapturous with praise for the sturdy build and quality materials.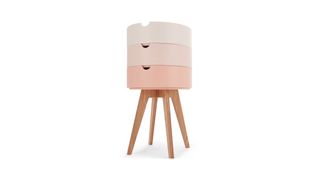 3. Cairn Bedside Table
Choose the colour, and even the height, to suit your space
Specifications
Best for: Modular design
Dimensions: H75cm x W41cm x D41cm
Material: Engineered wood
Number of drawers: Three
Reasons to buy
+ Modular design makes it height-adjustable + Two trendy colour ways
If you like the idea of a circular bedside table, but West Elm's Penelope is a little on the dark side for your liking, this funky option from MADE carries on the theme in a more modern fashion. In a choice of sweet-as-you-like pale pink or cool grey ombre, it's modern in its approach, too – thanks to a modular design you can add or take away layers as you see fit to suit all heights of bed, making it a great choice for kids' rooms as well as for grown ups.
4. Tretton Solid Oak Side Table
Trendy Tretton brings a laid-back breeziness to bedrooms with its pale palette and clean lines
Specifications
Best for: Trendy
Dimensions: H60cm x W40cm x D40cm
Material: Solid oak
Number of drawers: One
Reasons to buy
+ Trendy splayed legs + Feeding aperture for charging cables
Solid oak is a classic choice for interiors – understandably so. This Tretton side table, however, elevates the sturdy stalwart material to new contemporary heights with slender rounded legs, a flared footprint and a thoroughly modern topper. The contrasting white drawer unit is all clean lines and no handles for a sleek look, but it's more complex than it appears, with a cut out in the rear panel allowing you to feed charger cables into the drawer, meaning you can keep devices completely out of sight as they charge, no cluttering cables.
5. Cordoba Bedside Table
Imposing yet accommodating, the Cordoba's deep drawers are ideal for creating storage in modern bedrooms
Specifications
Best for: Modern rooms
Dimensions: H55cm x W40cm x D40cm
Material: Wood
Number of drawers: Two
Reasons to buy
+ Sleek handleless design + Great for darker schemes
If you like the look of handleless drawers, this two-drawer bedside table from Wayfair could be where it's at when it comes to furnishing your bedroom. Reviewers loved the quality build and ease of assembly, although one buyer commented that the black-washed wood wasn't quite as deep as they expected, so that's something to bear in mind if purchasing for an especially dark or dramatic space. Despite being a striking presence, these tables manage to avoid looking bulky by employing some negative space at the bottom, the perfect place to stow a magazine or Kindle when you're ready to nod off.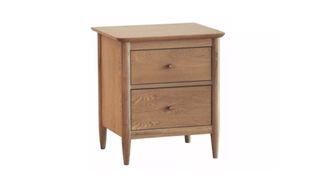 6. Ercol Teramo Bedside Cabinet
Classic British design to last an age
Specifications
Best for: Traditional design
Dimensions: H60cm x W53cm x D47cm
Material: Solid pale oak
Number of drawers: Two
Reasons to buy
+ High quality construction + Timeless design
For a traditional bedroom scheme, nothing beats classic, tried-and-trusted brands. English brand Ercol's Teramo bedside cabinet is our pick of the bunch, with its creamy shade and natural wood texturing, solid oak construction and matt lacquer to keep things sealed and protected, but not shiny. Thanks to that solid wood build and artisan dovetail jointed construction, it's certainly built to last, with a timeless design that gives it real investment factor.
7. Debenhams Reflections Bedside Cabinet
They say bedtime is a time for reflection: go one better with this glamorous end table
Specifications
Best for: Hotel style
Dimensions: H62.5cm x W49cm x D46cm
Material: MDF and glass
Number of drawers: One
Reasons to buy
+ On-trend mirrored finish + Tall design gives illusion of space
Putting together a glamorous boudoir? Tick all the boxes for finishes, textures and statement shapes with this stylish mirrored bedside table. With a single drawer, it doesn't offer as much in the way of storage as some of our other picks, but by sitting higher from the floor it visually creates more space and height while the mirrored surface reflects light, making it an altogether ideal package for small bedrooms. If your list of bedside essentials is short, this is a great choice.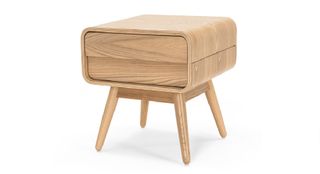 8. Esme Bedside Table
A little space-age, a lot simple, and surprisingly versatile
Specifications
Best for: Simplicity
Dimensions: H45cm x W42cm x D42cm
Material: Solid ash, plywood, ash veneer
Number of drawers: One
Reasons to buy
+ Suits a range of schemes + Unusual rounded shape
Esme is a little bit of an oddity, and we mean that in the best possible way: a little futuristic, a little retro, its flared wooden legs conjure up a bit of Mid-century modern, while the rounded rectangle topper with its seemingly impenetrable drawers seem positively space-age. As such, you might expect it hard to find a home for, but au contraire: the neutral ash veneer with its beautiful swirls and knots gives it a look that's surprisingly versatile, and its stubby shape should be at home next to shorter kids' beds as well as stately ones.
Read more: