When it comes to choosing furniture for your living room, finding a sofa bed that's attractive, comfortable and fits your budget is a true challenge. That's why we have put together a handy guide to help you find a sofa bed that doesn't just ensure guests have a great night sleep but will also fit seamlessly with your traditional living room style.
How to choose a sofa bed
Before you buy, it's important to consider how often your sofa bed will be used. If your house turns into a hotel at the weekends it's probably worth investing in a high-quality sofa bed with a durable mechanism, but if it would only be pulled out on occasions then go for cheap and cheerful.
Think about size. It sounds obvious but do remember that a sofa bed needs to space to open out, so make sure you measure your space based on the size of the sofa when the bed is in use. Make sure there is enough room to comfortably expand the bed without having to rearrange your whole room.
Check the quality. If you and your sofa bed are going to be in it for the long haul opt for something that is going to last. Look for a kiln-dried, hardwood frame as these are the strongest and most durable, avoid frames that are made from a soft wood like pine. A high-quality mechanism is also worth checking – a good sofa bed should lift smoothly out in one motion, no sticking and no ear piercing squeaks. Look for sofas with a lock down bar to ensure the bed with easily open and close.
Mattress quality is equally important. Because yes the sofa might look lovely but if it doesn't provide a good night's sleep it's only doing half its job. The range of mattresses for sofa beds is almost as comprehensive as mattresses for regular beds so you won't struggle to find something that works for you. Trampoline type mechanisms don't offer as much support as wooden slatted or webbed mechanisms so opt for one of the latter. Also make sure you choose a sprung mattress or proper memory foam mattress rather than a thin foam mattress.
1. The Chesterfield sofa bed
Sure to add a vintage vibe to any room, the Bulford sofa bed from Willow and Hall doesn't just look lovely and also comes with a 14 cm deep mattress so your guests are sure to get a wonderful nights sleep.
2. The leather sofa bed
It doesn't get more traditional than a warm brown leather sofa. We love the classic design of this three seater sofa bed from dfs, plus it's durable, easy to clean and comes in six different shades of leather.
3. The sofa bed for when space is tight
Trying to squeeze a sofa bed into a small living room? The Chatnap sofa bed from Loaf is super compact and can be made even more so if you choose to remove the arms.
Not only does the Tidworth sofa from Willow and Hall transform into a spacious double bed, it also has a chaise storage compartment. Ideal if you are looking for extra living room storage.
5. The velvet sofa bed
Ah the velvet sofa. They've have been on our lust list for what feels like forever. But just because they are so incredibly beautiful doesn't mean they can't also be practical – this velvet Pudding sofa from Loaf has an entire double bed stashed beneath is insanely plump looking cushions.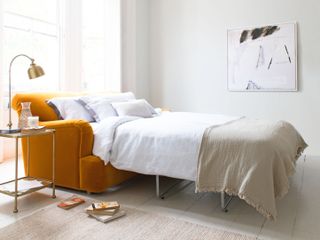 6. The budget sofa bed
Redecorating your living room on a budget? You don't need to blow all your budget on a sofa bed, this Chou sofa comes in under £400 and it even has storage for keeping your spare bedding.
7. The Mid-century inspired sofa bed
Going for the mid-century modern vibe in your living room? The simple design and tapered legs of the Douglas sofa bed from Loaf would fit right in.
8. The luxury sofa bed
Okay we can all see that this sofa looks great so let's talk about that mattress. The Zircon sofa bed from dfs comes with a dual layer, super supportive mattress consisting of a polyether foam base with a memory foam top layer. Being relegated to sofa doesn't sound so bad now right?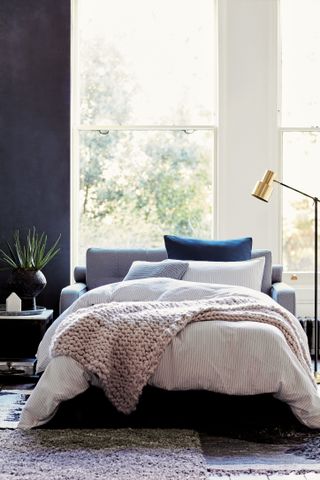 9. The statement print sofa bed
Bright, bold, patterned upholstery can be the making of your living room. From polka-dots to floral prints, there are so many fabric choices for sofa beds so why play it safe? This Ashdown sofa bed comes in 100s of different prints and fabrics.
10. The ottoman bed
Yep that's a thing. And it's going to raise your hosting game. Last minute sleepover? Oh wait let me just pull a bed out of this box you thought was just an ottoman. The lid of this Made.com Ilma ottoman is fully upholstered with button detailing that would perfectly fit into a traditional living room.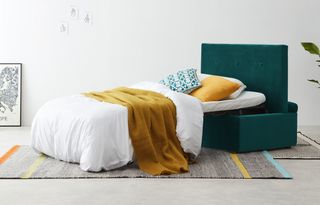 Looking for more sofa advice?