Make valuable use of your outdoor space with a garden building. With a mixture of cabins, huts, summer houses and sheds on offer, this selection of oak-framed designs will add sought-after additional living or storage space to your home, with options in different sizes and styles to suit all budgets.
Generally built as permanent structures to create extra living space, a functional room, such as a home office or garage, or a storage area, oak frame buildings are hugely desirable and valuable. Their appeal lies in the rustic, natural charm of the materials used.
Oak frame buildings can be expensive, but many would argue that their handmade appearance and the knowledge that they are constructed using traditional methods, make them a worthwhile investment.
Available fully insulated, wired, heated and plumbed and with all manner of bespoke features, built in, oak-frame garden rooms don't have to be reserved for the summer months and can be practical spaces all year round.
Building the structure
Homeowners often use a 'design to completion' company, which can involve the architect of the whole build working in partnership with the oak frame manufacturer or company. Alternatively they may commission specialist oak frame constructors for individual parts of the project.
Whatever the size and concept, traditional oak frame buildings have changed very little in style over the centuries; it is the scale and erection methods that have changed, with the basic structural frame built in four sections comprising wall, floor, roof and cross.
Do I need planning permission for an oak frame garden building?
Unless your house is listed or located in a Designated Area, you will not need to apply for Planning Permission as long as your building meets certain restrictions to fall under Permitted Development . For this the structure should be one storey high, not on land at the front of the house, and not more than half the area of the land around the original house. Log on to the Planning Portal for full details of restrictions.
Ecological elements
Many of the oak frame buildings seen today are built with a particular eye on their ecological credentials, with many homeowners interested not just in the appeal of natural materials and user-friendly construction methods, but also in the environmental impact of oak construction timbers as carbon neutral building materials.
The environmental advantage of wood is its natural absorption of CO2. When wood is burned, it releases the amount of CO2 that it absorbed during its lifetime. However, if timber is used for long-term structural purposes, such as house building, the carbon is removed from the atmosphere, and the wood can be of use for hundreds of years, with the result that timber can be considered carbon neutral.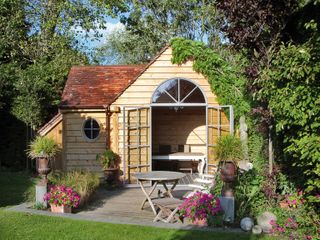 Who can supply an oak frame garden building?
Green oak needs no chemical treatments or preservatives and using local suppliers can lessen the environmental impact of transportation. Most suppliers of oak framed buildings are keen to promote the idea of individually designed, bespoke buildings.
There are few cost advantages in buying an off-the-shelf oak framed building, as homeowners are keen to have individually designed, unique buildings that are designed, built and adjusted to fit their own particular needs and plans. Meet with at least a couple of suppliers to compare the services which are offered. All reputable companies will offer facilities that can encompass preparation of plans, submission of planning applications, and liaison with the local authority planning departments.
Remember to consider groundworks, landscaping and other associated upheavals; designing and installing or building an oak framed building is a rather larger project than adding a summer house or gazebo to your back garden.
Remember the building regulations
If the structure is subject to Building Regulations it's best to get an expert involved. If you're unsure, ask your local authority, but in general providing it's internal size is less than 30 sq m, it is not sleeping accommodation, and is at least two metres from any boundary, it is exempt from Building Regulations.
Expert advice