Oak frame extensions are a desirable option for those wishing to extend any style of home, but are particularly suited to period properties as they respect their character while improving internal flow. They are also prized by buyers and tend to increase the value of a property more than other styles of extension.
Eco-friendly, with recognised longevity and versatility, it's worth considering an oak frame extension if you're considering extending a house. Find out everything you need to know in our guide.
What are the benefits of extending in oak?
Why you can trust Real Homes Our expert reviewers spend hours testing and comparing products and services so you can choose the best for you. Find out more about how we test.
For many, the beauty of an oak frame extension lies in its use of age-old construction methods – albeit often applied using hi-tech equipment – energy efficiency, and its ability to naturally weather and soften over time, which results in a more sympathetic addition to an older home.
Many people would even argue that oak only gets more attractive with time. 'A green oak frame oozes character and, as with many of the fine things in life, gets better with age,' says Nik Sheppard, lead carpenter at Carpenter Oak. 'As the frame seasons, the timbers are an enduring source of fascination as their tone and texture change and surface shakes appear.'
The material's impressive green credentials also ensure the addition is renewable, carbon neutral and sustainable – look for FSC or PEFC certification. Also, since the components can be manufactured off site, build times can be faster than normal.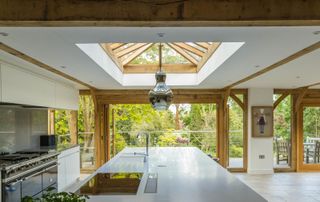 Where does the wood come from?
The majority of oak frame building companies tend to use European or English oak. It's mostly 'green', which means it has recently been felled and retains moisture, making it easier to work with. It requires no chemical treatments or preservatives.
The resulting frame will continue to dry and naturally crack over the years – with shrinkage proving a structural advantage as the frame tightens, hardens and strengthens. Because of this, a well-designed and built oak-frame structure can be expected to last for at least 200 years.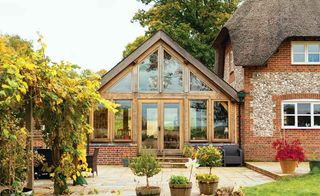 Design options for oak frame extensions
Oak frame extensions range from single-storey structures – often in the form of conservatories, orangeries and garden rooms – to substantial double-height additions.
Many designs exploit the beauty and strength of a frame that requires little internal structural support to create large open-plan spaces and impressive vaulted ceilings and galleries, often incorporating generous amounts of glazing.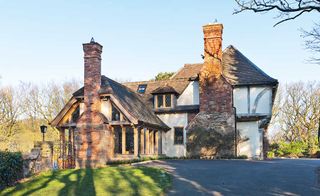 Is it expensive to build an oak frame extension?
Oak frame extensions will prove more expensive than a standard extension. While some kits are available, most companies do offer a completely bespoke service, with packages ranging from supply right through to a comprehensive service covering design, planning, groundworks, supply, build and finish. Adding either a single storey extension or double-height extension can add value to your home, although that value depends on the space and its successful integration with the original house.
Externally, extensions should always remain in proportion with the existing property and, from a planning perspective, be subservient to the original. Internally, consider the new addition's function as well as form, and bear in mind that any new space must also work effectively with your existing layout, in terms of access, flow and light levels in the rooms beyond. Consult with an architect or designer.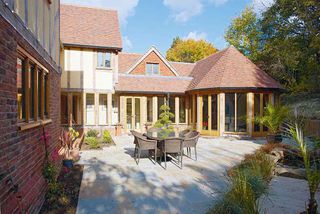 Will I need planning permission?
Oak frame extensions are subject to the same regulations and rules as any other, so before you consider any construction, do consult your local planning department. Some extensions may be allowed under permitted development rights, but many require planning permission due to their size, scale and location.
Owners of all listed buildings, or properties within their grounds, must apply for consent to alter or extend. Find out more at planningportal.co.uk.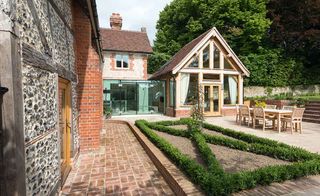 What type of oak to use?
Most oak frame extensions are built from green oak, which is the term for oak that retains moisture content (up to 30 per cent, depending on how long it has been allowed to air dry) and which has recently been felled. Green oak buildings need time to settle; the shrinkage that occurs is a structural advantage as the joists tighten up. Oak that has dried out is called 'seasoned', which is much harder to work with.
Are green oak structures affected by building regulations?
In addition to planning, all oak-frame additions must adhere to building regulations and energy-efficiency guidelines.
Can an oak frame extension be added to a listed building?
Owners of listed buildings, or properties within their grounds, must apply for consent to alter or extend. It is always worth checking with your local planning authority, as well as with your surveyor and/or architect.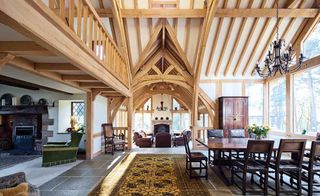 Essential oak frame contacts
Looking for more extensions advice?