In case you haven't noticed, black living rooms are having a moment. If the thought of a black room makes you think of dreary and gloomy basements or dark and dingy unused rooms, you're probably not alone. But you are, in our opinion, wrong. Decorate with black the right way, and you could have a space filled with drama, confidence, sophistication and elegance. And it can be cosy, too, by the way.
Whether you're keen to make a statement or you simply need a touch of drama to enhance your space, we've gathered the best black living room design ideas for incorporating this daring shade into your living room. For more living room ideas, see our gallery.
1. Go for dark walls but keep your ceilings bright 
If you want to dabble in the dark side but not ready to paint every surface in your living room black, painting up to a picture rail (or a fake picture rail) will add the drama but not the darkness. Keep the tops of your walls and ceiling a bright clean white. Also note in this room how the look has been warmed with the pink tinged cushions and rugs – love it. 
2. Pick a dark grey for a softer look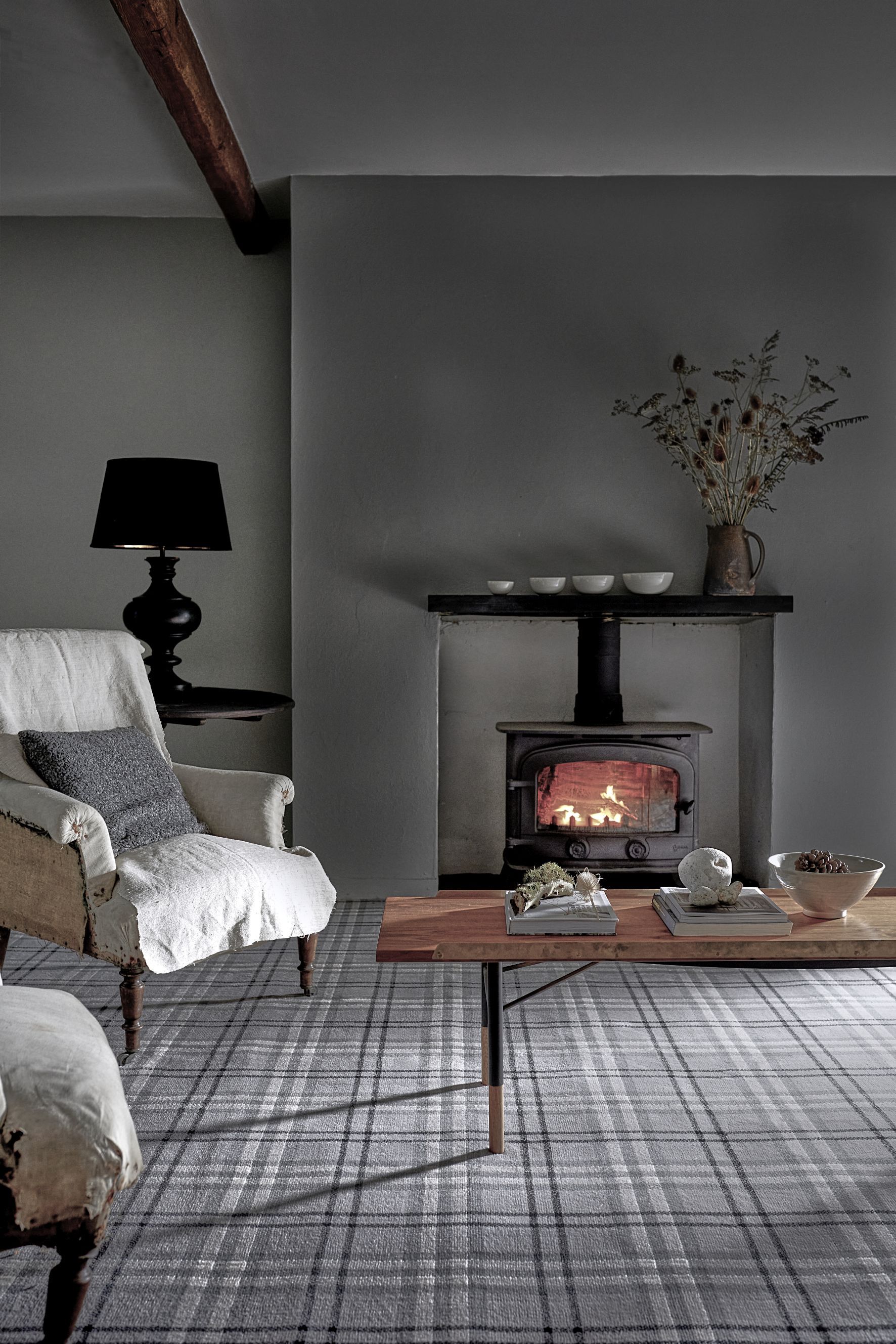 A true black can look a bit harsh, especially if the lighting the room isn't quite right so opt for softer greys in rooms that lack light. We love the vibe of this room, it's quite dramatic with all four walls and the ceiling painted, but it's also feel very cozy too, like a contemporary  farmhouse feel. The mix of stark black decor and contrast of the soft linen finish of the chairs create the perfect balance. 
3. Pick striking contemporary furniture for a black living room
But maybe you want those quite dramatic, contemporary vibes in your living room. In that case you can keep the furniture very sculptural and slimline and enhance the drama of a dark space. The Mid-century modern furniture works so well in this minimal space and creates a really quirky contrast with the traditional design of the room.
Another top tip that can be taken from this black living room – keep the floors light. If you have wooden floorboards either strip them back to a very light wood or try painting them in a lighter, softer grey. We have loads of tips on painting floorboards so check that out first. 
4. Create stark contrasts with black living room walls and pops of color
Just as black mascara makes your eye color pop, black walls and floors make other colors in your space pop, too. Using black on all your surfaces creates a deep and solid background from which bright colors can take center stage and create real impact. A bright orange sofa creates a striking contrast and brings warmth to the scheme.
5. Choose deep and mysterious black floral wallpaper
There's something quite mystical about black floral wallpaper, especially when combined with jewel colors and shiny metallics. A dark background elevates soft and pale flowers. The perfect choice for a cozy and inviting living room to snuggle into at the end of the day. 
Find more living room wallpapers in our gallery. 
6. Bring grandeur to a black living room with elegant chandeliers
Accenting black against white is a great way of highlighting architectural details. Here the recesses are transformed into monochrome masterpieces, where perfect symmetry keeps the room's feng shui en pointe. Add elegance and femininity with a statement chandelier for a room fit for entertaining. 
7. Inject pattern with monochrome tiles
Black has grounding qualities, being relaxing for the eye. If you want to ground your space and add a feeling of depth without overwhelming your room with a block of dark color, introduce black using pattern. Be it patterned curtains, a rug, or monochrome fireplace tiles like this, a hint of black can work wonders for cementing your scheme.
8. Paint sections of living room walls black
If you're just not ready to let go of your light, white and airy scheme but still want in with the black living room trend, create definition and contrast by painting the bottom half of your wall black. A small yet mighty twist to the standard white wall which instantly enhances your space. 
9. Embrace industrial style 
Industrial style is a trend that isn't going anywhere any time soon. Whether it's painted wood or black metal, bringing in black with warehouse-style furniture is a simple way to create the look. Choose glass designs to allow light to pass through and warm up the look with soft brown leather.  
10. Make a statement with modern furniture
Give black a playful twist with striking geometric designs. Choose one dark investment piece, and no matter how many times you change you scheme, it will always take pride of place. The gold metallic shapes on this sideboard lift the design and give it modern edge. 
More on living rooms: