Knowing exactly when to put up a Christmas tree can be a bit of a minefield. Between tradition and what social media tells us, you may be torn between holding out until Advent or giving straight after Halloween.
The answer simply is, unless you are investing in a real Christmas tree it is entirely up to you.
A survey from last year* revealed that one in five have already put up their trees by mid-November, and that about a third of us all had already turned our Christmas tree ideas into a reality before December.
Family traditions and preferences are one thing but if you opt for a real Christmas tree over the best artificial Christmas tree you do have to abide by a few more rules to make sure it stays alive until 25th December.
Here is everything you need to know about negotiating the traditions, superstitions and facts around when to put up a Christmas tree.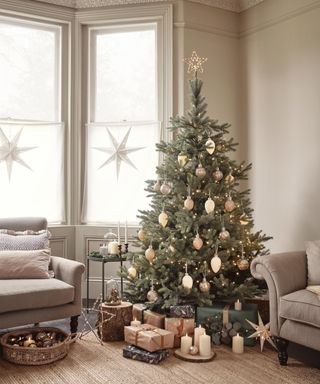 'How – and when – you deck the halls is different for everyone!' says Sarah Fishburne, Director of Trend and Design at The Home Depot.
'The best Christmas trees, real or artificial, bring a festive spirit to your space in a way that works well for you and your family. Fresh-cut live Christmas trees allow you to bring the beauty of nature and the unmistakable scent of evergreen into your home for the holidays.'
When should you put up your Christmas tree?
Traditionally, a Christmas tree would be put up to mark the beginning of Advent which is a time of celebration, anticipating Christ's birth. Advent starts four Sundays before Christmas day meaning it falls on the 28th of November this year.
So there is a good case for all those trees going up in November this year. However, if you look back to the Victorians who popularized the Christmas tree they often didn't put up the tree until the 22nd or even the 24th of December.
Is it bad luck to put up a Christmas tree early?
The superstition around it being bad luck to put up a tree before December stems from Catholic tradition. However, this superstition has started to hold less sway in recent years.
The improvement in artificial trees has also done away with the fear of the tree dying before Christmas if you put it up early.
'Over the last few years, manufacturing technology has significantly improved the realistic look of artificial trees,' says Fishburne. 'Prewired lights, Quick Connect Plugs, and memory wire also make the setup extremely quick and easy. And, the good thing is, these trees stay beautiful season after season!'
In fact, if you do opt for an artificial tree, it is actually best to start thinking about it early. 'We do recommend purchasing your artificial trees early in the season, so you can ensure the widest variety of available styles and sizes,' adds Fishburne.
And if you go down the artificial tree route ensure you pick the best fit for your home and get clued up on Christmas light safety. All artificial trees available at The Home Depot operate with LED lights for added energy-saving and safety benefits.
When it comes to trees there really is no hard and fast rule unless you are buying a real one. It is all down to personal preference in terms of your holiday traditions.
Tan France's Christmas tree goes up straight after Halloween for example, while Escape to the Chateau's Angel and Dick Strawbridge wait until the 1st December. 'Our Christmas tree goes up on the 1st December and is down by the traditional twelfth night,' says Angel. 'We're suckers for tradition!'
When is the best time to buy a real Christmas tree?
Keeping a real Christmas tree alive is the biggest issue when choosing when to put up a Christmas tree.
'Typically real Christmas trees last 5-6 weeks if they are looked after properly,' says Liam Lapping from Plant Experts Flowercard. When you buy your tree is largely dependent on when you take it down.
'If you take your Christmas tree down straight after New Year's Eve then you should buy your tree on the 28th November,' says Lapping. 'However, if you take your Christmas tree down on the Twelfth Night then you should buy your tree on the 2nd December.'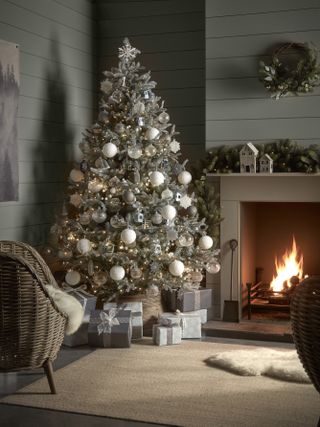 Gardening expert, Samantha Jones from MyJobQuote also points out that different varieties of trees will last different amounts of time. 'Low drop trees like Nordman firs, you can purchase them up to 4 weeks before Christmas,' she explains. 'But for European spruce trees, get them mid-December as they tend to dry up faster.
There are various hacks you can try to keep your Christmas tree alive. You may have a little more time if you'll be keeping yours in a room that's cool and gets plenty of natural light. However, be sure to keep it away from any radiators as heating can dry out Christmas trees and shorten their lifespan.
Alternatively, real potted trees are having a renaissance at the moment. This smart alternative means that as long as you are diligent with your watering and care you can put the tree up as early as you like, and even use it again next year.
When to take down your tree
If you're superstitious, do it by the 6th January. If not, whenever it has started to shed its needles/no longer takes up water. Remember to take it to a tree recycling point – your council website should tell you where you nearest one is.