Baking gorgeous Christmas cookies, ones that look like they're straight out of the pages of a cookbook, is an art ... but that doesn't mean it has to be hard. Instead, with a few simple ingredients and a little creativity, it's easy to turn store-bought cookies into delicious and beautiful masterpieces that make a delightful Christmas gift idea. And during the busy holiday season, who doesn't love a hack that makes celebrating simpler without sacrificing an ounce of festivity?
To help us create a festive treat without spending hours in the kitchen, we turned to crafting & baking blogger Lauren Gardner, who shared this super-simple, but oh-so-lovely recipe for Dipped Ornament Oreo cookies. No baking required!
Candy-coated ornament Oreos
These candy-coated Oreos are so fun for the season and they couldn't be easier! They are also great to tie up in little baggies and gift to friends, coworkers and neighbors.
Here's what you'll need:
Oreos
Melting wafers / melting chocolate
Food coloring (or colored melting wafers)
Oreo cookie mold ($6 on Amazon)
Sprinkles in various sizes, and/or edible glitter
Chex cereal or pretzel snaps
Optional: Cellophane or paper baggies for wrapping
Directions:
1. Melt the chocolate wafers in the microwave, following the instructions on the bag. (I recommend melting half of the bag at a time, so the mixture doesn't freeze up.)
2. Once melted, add food coloring to get your desired color
3. Working on one Oreo at a time, fill the plastic mold with a large spoonful of your melted wafers. Place your Oreo inside and lightly press down.
4. Spoon another dollop of melted wafers on top and swirl the back of the spoon on top until the melted mixture covers the top and sides. Repeat with the rest of the Oreos in the mold.
5. Let cure in the refrigerator for 10 minutes.
6. Remove from fridge and pop your cookies out of the mold by turning upside down and gently pressing on the bottom of the mold with your thumbs.
7. Use some of the leftover wafer mixture to coat a Chex and add it to the ornament for a top.
8. Once the top is cured, decorate the front of the cookies with sprinkles, using a frosting bag or toothpick to adhere sprinkles with melting chocolate.
Stock up on supplies: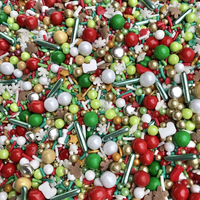 Holiday sprinkles, 4 oz | $11.99 on Amazon
This holiday sprinkle pack features all the shapes you'll need to create fun ornament cookies. You'll find Christmas trees, snowflakes, stockings, and more.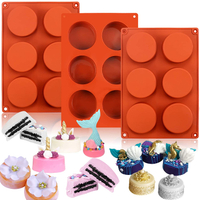 Oreo mold| $11.99 on Amazon
This silicone mold is exactly what you need to create these adorable cookies. It comes with three trays that hold six cookies each.