Wondering which sustainable home improvements are worth pursuing to make your home more energy efficient and eco-friendly?
Building new eco homes is a sure-fire way forward for a lower carbon footprint, but what about existing homes? With the recent scrapping of the Government's Green Homes Grant, it's now on us to improve our own abodes' energy efficiency and in turn, futureproof our homes.
Paula Higgins from HomeOwner's Alliance explains more, 'We don't often think about sustainability when we are considering home improvements. But we should.'
'Undertaking a loft conversion or kitchen extension will naturally improve the energy performance of your home because higher building standards will need to be met and this will mean better windows, more insulation and an efficient heating system.'
'But it also makes financial sense to look beyond the initial project and go beyond the minimum requirements. Tradespeople are allowed to charge 5% rather than 20% VAT when installing energy savings products.'
'Besides cutting your bills and making you feel more comfortable you can also make your property more valuable in the longer run by future-proofing it. The government has already banned landlords from letting properties with an EPC rating below C and is considering doing something similar for those selling their home.'
We don't need any more convincing... Read on for our round up of innovative ways to improve your home's sustainability and make for an energy efficient home to boot.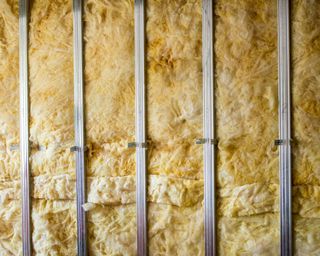 Sustainable home improvements for an energy efficient home
'There are plenty of ways to create a more sustainable home, for big budgets and small. For those with the money, you might want to consider generating your own energy, either through solar panels, heat pumps, or a biomass heating system,' says Nick Stockley, Design Director for Resi.co.uk.
1. Add insulation to your home's walls
If your home's poorly insulated, your heating (and money) will be going straight out the... erm, walls.
Sustainable building expert Tim Pullen on Homebuilding & Renovating explains, 'Thermal efficiency is a core element of any eco home and insulation is a key component of that. Focus on getting the insulation as consistent as possible on the whole envelope.'
Plus by adding insulation, you could save around £275 a year in energy bills, says the The National Insulation Association.
With a wide range of natural and recycled materials available, from sheep's wool to cellulose insulation, it's relatively simple to insulate lofts and cavity walls.
Insulating sold walls is a little trickier. Thermal lining can be used inside your home and you could add a layer of insulation to the outside, covering it with render. However, if you're adding insulation to a period home, you'll need to make sure the breathability of the building fabric is retained to avoid any risk of damp.
It's trickier to insulate solid walls. Internally you could apply thermal lining. Externally, a layer of insulation can be fixed to existing walls and then covered in render.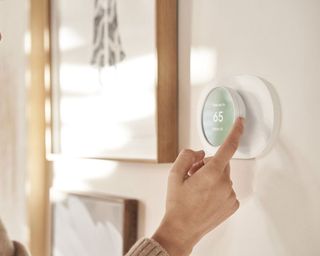 2. Install a thermostat for energy efficiency
By installing a thermostat to your home, you'll be reducing your carbon dioxide emissions but you'll also be saving money on your heating bills by using your controls efficiently.
The Energy Saving Trust say you could 'save £60 and 310kg of carbon dioxide a year by turning the room thermostat down by one degree.' And by 'installing and correctly using a programmer, room thermostat and thermostatic radiator valves, you could save £75 and 320kg of carbon dioxide a year.'
With a thermostat, you can schedule your heating and hot water to go on and off when needed. And if you opt for room thermostats, you can select areas of your home to heat and the required temperature for each room, rather than heating the whole house at the same temperature.
The Energy Saving Trust explain more, 'You can upgrade or install heating controls without replacing your boiler, and it's a particularly good idea to think about this if your controls are more than 14 years old. Room thermostats, for example, are much more accurate now than they used to be.'
You could go one step further and invest in a smart thermostat like a Google Nest, which means you'll be able to control your heating from anywhere.
3. Choose bamboo flooring
With the same look and feel as hardwood, bamboo is fast becoming the biggest eco-friendly material for flooring. Not only is it light and inexpensive, but it's also really strong which makes it an alternative method to concrete and has a greater tensile strength then steel.
The Bamboo Flooring Company explain more, 'As bamboo is a fast growing, self-regenerating grass, it is much more sustainable and environmentally friendly than more traditional hardwood flooring options. For example, bamboo takes around five years to reach maturity, whereas a hardwood tree could take decades to grow until it is mature enough to be harvested.'
'To make sure that you purchase truly sustainable bamboo flooring you will need to look out for an FSC (Forest Stewardship Council) certificate.'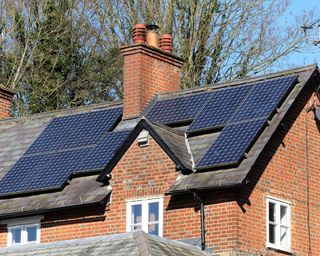 4. Place solar panels on your roof
Solar is a green, renewable energy and because sunlight is free, once you've paid and installed your solar panels, your electricity costs will drastically reduce, and so will your carbon dioxide emissions.
Plus, if you live in the UK and do happen to generate more electricity than you use, you may be eligible to receive payments for the extra energy you generate. Bonus. You'll find more info on the Smart Export Guarantee on Solar Energy UK.
Generating electricity, solar photovoltaic (PV) panel systems don't need direct sunlight to work so you'll still generate electricity on a cloudy day. You'll just need to make sure you attach them to a roof or wall facing south.
The Energy Saving Trust explains more, 'As your PV system will be working at its peak during daylight hours, it's a good idea to think about reorganising domestic activities such as washing, dishwashing and ironing.'
'If you're home most of the day, then this will be easier to do, but if you work during the day then try setting up timers for your dishwasher and washing machine.'
According to the Trust, PV systems are classed as permitted developments which means there's no need to apply for planning permission. Although it's always a good idea to double check with your local authority before installing in case there are any limits or restrictions.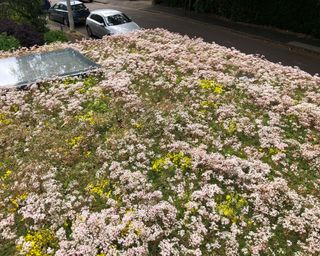 5. Plant a green roof for eco friendly insulation
To add even more insulation to your home (more cooling in the summer, than heat in the winter) and increase the biodiversity of your garden, you could install and grow a green roof.
Not only will it look pretty, a green roof will also absorb carbon dioxide, heat from the sun, a large proportion of rain water and even noise.
Living Roofs explains more, 'The combination of soil, plants and trapped layers of air within green roof systems can act as a sound insulation barrier. Sound waves are absorbed, reflected or deflected. The growing medium tends to block lower sound frequencies whilst the plants block higher frequencies.'
Critically though, they also encourages biodiversity, says Living Roofs.
'Green roofs can provide important refuges for wildlife in urban areas. Research in Switzerland and the UK has demonstrated that green roofs can provide important refuges for rare invertebrate populations.'
We recommend purchasing a guide likeLiving roofs' DIY guide to green roofs.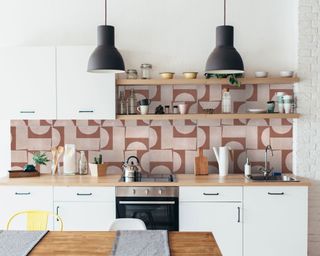 6. Decorate with eco-friendly finishes for a more sustainable home
With so many amazing home decor brands making sustainability their core focus and ethos, it makes more sense than ever to decorate green.
Hilary Gibbs, Co-Founder of LIVDEN, an innovative tile company that's putting sustainability at the forefront with their stylish recycled tiles, explains:
'Using sustainable building materials creates a design that's lasting: the inherent durability of eco materials leads to longer material life cycles, less material replacement, and a lower impact on the environment.'
'While sustainable materials might have a slightly higher price tag than their traditional equivalents, you'll recoup that investment over time by not having to replace or repair these materials as often.'
If you're repainting a room, why not give the much-talked-about eco paints like Lick a whirl. All of their paint is both water-based and low VOC (volatile organic compound) which means they omit fewer harmful chemicals, making them a more easily biodegradable end product. Their paint collaboration with Made.com is to die for too.
Check out these sustainable furniture brands too.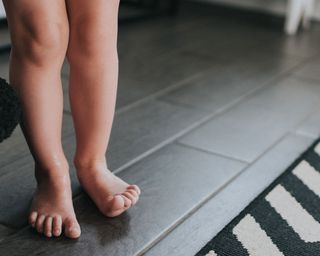 7. Lay underfloor heating
As one of the most energy efficient ways to heat your home, underfloor heating is a more natural form of heating and requires lower flower temperatures due to the radiation in an increased surface area.
Unlike central heating with traditional radiators which uses convection (heat air that travels around the home), underfloor heating has a mix of heat radiated from the floor and convection, creating a snuggly constant temperature between the floor and ceiling.
The Centre for Sustainable Energy explains the two different systems:
'Wet systems can be run using a conventional gas, oil or solid fuel boiler, or with a biomass boiler.'
'Other renewable technologies can also be used, particularly heat pumps, which are more efficient at the lower temperatures underfloor heating systems operate at.'
'Dry underfloor heating uses electric wires that heat up when electricity is provided, and will either come as ready-made mats or lose wires that need to be fitted.'
'Dry underfloor heating should also be connected to individual room thermostats, so that each room or area can be adjusted independently.'
As with most home improvements, installation costs vary quite a bit depending on what system you choose, the size of your home, how many rooms you want to heat and whether you're installing it in a new build, extension or a period home. Oh, and not to mention what type of flooring you've got to work with.
With all this in mind, it's best to speak to a pro to decide what system is right for you.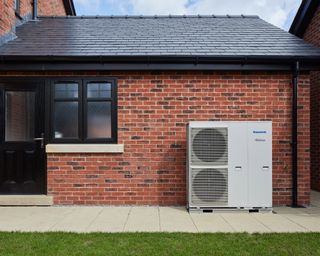 8. Fit an air heat pump
Unlike more traditional gas and oil boilers, air heat pumps give out heat at lower temperatures over longer periods. They require electricity to run, but because they are extracting renewable heat from the environment, the heat output is greater than the electricity input.
You'll not only be lowering your carbon emissions, but you could also lower your heating bills and if you live in the UK, installing an air heat pump could act as a little side hustle with the UK government's Renewable Heat Incentive .
When thinking about fitting this type of heat system, it's essential to note that you'll also need a existing central heating system for a heat pump to work.
You'll also need to make sure you factor in how good your insulation is and whether it would be wise to install underfloor heating to make sure the system is working as efficiently as possible.
And do you need planning permission? The Energy Saving Trust explains more:
'While air source heat pumps don't take up too much outdoor space, the unit will be visible from the outside of your property, so it's best to check with your local planning authority first, to find out if you need planning permission. As the unit is above ground, it will produce a noise similar to that of an air conditioning unit, which could be bothersome to you or your neighbours.'
How can a house improve sustainability?
Nick Stockley, Resi's Design Director says, 'Households are responsible for about 27% of the UK's carbon emissions and almost a third of the nation's total energy consumption. By making smart changes to both your design and fittings, you can help better protect the environment we all need and love.'
What are some sustainable house features?
'Even if you don't go down this (sustainable) route, you should at the very least be conserving as much energy as possible with proper insulation. Insulating a home can be done on a variety of budgets. You might choose to seal up the gaps around your windows and doors, or you may have the cash available to deck out both your loft and basement (which are very prone to letting in drafts),' explains Stockley.
'As with all good design, you should also be thinking about how the way you live your life influences the design of your household. For instance, if you're the sort of person who really values living an eco-friendly lifestyle, how can your home help this?'
'You might consider getting your architect to add…
What are examples of sustainable materials?
Stockley says 'To be a true eco-warrior, you'll not only insulate your home but use materials that are good for the environment. Materials like…
'If you're building a home from scratch, or simply adding on a new extension, the materials you choose here can also make a big difference. You might choose to explore woodcrete, an alternative form of concrete. It is much better for the environment due to its manufacturing process, which replaces some of the more energy-intensive components of normal concrete with recycled wood. This is then either used in place of normal concrete.'
'Cork is not only useful for plugging up bottles of bubbly, it is also a versatile construction material notable for its sustainability and eco-efficiency. Cork's use in construction varies due to its mix of properties. Its unique structure, filled with air pockets, make it a great insulator of sound and heat, which has seen it used as insulation in ceilings, walls and flooring.'