Whether you're displaying artwork or trying to mount your best TV on the wall, knowing how to use a stud finder is a total must for a thorough job!
I've renovated multiple homes over the years and taken on a lot of DIY projects. And, like so many, I had to learn the hard way that heavy items need to be anchored to a stud in the wall...
If you've ever tried to hang something on the wall, just to have it fall off and take some sheetrock with it, the humble stud finder will become your favorite must-have DIY tool. Learn how to use yours the right way and you'll make a ton of different home improvement jobs far easier!
What is a stud?
Studs are the boards that run vertically along the inside of the walls of your home. They're typically spaced 16 inches apart and are used to frame out the exterior and interior of a house. Studs can be metal or wood. Exterior wood studs are typically 2x6s while interior wood studs are 2x4s.
It's helpful to know how to locate the studs in your walls for multiple reasons, but the most common one is for hanging pictures or mounting something like a shelf. Especially if you're hanging something heavy, you need the support of the stud to ensure it doesn't pull out of the wall.
Some items that you need to consider mounting to a stud:
TVs
Artwork
Wall lamps
Large mirrors
Shelving
Heavy picture frames
Different types of stud finders
One way to locate a stud is by knocking on the wall. The wall will sound hollow where there is no stud. When you knock over a stud the wall should sound more solid. While trying to locate a stud this way is handy because it doesn't require any tools, it isn't foolproof.
Thankfully, you can easily locate studs using even just a basic stud finder which is designed specifically to show you where the studs are in your walls.
There are multiple kinds of stud finders, each with different features. Let's take a look at two of my favorite stud finder tools!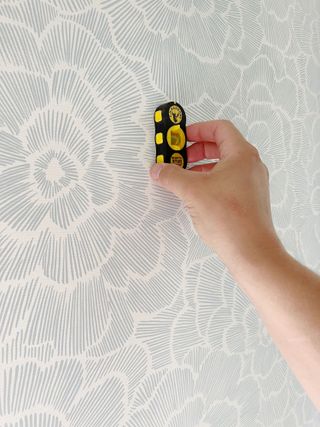 Magnetic stud finder
This handy stud finder has a magnet in it so it's great for finding metal studs in the wall. But it can also work for wood studs because it will find the nails or screws used in the wood studs. Simply run the magnetic stud finder over the wall until it adheres to the wall. When it stays on the wall by itself you know you've located the stud. It even has a built-in level to help hang artwork evenly!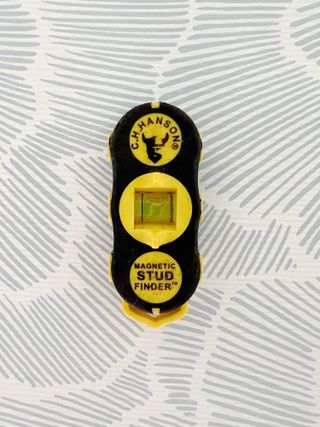 LED stud finder
An LED stud finder is more advanced, using LED technology to sense the studs in your wall. You don't have to worry about calibrating or tuning before use, you just turn it on and begin scanning.
As you run the LED stud finder over your wall it will light up if it locates anything behind the surface. To make sure you've found a stud, run it up and down the length of the wall. My favorite LED stud finder is the Hart Advanced Stud Finder.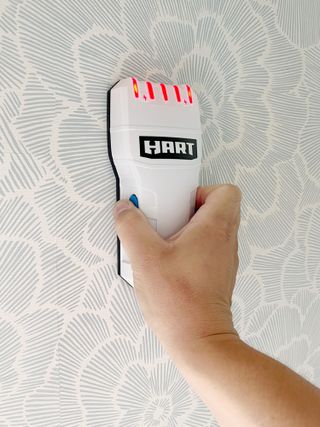 Once you've located your studs you are ready to complete your project whether you're hanging artwork or mounting a flat-screen TV!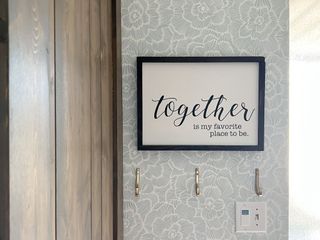 Stud finders are one tool a DIYer does not want to live without. It's a small price to pay for peace of mind when hanging or mounting anything in your home!