It's all about the accessories. That's the key to making a house a home isn't it? But is there anything more satisfying than using things from around your home that are unused, useless and no longer needed and transforming them into something amazing?
Yes, there is! It's doing that and barely spending any money on it at all. If that's your bag and you're in the market for a brand new table to prop up your coffee cup then read on and have a go at this super simple make that will cost a fraction of the price a coffee table you might find in the shops.
Time and cost
Difficulty rating: Easy!
Time: around an hour, plus time for drying
Cost: You can make this simple DIY project as cheap as chips by shopping your home and using a spare piece of wood, old poster tubes, leftover paint or a tester pot and a few screws. If you haven't got any of those things then to keep costs down head to a wood recycling center. All in, if you need to buy things you're looking at around $15/£15.
How to make a coffee table with wood and cardboard tubes
The most important thing about making your table is the legs because you need to make sure they are the same size so the table is sturdy and not wonky. I've used leftover poster tubes which were already the right size for a small table so I didn't need to cut them. You can of course cut them to size, just be sure to measure twice before you cut them and ideally, have a pal hold them steady while you do it so you know you do it accurately.
You need the lids of the tubes to attach the legs to the table top but its best to leave the lids on the bottom too as it will make the table more sturdy. They will be painted over so won't be noticeable.
1. Measure your wood and cut it to size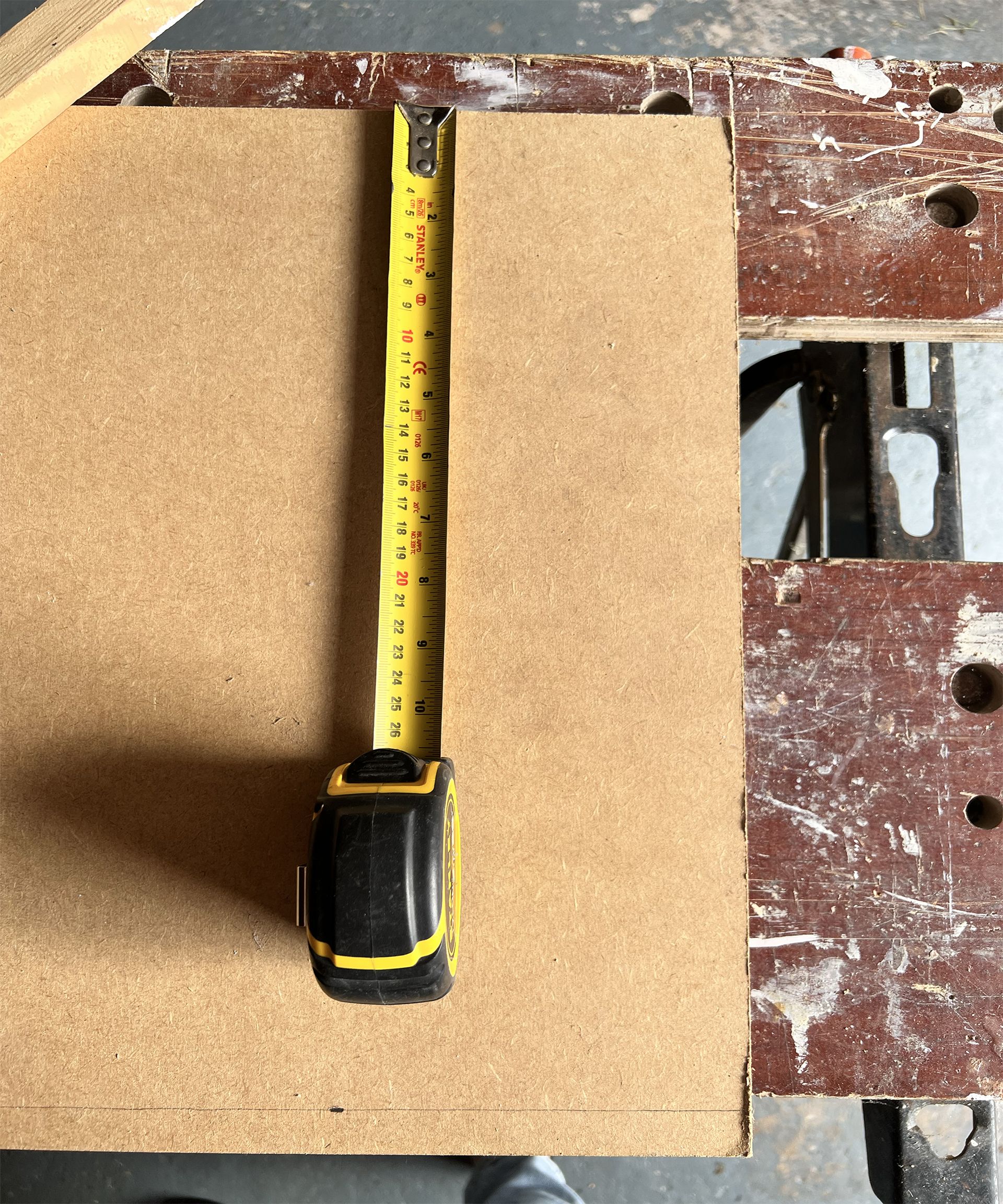 Choose the size of table you would like, I've gone for 60 x 40cm (24 x 16 inches) here but the super thing about making your own table is that you can select the size that suits you and your space.
Once you've chosen your size, measure your wood with a tape measure and mark where you need to cut with a pencil. Make sure the line is straight using either an old piece of wood like a wooden batten, a spirit level like this one from Amazon Basics or a ruler and then cut it using a hand saw.
When you're cutting the wood make sure you're holding it steady or have someone hold it for you so it doesn't slip. Also check that your fingers are out of the way!
2. Draw a guide for attaching your table legs
While we won't attach the legs yet, we're going to mark out where we want them because we need to use the points of the corners to make sure each leg is in the same place.
Firstly, take your ruler, spirit level or piece of wood (anything to make a straight line) and draw diagonally across the table from corner to corner, making sure you draw right from point to point. When you've finished you will have a cross marked across the table top. Now, choose where you want the legs; each needs to be the same distance from the corner of the table. Take care not to place the legs too near to the center because the table will topple over (I did 8cm/3" for mine). Grab your tape measure and measure your chosen distance along the diagonal line you've drawn (this will ensure all of the legs are screwed in at the same angle), from the tip of each corner. We'll come back to this once we've finished the table top.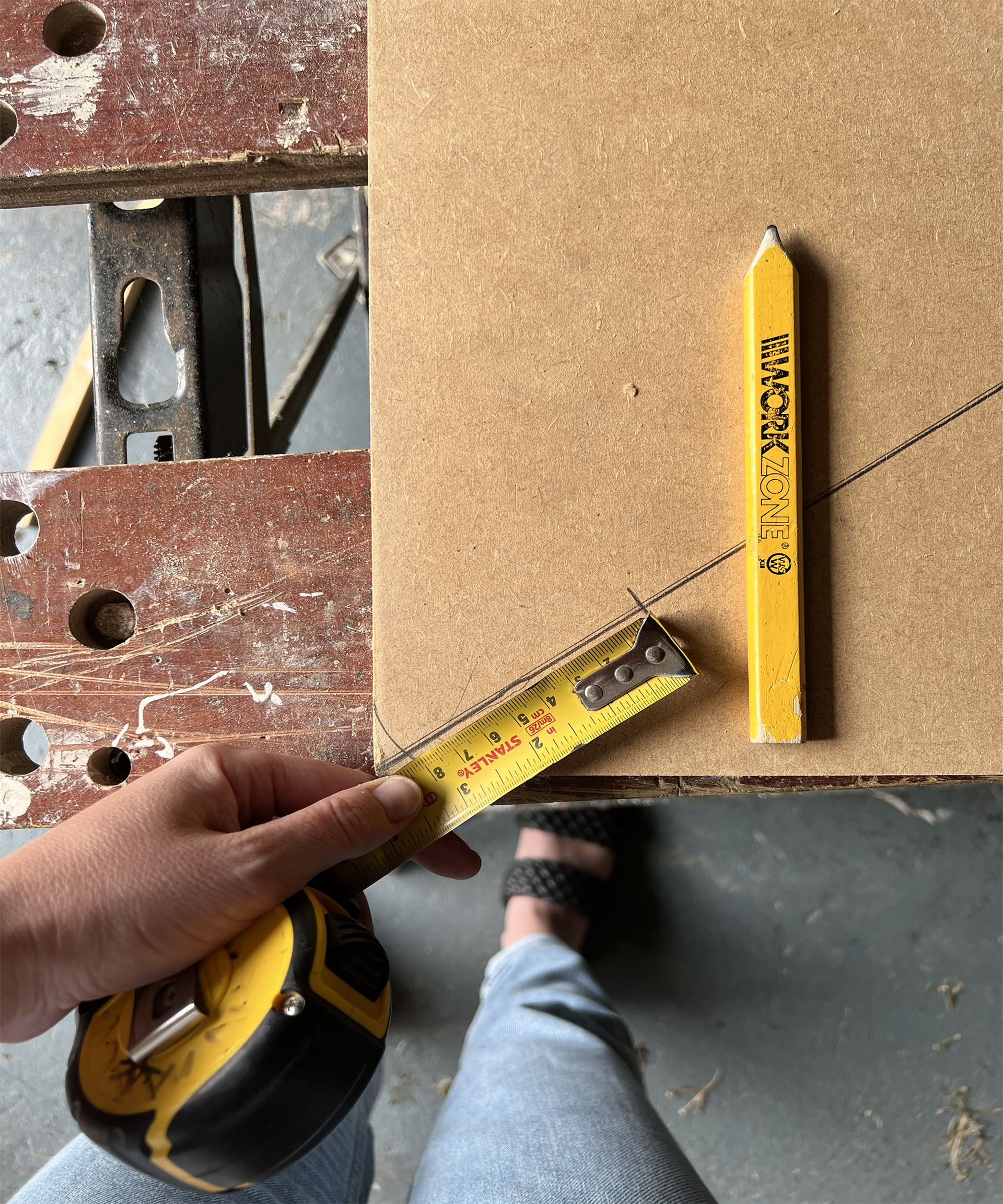 3. Draw a guide to round off the corners of your table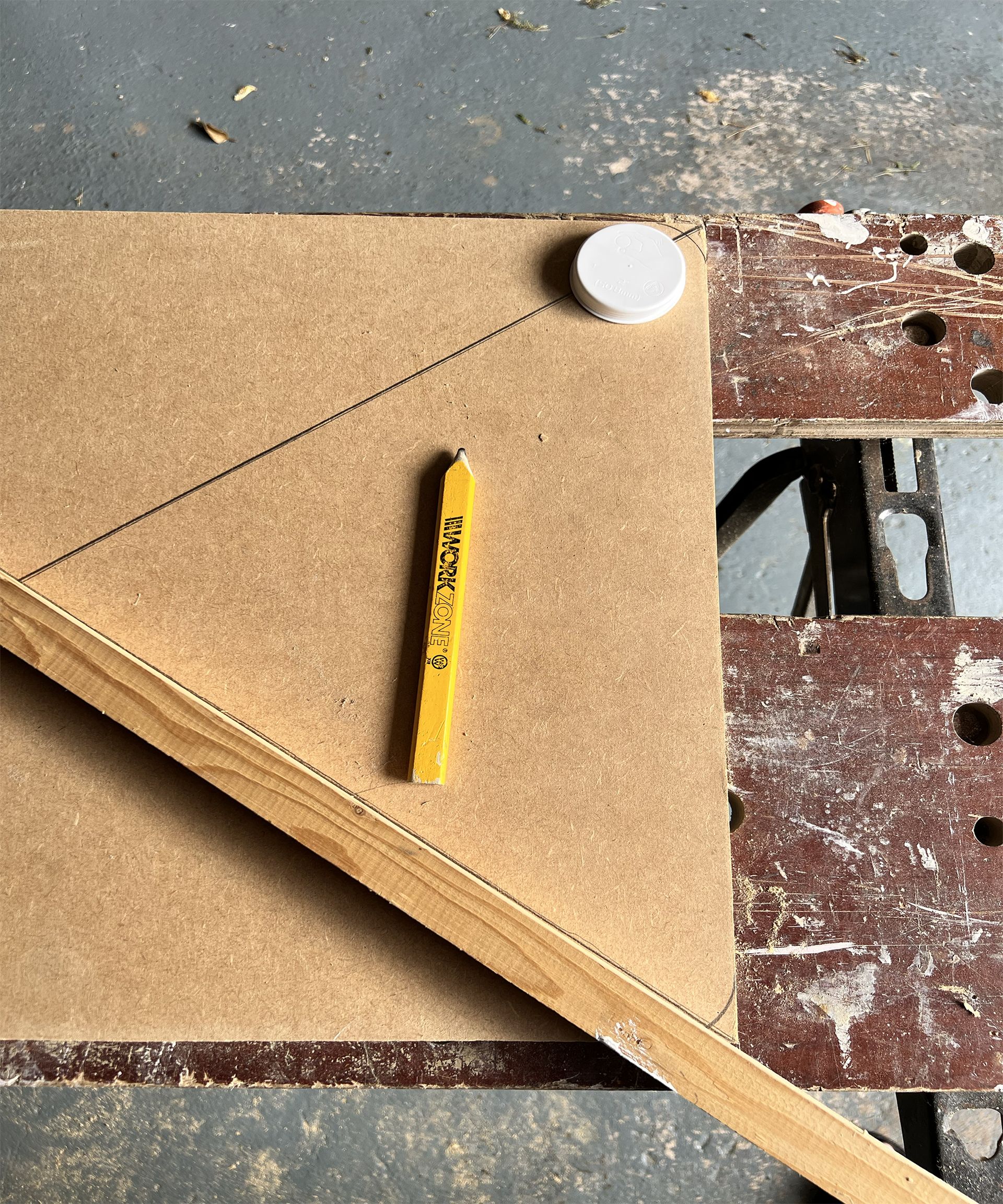 It's important to round off the corners of your table top, firstly it makes it look much more fabulous and secondly, it is way safer, especially if you have kids that are around and may knock themselves on it. You want to make sure that each corner is rounded the same way and to the same size so you're going to draw a guide to help with this.
To draw the guide, use the circular lid of your cardboard tube as a template. A corner at a time, place the lid and draw around the side of it with your pencil. This will mark a curve that can act as a guide for where you want to saw and sand each corner. Make sure each curve that you draw is the same distance from the corner so they look even.
4. Cut and sand the corners and edges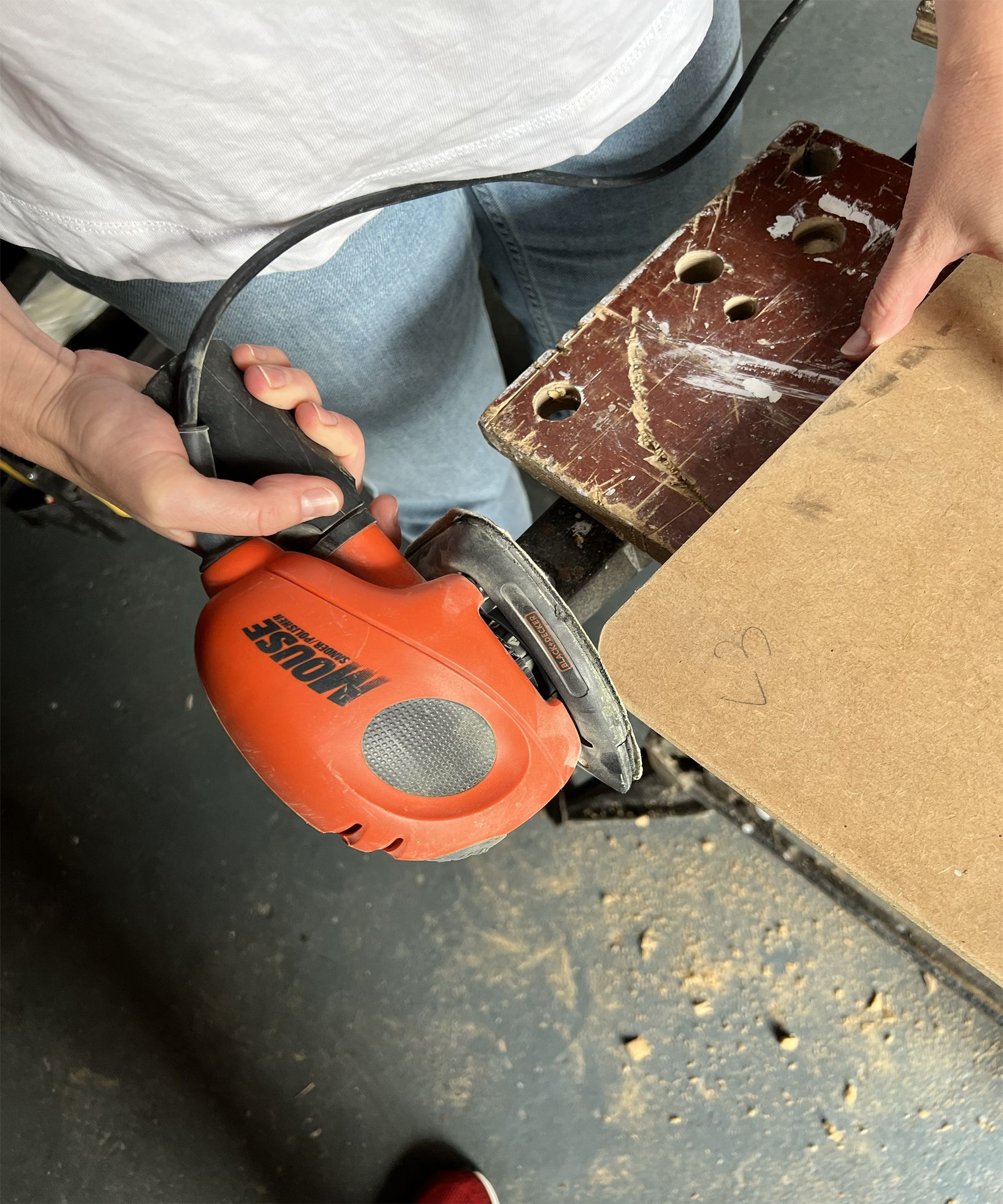 Once you have marked a guide for cutting each corner, use your saw and cut each corner slowly, cutting straight across the highest point of the curve that you've drawn. This will take off the point of the corner; you will now need to sand the rest of the point off in order to round them. It's best to use a mouse sander like this one from Black and Decker which will make a quick job of it. You can also sand each edge of the table to make them a little rounder which will give it a nice finish. Now your table top is finished!
5. Make a starter holes to attach your table legs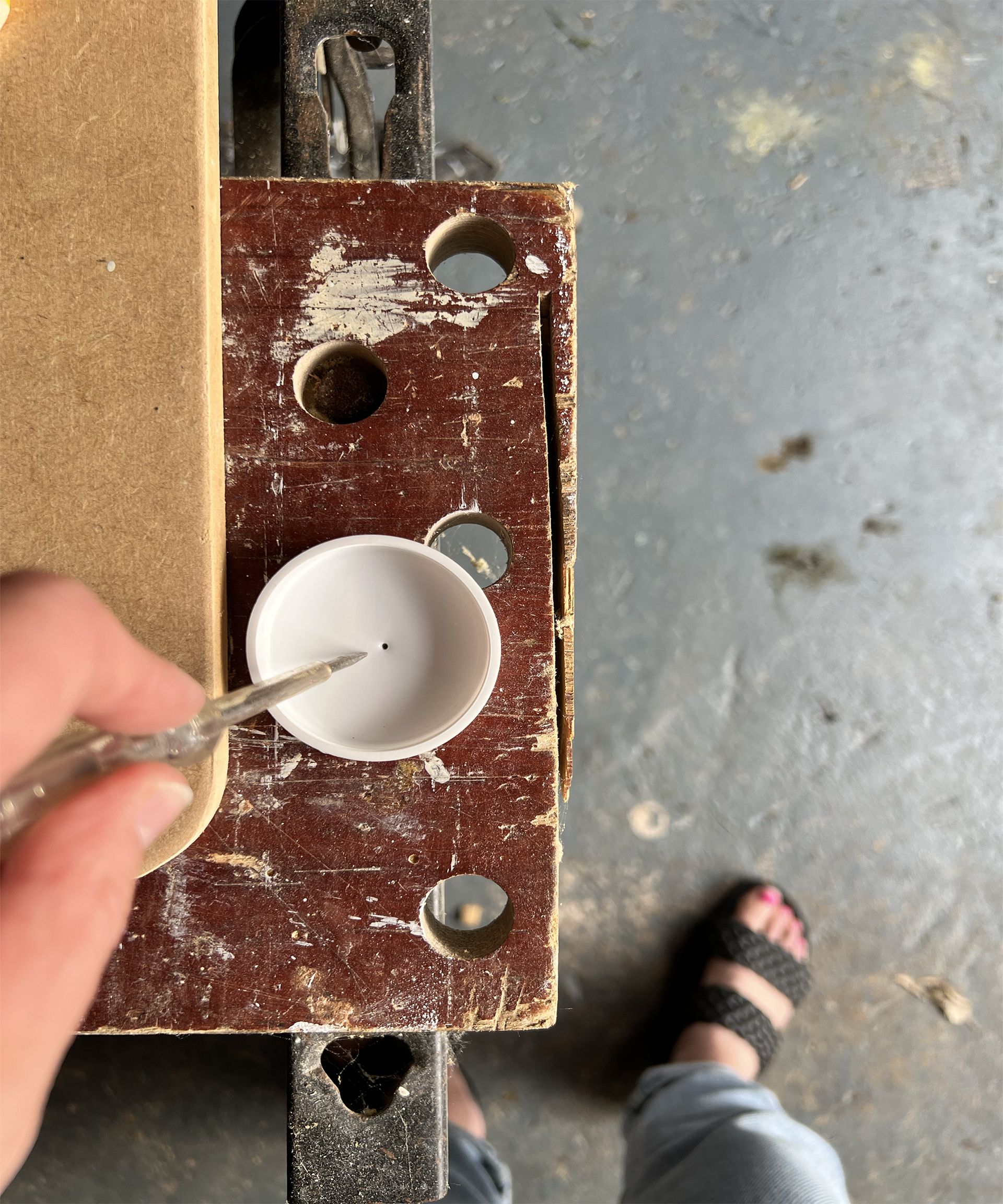 Using your awl (which is a handy tool that pokes holes) make a hole as a starter to screw in your legs. To do this, place the awl on the spot that you have marked for each leg on your table top and press firmly down, repeat this for each corner. Then, place the awl in the centre of each lid and press firmly down. You will now have starter holes for each leg, making it easier to screw them in.
6. Attach the table legs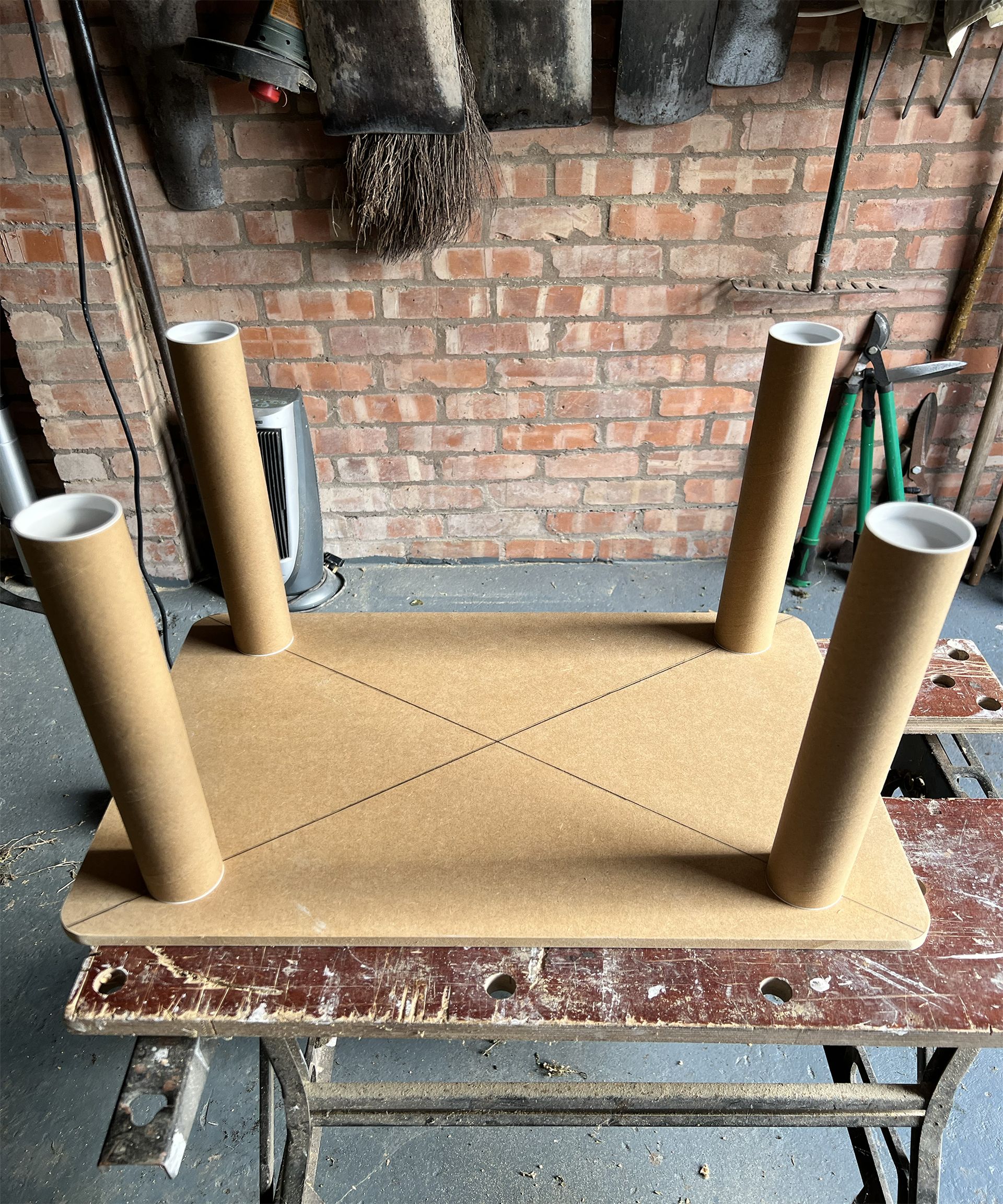 You're going to attach the lid of the cardboard tube to the table top and then attach the tube to the lid. To do this, take a lid and place it over the mark you made; the top of the lid needs to be facing the table top. Place the screw (this assortment from Mr Pen is super handy) into the hole and use a washer if you need to, to make it tighter.
Screw the screw in gently to avoid piercing the table, if the screw does go through to the other side slightly, unscrew it by reversing your drill and sand off the top of the table, gently to avoid damaging the wood. Now pop the tube back onto its lid and repeat for each leg, once the last tube is back on you now have your table!
7. Decorate your table
Now, your table is all done and you can make it look a million dollars! Be sure to wipe it down before you decorate it so you get a smooth finish and don't have any dust in the paint. I've decided to keep it simple but you can choose to go with whatever decoration you like.
When you choose what to decorate your table with, bear in mind that you need something suitable for both wood and cardboard. I've gone for cream spray paint like this one from Rustoleum for a cheap, quick and easy makeover that looks fab in any space. You could choose to use paint or even mix materials, using paint on the table top and wrapping brown string around each leg for a more boho look. Alternatively, if you want to make it fun you could paint the top of the table and add a decoupage before finishing with PVA glue to seal it.
Then you're all done! Give yourself a high-five! You just made your own table by shopping your home, or at most, for the same price as a couple of coffees!