Cosy inglenook fireplaces and exposed oak beams are part of the charm of living in an old timber framed house. But chocolate box cottages generally have smaller, fewer windows than their modern counterparts, while ceilings are often much lower. This 17th century Suffolk farmhouse has an abundance of heavily blackened oak beams and it makes the farmhouse kitchen much darker than is desirable today.
Stripping paint from beams
One way to lighten them would be to strip off the layers of paint, which can be labour intensive and messy. Companies such as Renaissance Beams offer this service, but if you do it yourself, be aware that lead could be present if any of the layers are pre mid-1960s, so take sensible precautions.
There are other things to consider too. After spending a lot of time and energy getting rid of the paint you may discover that woodstain has penetrated deep into the timber and proves impossible to remove. There are proprietary wood lighteners or wood bleaches but they will only lighten the wood by a shade or two.
Alternatively, you may strip off all the old finishes only to find that inferior wood was used in the original construction or that an unattractive surface covered by a friable mass of wormholes has been exposed.
In addition, the oak beams may well have been mutilated at a later date to roughen the surface so they could be plastered over. Remember that old internal beams will have lived through many eras of changing styles.
Painting the beams
A better option could be to paint the beams in a pale Farrow & Ball casein distemper, which I show how to do here in a cottage kitchen. This traditional decorative effect, with a matt finish, can easily be scrubbed off later if someone should decide they would like to change it.
You will need…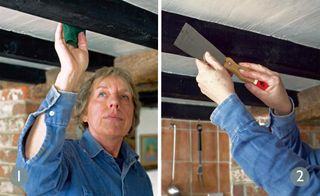 1. Test a small sample area first: Choose a discreet area on an oak beam to test the ESP undercoat and casein distemper before tackling the whole ceiling. There's no way of knowing what finishes have been applied to the oak beams in the past and if they might leach into the distemper. Possible past finishes range from woodstain and creosote to paint.
2. Remove flaking paint from beams: Once satisfied, use a scraper to go over the beams and remove any loose or flaking paint. Hold a dustpan in the other hand to make cleaning up easier. Ceilings can be a pain in the neck quite literally: use a stool, step ladder or hop-up so you can work at a comfortable height and work for short periods at a time.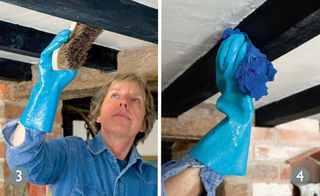 Lightening your oak beams
3. Scrub away dirt and grime: Using a bucket of hot water, sugar soap and a bristle scrubbing brush, scrub away at the beams to remove all traces of dirt and grease. On beams where gloss paint or varnish has been applied, rub vigorously with a green kitchen scourer after cleaning to create a roughened key for the distemper coats.
4. Allow beams to dry slowly: Using clean hot water and cloths, rinse away the suds, grime and dissolved grease. To reduce drying time use an old T-shirt to wipe over the beams to mop up the surface water. Don't apply artificial heat to the beams – it's better to open doors and windows to allow them to dry slowly and naturally.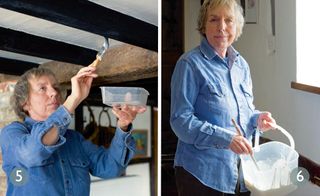 5. Apply ESP to help bonding: Once the wood is completely dry apply ESP with a brush or cloth. This will create a barrier between the old and new finishes which will help the distemper to bond and reduce the migration of stains from the original applications. Pour some fluid into a tray and hold it beneath as you coat the beams.
6. Dilute casein distemper a little: Stir the can of casein distemper thoroughly. To ensure a good flow as you apply it, dilute it with water by up to 10%. A greater dilution is ill advised as it will become messy to apply and further coats will be necessary to provide good coverage. Stir well to mix it before use, then occasionally during use.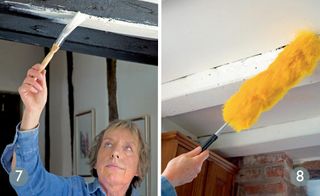 7. Apply distemper in several coats: Do not use casein distemper when temperatures are below 10ºC or above 30ºC. Don't expect the first coat to cover the black; at least two coats will be needed. Don't apply too thickly as the paint will sag and may crack once dried. When the first coat is dry – around two hours – apply the second. If necessary, apply a third.
8. Maintain beams regularly: Store unused casein distemper in a frost free place, so it can be used for any touching up. Spring clean the beams with a feather duster to flick away dust and spider webs. Wipe gently with a damp soft cotton cloth or sponge if required. Casein distemper has a very matt finish and will mark or scuff if washed.
Preparation products from Owatrol (01923 219122; owatroldirect.co.uk); Paints from Farrow & Ball (01202 876141; farrow-ball.com)