A clean stove top is kind of a rare feature in busy homes. Because all stoves get heavily used, and over time, it shows the results. You'll likely need to know how to clean your stove tops because of spills, boiled-over liquids, splashes from pans, food debris, grease... Yup, it's a long list.
The good news is that although burnt-on food and grease appears challenging, you can actually tackle the grime easily. Whether yours is glass, electric, gas, enamel or ceramic, you'll be able to have it looking shiny and new in no time. Using the right tools, commercial cleaners and even natural cleaning agents like baking soda and vinegar, you can employ different successful methods which are fairly similar to what you'd do to clean an oven entirely.
We spoke with Smeg about the best ways to clean different types of stove top – glass in particular – and they recommend 'A simple microfibre cloth works a treat to remove grease and restore shine. To protect the hob further, invest in a hob cleaner that leaves a silicon protective layer to eradicate marks from building up.'
How often should you clean a stove top?
A daily wipe down is what we'd recommend because it'll avoid your having to deal with really burnt-on residue and accumulated grease. But even if you're careful to do this after each use (plus if you're not, er, quite so thorough), you should deep clean your stove top weekly or fortnightly at least to tackle all the stuff that does get left behind.
Why? Not only is a dirty stove top unsightly but it also harbours bacteria that you won't want near anything you're cooking. Plus, leaving anything including burnt-on food, on a glass stove top could actually scratch the surface, eventually leading to pitting, eventually leading to a costly stovetop replacement...
How to clean a glass top stove
Congratulations! Your cooktop is a little easier to clean thanks to its smooth top – no nooks and crannies for debris to fall into. To give it a thorough clean, let it cool first then use a cleaner designed for a glass stove top to get rid of any grease that's built up. Make sure you apply it with a soft cloth – never use an abrasive cleaner on a glass stove top. When you're done, rinse, then dry with a microfiber cloth.
How to clean glass top stoves with baking soda
Like the idea of using natural cleaners on your stove top? If yours is made from glass, you can spray it with vinegar then wipe with a microfiber cloth for a speedy clean.
For a more thorough clean, you can also use a combination of vinegar and baking soda. Spray the cool top with vinegar first, then sprinkle on the baking soda. Wet and wring out a soft cloth and lay it on top and leave for around 10 minutes. Remove the cloth then wipe the stove top with a microfiber cloth. Spray it with vinegar again, and use a new clean microfiber cloth to wipe and buff it. You'll need to repeat until all the residue is gone.
If there's burnt-on residue on your glass stove top, get yourself a scraper designed for glass stove tops like the one in the HG Glass Stove top Cleaner.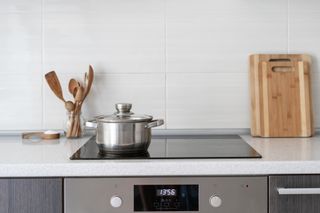 How to clean a gas stove top
Wait until the stove top is cool first.
Take off the grates and soak them in hot water with a squirt of dish soap for around 15 minutes.
When the time's up, use a non-scratch pad to get off anything that hasn't soaked off. Rinse, then dry before replacement when you've cleaned the rest. Don't soak cast iron grates that aren't coated or seasoned.
To clean the stove top, make a baking soda and warm water paste. Use about 1/2 cup of baking soda with a few tablespoons of water and apply it to your cooktop using a non-abrasive kitchen sponge, cleaning the residue off.
For the burner caps, check the owner's manual (you'll find it online if you don't have it anymore) and check how to remove them. They can then be soaked in the same way as the grates. Rinse, then dry them thoroughly before replacing them.
If you want to use a generic cleaner, use a spray suitable for gas designs to wipe it down, following the instructions.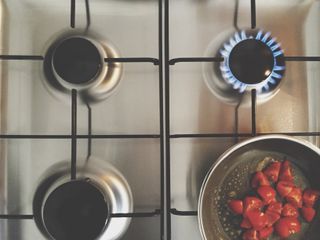 How to clean an electric stove top
Before you begin, turn your stove off, and leave it to cool.
To get an electric stove top clean, use a dish soap solution applied with a sponge.
Rinse and then dry, and polish with a soft cloth.
To get the coil burners clean, turn each up high for a minute to burn off anything on them.
Let them cool before wiping off the debris with a soft damp cloth. If there's anything really cooked on follow the instructions in the appliance manual to remove them for cleaning. Make sure you follow the guidelines on letting them dry before you re-install them.
You may be able to remove and clean the drip pans underneath the burners (check the manual). If so, these can be cleaned in hot soapy water.
Rinse and use a lint-free cloth to dry them before replacing them.
You should check the area under the drip pans on the stove top, too, and clean as necessary as grease can accumulate here.
If the stove top lifts up (you know the drill: check the manual), do so and remove any debris that's got lodged there. It may need a scraper – make sure you use one that won't scratch the surface.
How to clean an enamel stove top
Enamel is a durable material, but if you have one of these stove tops, make sure you wipe up anything acidic that spills straightaway as it shouldn't be left on the surface. We're talking vinegar, tomato sauce, marinades, fruit juice and so on.
Dish soap and water will keep the surface clean, but if you prefer to pick up a product from the supermarket, go for one specified for enamel stove tops and follow the instructions on the pack.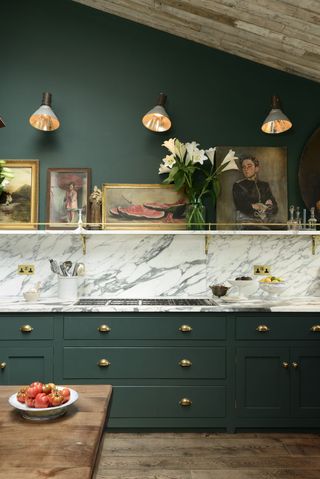 How to clean a ceramic stove top
Follow the instructions for cleaning a glass stove top (above) if yours is a ceramic version. Your manufacturer may recommend a specific cleaner for the stove top. If there's food burnt-on to a ceramic stove top, make sure you check the instructions in the manual on the type of scraper that's suitable to avoid marking it.
How to get burnt-on grease and residue off a stove top
If there's burnt-on residue on your stove top, a scraper is often the answer, – not a razor blade! – but always check the manual so you're sure one of these can be used on your stove top, and make sure the scraper is compatible with the stove top material, too.
When you're using a scraper, spray the problem area with distilled white vinegar first, then hold your scraper at a low angle so it's the residue you're working on rather than putting pressure on the stove top surface.
Failing that, there are also stronger commercial degreasing products for stoves out there if things have become really bad. As always – check your appliance manual to make sure you're using a product suitable for yours.
More expert tips on cleaning stove tops
Martha Stewart has a handy tip for cleaning fuel ports on a gas stove, 'Clear any blockages with a pin or paper clip.' And for the stove knobs (they need a clean too) 'Remove knobs, and wash with warm water and dishwashing liquid. Do not soak in water or use a cleaner that contains ammonia or abrasives, since doing so may remove the graphics. Dry thoroughly before replacing.'
Melissa Maker of Clean My Space, 'A really great to maintain your cooktop is to clean it after each use. That means as soon as you finish cooking, let the cooktop cool down and then get out a cloth or a soft sponge and a little bit of soapy water, and wipe it down.'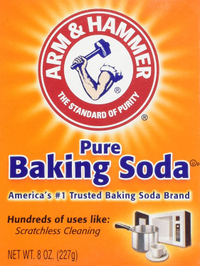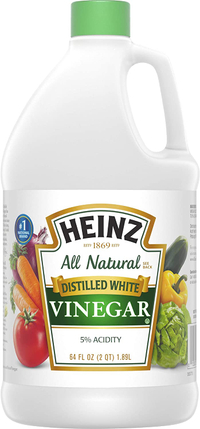 Now let's get cooking.