Adapting traditional styles for a modern era, Edwardian houses were the perfect combination of old and new. This is why they make such fantastic, desirable homes today. If you are lucky enough to live in a property from this period, then it pays to understand Edwardian house interior and exterior design intricacies, plus any maintenance challenges.
With great social and political change at the start of the 20th century, the Edwardian era solidified the idea of leafy suburban developments, seeking to provide beautiful, functional homes for all.
Gone were the stuffy and cluttered interiors of Victorian homes – this was a time for less formality, embracing a style that was seen as a breath of fresh air in comparison to those of earlier periods.
Vernacular ideas ran deep through the designs, but now the integration of technology to make homes and daily life more manageable was key.
What are the features of an Edwardian house?
If you have an Edwardian property you'll likely note red brickwork, Mock-Tudor style cladding and dormer windows at the top of the house. Towards the end of the Edwardian period, extended chimney stacks also became popular.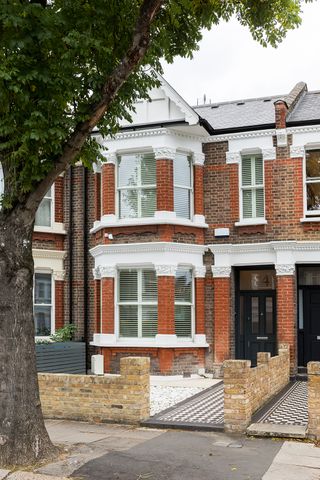 Understanding the design of Edwardian houses
Building in the Edwardian era was dominated by a growing demand for housing. The middling portion of society was now well established, and with this they – not the wealthy elite – would become the big influencers on the fashions for home design.
Therefore, the early 20th century would see more manageable-sized, airy homes, set in leafy suburbs an easy distance to work, and with better home comforts than any period before.
This was an era that the ideas of the Garden City movement and suburban development for the masses would come into their own. With the continuing improvements to travel – thanks to ever-expanding railways and road networks – the outskirts of cities and towns saw swathes of new developments.
But this was not a mere march of the bricks – the homes of the Edwardian era sought to expand upon the ideas of the Arts and Crafts movement, but fashioned for a mass market.
It was also a period that would give a glimpse of the future to come, seen in the designs of architects like Charles Rennie Mackintosh and Edwin Lutyens, through to Frank Lloyd Wright.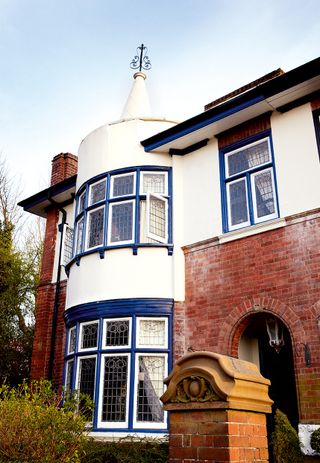 Are Edwardian houses well built?
Edwardian houses are reputed for being designed and built using high-quality materials, reducing the need for future maintenance costs that often accompany period properties.
Unlike the Victorian, Georgian or earlier periods, even the cheapest Edwardian homes demonstrated great advances in planning. And with the boom in construction, Edwardian homes now covered a huge range of types, from small terraced and semi-detached homes to larger detached dwellings – all of which served a range of classes.
More from Period Living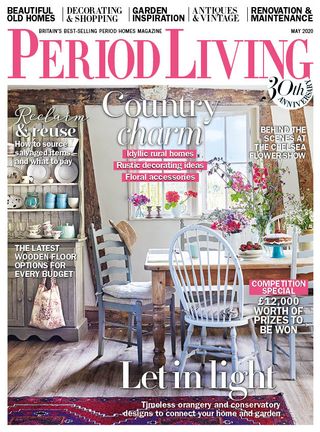 Get the best period home inspiration, ideas and advice straight to your door every month with a subscription to Period Living magazine
Edwardian house layouts
Homes from this era tend to be taller and deeper in plan than those from a century before, but with a growing emphasis on gardens, front and back – every façade was considered equal in attention to detail and design.
Even then, many 19th-century social, economic and architectural influences still prospered, so despite the 20th century being here to stay, homes were also designed with more traditional spaces like the pantry or scullery. However, gone was the outhouse – now new homes for all levels of society came with an inside bathroom and toilet, which is something we're all very much grateful for!
Along with this, homeowners were embracing new labour-saving devices and innovations, like developments in gas lighting and even early washing machines and vacuum cleaning systems.
The internal spaces were now larger and tended to be designed to offer rooms with dual aspects wherever possible, adapting the traditional pile systems employed in previous periods and embracing the gardens and greenery with window seats and French doors.
The Edwardian hallway was also much larger than its Victorian predecessor, offering a lovely movement through the space while still incorporating the staircase.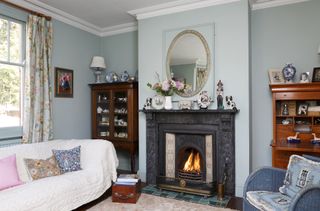 Edwardian interiors and decoration
Many 19th-century ideas of design and décor were still considered in the Edwardian era, usually in areas like the entrance hall, where patterned wallpaper was regularly employed to hide the dirt that had encroached from the soot-filled city.
Generally, however, the clutter loved by the Victorians was discarded to create cleaner, brighter spaces. Where it could be afforded, or wouldn't be exposed to soot, this would be emphasised through the choice of paler colour schemes and a better appreciation of light. The Edwardians wanted to bring the sunshine into the house.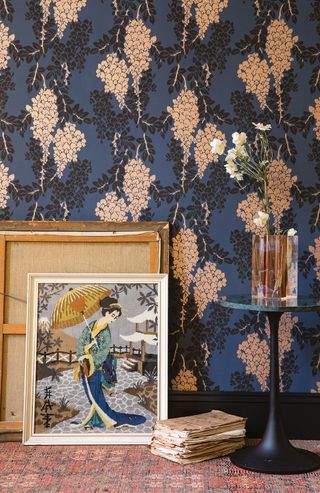 With greater technological advances in lighting, came fashionable accessories – the most famous being the Tiffany lamps from America with their coloured stained glass, inspired by the likes of the Art Nouveau movement.
When it came to fireplaces in Edwardian homes, surrounds typically incorporated shelving, either above or below the mantelpiece, for ornaments and built-in mirrors. Many design influences were considered, from classicism to various revival styles, with Edwardian versions tending to be more plain in form and construction.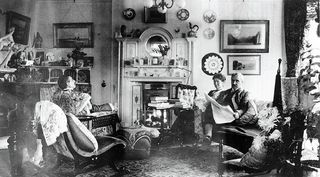 Edwardian windows and doors
As in the Arts and Crafts era, porches were a mainstay in Edwardian design and were often highly decorative, with bold white woodwork with fretwork patterns.
Stained glass and leaded lights were also used prolifically, with front doors incorporating bold coloured and textured glass of greens, yellows and blues – in floral motives, often referencing ideas of the European Art Nouveau movement and designers like Charles Rennie Mackintosh (and his wife Margaret Macdonald).
With increasing light being a key objective for designers, windows are a prominent feature in Edwardian homes. Timber windows with leaded lights were widespread, seen in bay windows, casements, doors, and porches to match.
Make sure to check your windows regularly – in most cases the work required is limited to painting timberwork. The best option is a linseed paint (try Bulmer Paints and Brouns & Co), which is easy to use, environmentally friendly and breathable, helping to preserve the timber and stave off decay. It can also be used on doors and porches.
Unfortunately, once windows are in need of maintenance all too often people opt to remove them, thinking it too costly or difficult to repair. However, in the hands of skilled craftspeople maintaining windows is straightforward.
If you need to reinstate missing designs or the originals are beyond repair, then choose new windows with care.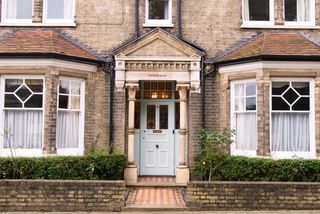 Other key Edwardian house features
Think tree-lined avenues and greenery – a sense of the country in even the most urban of environments. This treatment extended to the design of most homes, with borders of hedges and low fences forming a picture frame of the modern take on traditional British cottages in this countrified urban setting.
Almost every home, from terraces to detached villas, incorporated quaint dormer and casement windows, harled and rendered walls, and prominent patterned gables with Tudor revival notes.
Despite many of Britain's more insular designers snubbing the wider architectural value of the Art Nouveau style from Europe, the characteristic forms were still regularly incorporated into more decorative elements such as handles, tiles, stained glass and ironwork – so if you spot a sinuous Art Nouveau detail then this may well indicate Edwardian beginnings or inspiration.
Extended chimney stacks are a key feature of Edwardian homes. While not always included, it is a stylist point that can help you pick an Edwardian home from later revival styles.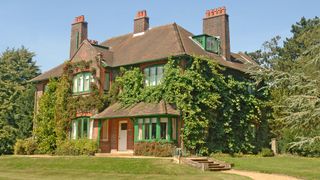 Where to see Edwardian design
As with the Arts and Crafts era, Edwardian period homes are closely associated with the Garden City movement, so Letchworth Garden City has many fine Edwardian houses, but you can find its influence in almost every suburban street in Britain. Notting Hill is famed for its Victorian and Georgian architecture, but it's got a wonderful array of Edwardian homes too.
At the different end of the spectrum, the grand ruin of Witley Court in the care of English Heritage is a marvel to see. Although built over several centuries, the Edwardian owners enjoyed many an extravagant party before a fire in the 1930s led to it becoming a ruin. This is a great place to visit, for both the scenery and the sheer scale where you really can get a sense of the large parties enjoyed here in its Victorian and Edwardian heyday.
Another grand beauty, Voewood House, is a fine example of the Arts and Crafts movement continuing to influence design in the Edwardian era. Designed by ES Prior, a lesser-known architect of the period, it is now a luxury hotel and wedding venue, and set in stunning gardens.
Want to know more about period properties?