Sofa beds are definitely a practical choice, but let's face it, they haven't always been that comfy. Now, with new technology and memory foam mattresses, that has become a thing of the past. But what about their looks? Happily, you can now buy super stylish and modern styles that will give you a fabulous night's sleep, too, so the days (or rather nights) of back-breaking sleep on a sofa bed in your mate's living room have long gone. We've found 10 of the very best contemporary sofa beds for your living room.
Find out more about choosing a sofa bed in our practical guide.
1. The sofa bed that comes in a box
For lovers of a clean, contemporary living room, this clever design ingeniously folds out into a double sofa bed. While it's folded up, use it an extra sofa or ottoman –simply add cushions and throws for extra comfort. Also available in teal and grey and as a single sofa bed.
Kix double sofa bed with foam mattress in Fraser charcoal, H41cm x W120cm x D60cm, £245, House by John Lewis. Need more small space sofa beds? Check out our guide.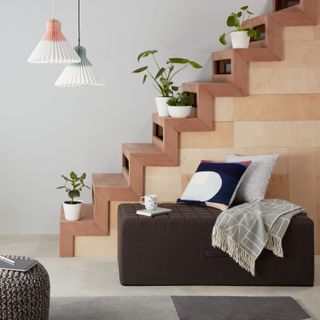 2. The budget sofa bed
Doing up a living room on a budget? This sofa bed is a steal. The seat of this sofa has the same construction as a pocket sprung mattress – and we really wouldn't expect anything less from Ikea would we? As a result, this sofa bed is super comfy for both sleeping on and sitting on. It comes in this stylish Ramna light grey with pale blond wood legs and it will look great with bright cushions and throws.
Ypperlig three-seater sofa bed, H85cm x W200cm x D80cm, £550, Ikea. Find 10 more sofa beds under £500.
3. The storage sofa bed
Not only is this a stylish sofa bed, but it has a very handy storage compartment in the chaise – so all the bedding, extra cushions and throws can be sorted in there ready for your guests. It is hand-made to order and you can choose from different combinations, including size, fabric, which side the chaise sits and mattress type.
The Ashwell chaise storage sofa bed in Kingfisher, H91cm x W240-260cm x D91cm (varies depending on choice) from £2,065, Willow & Hall. Love bedroom storage? Find the best beds with built-in storage in our guide.
4. The bold sofa bed
Love a statement living room? Be brave and choose a beautifully bold coloured sofa, it will act as a focal point. This fabulous sofa, designed by Steuart Padwick, has a voluptuous shape and stylish to boot. The fabric has a wool feel and the back is angled for extra comfort.
Rubens sofa bed in light moss, H91cm x W184cm x D94cm, £849, Made.
5. The super modern sofa bed
For lovers of ultra modern living rooms, this innovative modular sofa bed is made up of three optional differently padded and stitched panels, with a choice of two heights. The mattress, which also doubles as a seat, can go at either end, or in the middle. There's also a wide choice of fabrics, you can even have each section made in a different fabric/colour.
Bonaldo Alvar sofa bed, H73-96cm x W280cm x D90cm, from £1,790, Go Modern.
6. The best sofa bed for a good night's sleep
This elegant sofa bed's selling point is its comfort; the easy to use fold out mechanism securely locks into place and is supported at six points to give you the perfect night's sleep. It also comes with luxurious back pillows for added relaxation as a sofa – so a win win all round!
Esme sofa bed in sandstone beige, H99cm x W126cm x D97cm for a two-seater; three sizes available, £990, Living It Up.
7. The sleek sofa bed
Part of the French Connection range, this square edged, stitched back stylish sofa ticks all the boxes for a modern living room. It has a memory foam top layer on the medium support mattress and is available in six colours with a choice of three feet; beech, lime wash or distressed walnut.
Zircon grey three-seater supreme sofa bed, H88cm x W180cm x D107-230cm, £1,299, DFS.
8. The velvet sofa bed
Although the style of this sofa would perfectly suit a more traditional living room, the bold green velvet upholstery gives it a modern look. Team it with pops of colour as seen here, the fluorescent pink lamp and cushion add the perfect finishing touch to the layers of throws that make this sofa bed look so welcoming. Available to order from September 2018. Find more traditional-style sofa beds in our buyer's guide.
Bluebell three-seater sofa bed in olive pure cotton matt velvet, £2,570, sofa.com.
9. The leather sofa bed
The generous square arms and deep seating make this stylish leather sofa ideal for slouching in day and night. Available in a wide selection of top grain leathers, there's a two fold metal action frame fitted with wooden slats and comes with a fully sprung 5in mattress; memory foam can be ordered at an extra cost.
Sloane three-seater sofa bed in Old English Hazel, H91cm x W198cm x D101cm, £2,861.50, Darlings of Chelsea.
Find more leather sofas in our buyer's guide.
10. The retro sofa bed
With low seating and smart styling, this sofa has a retro feel to its design. The padded lines and gently curved sides and arms give it a stand-out look for a contemporary space. You can choose from a traditional pocket sprung or high tech reflex 45 foam mattresses and the clever design means you don't have to remove seat or back cushions to turn it into a bed.
Vasca sofa bed in Omega steel velvet, various fabrics and leathers to choose from, H80cm x W178cm x D99cm, from £2,000 for a 2.5-seater, Furl.
More sofa beds to check out: