If you're buying a new mop to clean your hard floors with, whether you've recently moved out or your current one has truly done its day's work, then I can help. I've tested my fair share of mops, and it's safe to say that my floors are sparkling clean. Honestly, it's a skill, and I am 1000% clued up on which ones are the best.
Now, there is more than one type of mop to choose from (exciting, I know) so buckle up as I reveal all. If you live in a smaller space, then you'll probably want to go for a trusty flat mop or spray mop. These are affordable and easy to use, plus, you can easily squeeze them into even a makeshift cleaning cupboard.
For larger spaces or messier homes (pet owners, we're talking to you!) then go for a string mop. You could even choose a 2-in-1 model with a vop — that's a vacuum cleaner and a mop — so that you won't have to store both or walk around your home twice when it's time to spruce up your space. And of course, how could we forget about the innovative robot mop? If you've got the spare cash then they are totally worth it.
Keep reading for a list of six tried, tested, and (legit) loved mops that are so worth buying so that you can clean floors quickly and easily. I've listed eco-friendly options plus a mop specifically for cleaning hardwood floors, and even mops that you need only use with water to sanitize your floors...
What is the best mop for cleaning your floors?
Why you can trust Real Homes Our expert reviewers spend hours testing and comparing products and services so you can choose the best for you. Find out more about how we test.
The best mop for wood floors: Bona Wood Floor Spray Mop Kit
The best string mop: O-Cedar EasyWring Spin Mop
The best eco-friendly mop: E-Cloth Deep Clean Mop
Our favorite floor mops, as reviewed by the Real Homes team
(opens in new tab)
1. Bona Wood Floor Spray Mop Kit
The best mop for wood floors
Type: Spray
Head: Microfiber x1
Reusable? Yes
+ Durable
+ Great for wood floors
+ Soft edges
+ Includes solution
- Not adjustable in height
- Can only be used with Bona solution
As reviewed and approved, this specially-designed floor mop is the perfect pick if you have hardwood floors that you need to nurture. In fact, it's safe for use on unwaxed, unoiled, and polyurethane-finished wood floors. It comes with one pad and cleaning solution, which is pH neutral, non-streaky, and non-dulling. The easy-to-use mop, washable pad, and solution all work as a team to rejuvenate your floors and keep them looking good as new. Plus, the mop head itself has soft edges to protect your baseboards and it's nice and big to cover more floor space in less time. It has a 1L bottle.
Real Homes rating: 5 out of 5 stars
The best mop for busy households
Type: Mop and bucket
Heads: Microfiber x1
Reusable? Yes
+ For all floor types
+ Easy to wring
+ Triangular head for corners
+ Works with water only
+ Extendable handle
- Requires bucket
- Difficult to store
Convenient for busy households with pets and children as our reviewer proved for us, the O'Cedar EasyWring makes an easy job of sanitizing floors the classic way. And with only water. The bucket comes with a spout which makes it easier to empty, and the foot pedal aims to make it super easy to dry the mop out so you don't end up soaking your floors. The triangular-shaped microfibre head lets you get right into the corners and clean your baseboards with ease, plus these heads are machine washable.
Real Homes rating: 5 out of 5 stars
3. E-Cloth Deep Clean Mop
The best for smaller spaces
Type: Flat
Head: Microfibre x1
Reusable? Yes
+ Super affordable
+ Works with water only
+ Lightweight
+ Extendable handle
- Not for larger homes
- No bottle/bucket
Super affordable, very easy to use, and impressive in action, this eco-friendly mop doesn't have a water tank, instead, it cleans your floors using its microfibre mop head only. Bearing this in mind and how easy it is to store, we say it's best for smaller homes or apartments. Its washable head, once wet and wrung out, can remove 99% of bacteria from your floors in one sweep. It's also durable yet lightweight with an adjustable handle spanning 1.5m for those hard-to-reach places. We've used this mop at home for years and it's never failed us.
Real Homes rating: 5 out of 5 stars
The best vacuum mop
Type: VOP
Head: Roller brush
Reusable? Yes
+ Vacuums too
+ Easy to use
+ Uses less water than traditional mops
+ Auto adjusts to your floors
+ Dries floors too
- Not great for cleaning underneath furniture
- $399.99 price tag
With a battery life of 35 minutes, this cordless vacuum mop can do two jobs in one. It's suitable for use on hardwood, tile, laminate, vinyl, and cement floors, plus it rids the need for storing both a vacuum and a mop. It has a clean water tank that you fill with water and cleaning solution, and a dirty water tank that fills up as you go. We found it performed best in auto mode in our Tineco Floor One S3 review, and it really does leave your floors sparkling. It automatically adjusts suction, power, and water flow based on how dirty (or clean) your floors are and it will even leave your floors dry. You'll see the proof when you empty the water tank afterward. Gross but totally satisfying.
Real Homes rating: 4.5 out of 5 stars
5. OXO Microfibre Spray Mop
The best spray mop for families
Type: Spray
Head: Microfiber x 1
Reusable? Yes
+ 2-in-1 design
+ Large head
+ Great for spills
- Not adjustable in height
Designed with dual functionality, the pet-approved OXO Microfibre Spray Mop is just what you need to clean a busy home if you don't want a mop that needs a bucket. Otherwise, it's a great secondary mop that you can use solely for spillages. Its large microfiber pad makes everyday mopping easier than ever, while the slide-out scrubber is perfect for tackling mud and all sorts. It has a plentiful tank and makes the job of mopping totally easy, all while being simple to store, and even better: you can use it with any cleaning solution you like.
Real Homes rating: 4.5 stars out of 5
The best robot mop
Type: Robot
Head: Cloth or microfiber
+ Can set boundaries
+ App controllable
+ Can get into corners
+ Can be scheduled to clean
+ Takes itself to charge
- Pricey
Rated our best robot mop, the Braava Jet M6 offers convenience all around. You need only fill its water tank, pop on a mop head and you're all set. App and voice controllable through Alexa, it maps your home so that you can set boundaries, and it even takes itself to charge when low on battery. It scored 4.5-stars in our iRobot Braava Jet M6 review where you can read more on this incredible buy. Otherwise, you will need a regular mop as well as this one if you do buy it — for spillages and fast clean-ups.
Real Homes rating: 4.5 stars out of 5
7. Swiffer Sweeper 2-in-1 Mop
The best affordable mop
Type: Flat
Head: Pad/Cloth
Reusable? No
+ Includes 19 different pads
+ Pads are recyclable
+ Under $20
+ Great for dorms
+ Works wet or dry
- Not for larger homes
- No bottle/bucket
- Not adjustable in height
Don't be fooled by the budget-friendly price tag of this simple dry and wet mop. While it's not electric, it's the perfect manual cleaning tool for small apartments and dorms and is backed by our editor-in-chief and 50,000 five-star reviews. On days when a deep clean isn't necessary, but there's dirt or hair to clean up (or maybe an accidental coffee spill), it's so much easier to pull this lightweight mop out of the closet for a speedy clean. The little scrubber strip on the mop pads is stronger than it seems for tackling sticky spots. Additionally, Swiffer has set up a recycling program for the pads.
Real Homes rating: 4 out of 5 stars
---
What is the most effective type of floor mop?
There are lots of different types of mops to choose from. The more complex the design, the more you can expect to pay for it. We rate the string mop as the best for actual cleaning since you use it with a bucket and wring out the dirty water from each room. However, with this comes the need for more storage space and you need to lug around a bucket as you clean, too.
Here are all of the different types of mops:
Flat mops or spray mops have a spray mechanism inside. Use them with a reusable head or a one-use pad.
String mops tend to be made of cotton, are durable and some come in spin versions to wring out as much water as possible, but they require a bucket.
Sponge mops are good for getting into tiles and normally feature a wringer mechanism to ensure you don't soak your floors.
Steam mops are the best option if you're after something to help you deep clean, however, they do come at a higher price tag, and some need to be plugged in.
Robot mops will do the cleaning for you, with the only thing necessary from you being the push of a button.
4 things to consider before buying a new mop
1. Head material
When you're deciding on a floor mop, check the material of the mop head. The most popular choice is microfibre as it's soft, hygienic, and fast drying. Sponge is also a good choice as it's breathable and absorbent, and works well on flat untextured flooring. Most mop heads are washing machine friendly too, giving them longevity and being kinder to the environment, but do check first.
2. Does it require a bucket?
If you're after a quick and easy-to-use mop, it's best to steer clear of ones that require a bucket. Instead, opt for a spray mop for a faster finish; these mops-without-buckets also cut down on the amount of storage space you need to keep them — all you need to do is fill up the bottle with hot water and your chosen floor cleaner, attach it to the mop and you're away.
3. Weight
Important if you're less able or elderly, some mops can be weighty when loaded, so consider this when you're choosing. Note: spray mops might be heavier than classic mops, but you won't have the weight of the bucket to lug around.
4. Extra features
Some mops come with a free bucket, some extra heads, or other accessories you may reach for when cleaning your home. If they don't, then be sure to check how much replacement heads cost before you buy.
More great mops...
Whilst performing our search, these are the other mops that we found that are super popular (but we are yet to review).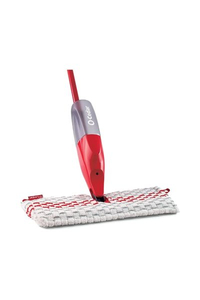 (opens in new tab)
O'Cedar ProMist MAX Microfiber Spray Mop | View at Amazon (opens in new tab)
An affordable spray mop
This spray mop has a microfiber head that's machine washable and a built-in water tank that's easy to fill. It's super simple to use and is nice and affordable. You'll notice its head is double-sided so that you can flip it over depending on which room you are cleaning. We're yet to review this one but it's highly rated on Amazon.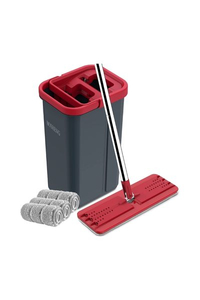 (opens in new tab)
BOSHENG Mop and Bucket with Wringer Set | View at Amazon (opens in new tab)
A compact mop and bucket set
An easy way to keep your floors clean, this set separates the dirty water from the clean and it's super easy to use and store. With 4,000+ positive reviews behind it, it comes with three heads.
What is the best type of mop to use on hardwood floors?
Your best option for hardwood floors is a mop with a flat microfiber head that won't disperse too much water, such as the Bona Hardwood Floor Mop (opens in new tab). It's specially designed for wooden floors and it comes with a special solution. Plus, microfiber soaks in water and other liquids a lot more easily and quickly than other materials — and the one thing you don't want to do is soak your hardwood floors.
How often should I mop my floors?
Other sites may say you only need to mop your floors once every two weeks, but we say to do it whenever it's needed. It'll depend on whether you have pets, children, and how many people come in and out of your house a week, after all. If you're looking for a number, our tip is to mop your floors once a week, or after each time you vacuum. Of course, some weeks you may want to clean twice if have people coming over. We get it.
How often should I replace my mop?
That'll depend on how often you use yours, and whether the mop head is replaceable or detachable and washable. If the mop head is replaceable, discard yours after about six to eight months of use — sooner if you clean very often.
After a while, your mop will just be redepositing dirt and bacteria back onto your floor. If you have a detachable, washable head, pop it in the wash every month or so, and discard it after two to three years of use, depending on how worn it looks.
Real Homes review process
We've pooled the favorite mops of the whole team at Real Homes to show you the items we actually use in our homes. So, rest assured we can give you our honest opinion on how they work. All of the mops we test will be used for a number of weeks inside our homes until we feel we are at a point to make a judgment. We try to test these mops on all flooring types, from lino to tiles and laminate.
In this guide, we've tested all of the six mops we've recommended, and while using them we consider everything from size, maneuverability, ease of use, cleaning quality, and most of all: does it do the job without soaking your floors? Oh, and we always consider price before including.
Meet our mop testers:
Our head ecommerce editor Annie has tried and tested a bunch of mops, most of which are unfortunately only available in the UK. However, the mop she currently uses to clean her apartment is the OXO Microfibre Spray Mop. It's easy to maneuver and it has a large head to cover more space in less time. Its bottle is nice and big and its slide-out scrubber is great for tough dirt, too.
Jenny is our Senior Digital Editor, and often writes cleaning content to help you to keep your home as pristine as possible. She loves using the bestselling O-Cedar EasyWring Microfiber Spin Mop (branded as the Vileda Turbo in the UK) in her family home. She loves its integrated wringer and that its foot pedal can control how wet (or dry) your floors will be. She also uses it with only water.
Our previous ecommerce writer Molly Cleary, who is now ecommerce editor over at Ideal Home, has tested the iRobot Bravaa Jet M6, featured last (but not least) on our list. Yes, it's an investment but its technology is mighty impressive. It was reviewed in an apartment and essentially, it cleans your floors on demand. Plus it's discreet looking.
Jen was previously our appliance editor and is now homes editor at Tech Radar. She knows everything there is to know about vacuums, washing machines, pizza ovens, and much more. As you might expect, she's got a lot of knowledge on the cleaning front too and uses the Bona Wood Floor mop in her home. She'd been searching for a hard floor cleaner to use on her restored wooden floors but didn't want to spend much and this mop gave incredible results for a fraction of the price of others on the market.
Anna was previously our content editor, with a particular focus on practical advice. She's a fan of one of our most sustainable picks, the E-Cloth Deep Clean Mop, which has a washable head. It has lasted her a long time and it cleans her floors well, especially since it doesn't require cleaner — only water — to do its thing.
Jaclyn previously reviewed a bunch of products for Real Homes as our ecommerce editor but now writes for our sister brand Homes & Gardens. She has tested her fair share of vacuum cleaners, robot vacuums, and even vacuum mops. In fact, she tested the Tineco One Floor S3 and she still loves it to this day as it has made its way into her cleaning arsenal after it left her floors not only crumb and pet hair-free but sparkling clean and totally dry. In just minutes!
Where to buy a mop online...
Still not found the right mop for you? See below for where you can browse for a new floor mop and continue your search below.