If you hate mopping, then the iRobot Bravaa Jet M6 Robot Mop was designed with you in mind. Capable of learning, mapping and then cleaning without you having to lift a finger, this robot mop is suitable for use on tiles, hardwood and stone floors. It also comes packaged with a complimentary Bona Hardwood Floor Cleaner, to deliver that extra level of sanitization.
In recent years, more robot cleaners have emerged, giving more choice to those who want to automate their cleaning routine. In that market, iRobot aims to make this mop stand out by engineering it with an extra level of precision, thanks to the built-in jet spray. There's also the chance to make controlling this robot even easier than just with an app – it responds to voice assistants such as Alexa, too.
We put this (rather expensive) robot to the test to see how intuitive it is to use, and to establish whether it's worth a spot in our ultimate ranking of the best robot mops, too.
Specifications of the iRobot Bravaa Jet M6 Robot Mop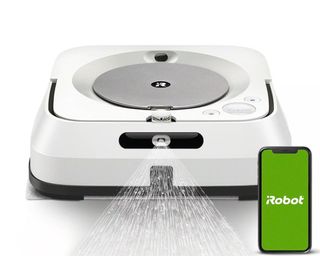 Dimensions: 5.07 x 15.15 x 19.48
Box weight: 11 lbs.
Robot weight: 4.85 lbs.
Robot dimensions: 10.6 inches width x 3.5 inches high
Battery type: Lithium ion
RRP: $449.99/£699.99
Who will the iRobot Bravaa Jet M6 Robot Mop suit?
Unless you're very passionate about mopping, this robot mop holds appeal due to the fact it will eradicate the need for you to do the task almost entirely. It can mop multiple rooms and larger spaces too (as long as they are on one-floor level), so whether your space is oversized or smaller, it will be able to slot into your cleaning schedule.
Busy family homes will find the convenience of this robot mop helpful when it comes to spills and messes. The same goes for dog parents, who can simply order their robot mop to take care of messy paw prints instead of needing to take time out to do it themselves.
If you love having a smart home, and already own one of the best smart speakers, for controlling it via voice then a robot mop is likely a natural progression for you.
Unboxing the iRobot Bravaa Jet M6 Robot Mop
This robot mop is a lot smaller than a regular mop that you might stash in your cleaning cupboard, meaning that the packaging is compact too. The box is cleverly contained, with space for the robot, the docking station, and all of the cables and manuals you need, in a very small space.
Unboxing this mop felt similar to getting a new phone, with all of the different technical aspects to get to grips with, and the sleek unboxing process. I reached straight for the manual, to get familiar with what all of the different elements were.
Though I own one of the best robot vacuums already, the water tank here means this robot mop has a very different-looking design. There's a lid at the top which you lift in order to get access to the tank, as well as a camera, sensor, spray nozzle and handle if you need to move your mop around. There are a series of buttons too; a home button and a cleaning button, in case you want to operate this appliance on the unit. On the bottom, you'll find wheels, pad tracks, and the cleaning pad that will be mopping up for you.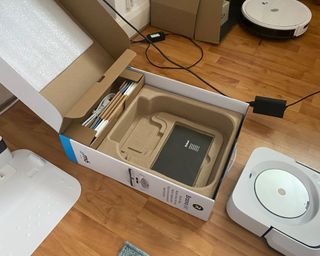 What's it like to use the iRobot Bravaa Jet M6 Robot Mop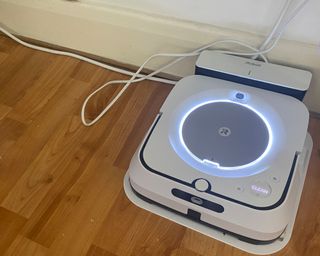 Seeing as you won't actually be mopping yourself, the most critical element of using the iRobot Bravaa Jet M6 is the set-up and operation. I think the included manual is great, as it uses graphics and words (which is less common with appliances than you might think) and is easy to follow. To get started, you need to choose a good spot for your charging port that is in range of your WiFi, close enough to a socket, and able to lie flat against a wall.
Once your charging port is set up, you need to activate your robot, which you can do by putting it onto the station, and making sure it's touching the charging points. All of this is well explained in the manual, and then you can move on to downloading the iRobot app, and following the instructions on your phone to connect the two together, which also involves connecting your robot to your WiFi. This may sound like a long process, but it all pays off once your mop is ready to go. After that, you won't need to step in and do it again unless you move house.
Once your cleaning pad has been attached and you've filled your water tank, you can finally see your mop in action. You will get the best results by using the iRobot app, as it allows you to set a cleaning schedule, and modify the cleaning power, speed and coverage.
On its first lap around your home, this robot mop will be mapping and exploring your space, in order to establish obstacles that it can maneuver around. I was watching closely as it set off at first, and was impressed by the methodical manner in which it made its way around. It goes up and down in a uniform fashion, instead of random cleaning like some robot vacuums I've tested.
The way that this robot vacuum works is by mapping out your home via camera, using vSLAM navigation technology, so that it can tell your kitchen apart from your living room without issue. That's also how it steers clear of obstacles in your house. If there's an area you don't want the robot to go anywhere near, you can also create Keep Out Zones on the app, and be safe in the knowledge that they will stay untouched.
I used the app to set up a daily mopping schedule in my open-plan living room/kitchen for after I've eaten dinner but you can make your own operation more complex, including setting a schedule that's in sync with your pet's shedding season, or for when the pollen count is particularly high if you struggle with allergies.
On the whole, I was really impressed by the sophistication of this robot, as it is much more advanced than other robot cleaners I've used. It does have occasions where it struggles a little, like climbing over the boundary between my laminate floor and carpet, and when it tried to navigate under my sofa in the dark, but it's easy to retrieve the mop back out again via the app, rather than having to physically fetch it. Its routine as it makes its way back to its charging port is also excellent, and there's no delay in it getting back where it needs to be.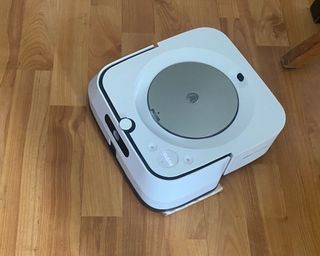 Cleaning and maintenance
As with cleaning a Roomba vacuum cleaner, maintaining your robot mop needs to be done in order to keep it working to its full potential. I did this after a few weeks of the mop whizzing around my flat, and began by cleaning the sensors on the bottom of the robot with a damp cloth, as per the user manual. There's a warning not to use spray cleaning solution or water directly onto the sensor or sensor openings, so don't ruin your expensive investment by making that mistake.
I then moved on to clean the wheels and got rid of some hair that had gathered. One essential thing with this robot mop is that you should vacuum thoroughly before setting it off, but I was glad the hair my robot vacuum missed didn't clog the appliance altogether.
After a few uses, I rinsed the tank before refilling it to prevent bad smells, and popped one of the mopping pads into the washing machine to refresh it. Make sure not to put the pad into a dryer, as you can damage it. All in all, the maintenance process with this robot is really straightforward, and the only element you'll need to do regularly is to refill the water tank, which is a pretty good trade-off if you usually do anything to avoid mopping.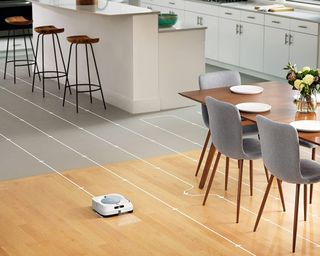 How does it rate online?
The iRobot Bravaa M6 has a four star rating out of five on Amazon, after 87 global reviews. Impressed reviewers frequently cite the cleaning power as one of the most worthwhile features, as well as the mapping technology which makes the iRobot's route easier throughout your home.
Those who were less impressed with their investment stated that they wished that this robot was better at navigating over in-room dividers, like carpet trim. The included detergent with the robot mop can also be difficult to source, according to reviewers.
How does it compare to similar models?
The most relevant comparison to make is actually with another iRobot model, the iRobot Bravaa jet 240 Mopping Robot. This model is the predecessor to the M6, and became available in 2016. For that reason, and the fact that the design is less sophisticated, its RRP is less than half of the M6, at £296.25.
The 240 still has the precision jet spray for tackling dirt on your floors but doesn't have the newer mapping tools to make navigating your house easy. The design also isn't as sleek. In terms of user reviews, the iRobot Bravaa Jet 240 has the same four star out of five rating, except in this case it's gathered from over 10,000 users. From these reviews, you can see that users wanted navigation improved, and the amount of maintenance cut down, which are both great features of the M6.
If you're working on a tighter budget, then the iRobot Bravaa jet 240 Mopping Robot can offer you an excellent start in the world of hands-free cleaning. If you're looking to upgrade your robot mop, or you would rather spend big on the advanced navigation of the M6, then paying the money will see mopping done a little more effectively.
If you're interested in investing in a robot cleaner, but are wondering if you could get an all-in-one model that mops and vacs for a similar price, then the Proscenic M8 Pro Robot Vacuum Cleaner (RRP £499) is worth your consideration. When we reviewed it, we found that it was easy to use, and we loved that it empties itself in the vacuuming mode, which really cuts down on how much cleaning admin you need to do.
However, it's not as specialized in its mopping capabilities as this iRobot model, nor does it have the well-known brand reputation of iRobot that might be important to you when it comes to a guarantee and repairs. The same can be said for the Neabot NoMO Q11 3 in 1 Robot Vacuum Cleaner, which isn't from a particular high profile brand but does boast similar AI mapping technology, even if it didn't score quite as highly in our review. Your preference will all depend on whether you've got a robot vacuum at home already, and whether self-emptying technology appeals to you.
Should you buy the iRobot Bravaa Jet m6 Robot Mop?
If you hate mopping and have the money to invest, then I think this robot mop will be a novel, useful, and quite fun addition to your home. The set-up and app interface are as impressively sleek as the robot itself, and the patterns that it creates on your floor will leave you confident that adequate cleaning is being achieved.
Seemingly, there have been many improvements made between the iRobot 240 and this, the M6, so if you're looking to spend money on an upgrade for your robot mop, then it's a straightforwardly smart investment. If you're yet to be convinced on the merits of robot cleaners altogether, then you might want to start out on an iRobot model that vacuums so that you can appreciate the benefits, like the iRobot Roomba S9.
About this reviewer, and the reviewer
Molly is the Ecommerce Writer across Homes shopping content, spending time reviewing products to see if they can earn a place in buying guides. She regularly tests cleaning products and machines in order to see if they're up to standard.
This robot mop was tested in her home, as you'll see from the photos. This cleaner was also available to keep, allowing for this review to be updated over time, to see how the tool holds up.