If you've got hard floors like tile or wood, have you considered a robot mop to help keep them squeaky clean? This relatively new introduction to housekeeping will pretty much do the mopping for you. Although expensive, a robot mop is a must-buy if you want to ditch your spin mop and put your feet up.
Despite its newcomer status, there are already a variety of different robot vac options on the market, so if you're going to make the investment, you'll also want to make sure you're getting the model that's best for your home. Our handy guide below shares all you'll need to know. Whether you're looking for a brand-name iRobot, a budget alternative, something that's compact or something to tackle tough stains, we have plenty of picks to choose from. You'll never have to stand and mop again...
Alternatively, you can find our shortlist of the best mops in our buying guide if manual is more your thing or more fitting of your budget.
The best robot mops
Why you can trust Real Homes Our expert reviewers spend hours testing and comparing products and services so you can choose the best for you. Find out more about how we test.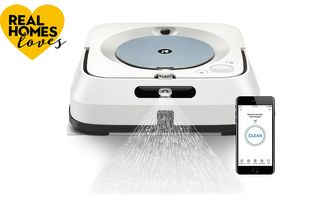 The iRobot Braava M6 is without a doubt the best robot mop you can buy, but it comes at a large price tag. If you can afford it, this is a great investment for busy – and therefore frequently messy – homes. The device even charges itself when it's running low on power to ensure it always has a full battery. Not to mention that it's great at tackling larger spaces due to its size, too.
Smart
Unlike other robot mops, this one can be controlled via your voice and your smartphone. This way you can schedule cleans and power up the device when you're not at home. And thanks to the fact it works with Alexa and Google Assistant, you can enjoy hands-free cleaning – this is something we can definitely get on board with.
Modes
The iRobot Braava M6 can both wet mop and dry sweep your home. For tough stains, it features a jet spray to help tackle sticky messes and break up grime – great for cleaning kitchens and bathrooms.
Charging
Complete with a charging dock, this robot mop takes it upon itself to re-charge when the battery level is low. This way you'll never be stuck with mess to tackle and a dead device at hand. If it runs out of juice mid-way through cleaning, it'll start where it left off once it's recharged.
Mapping
Thanks to built-in Imprint Smart Mapping Technology, the iRobot Braava M6 learns the layout of every room in your home to avoid mishaps and ensure every single inch of your floor is cleaned. In the app, you can select specific rooms you want cleaning and the device will do so while avoiding the others, giving you total control.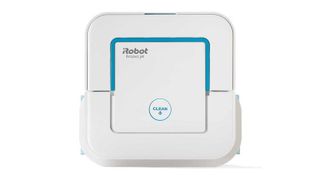 We think that the iRobot Braava Jet 240 is the best budget robot mop you can buy. Not only is it affordable, but they say it's the mop equivalent to the Roomba 980, which is on our list of the best robot vacuums. It's also nice and compact for those who are tight on storage space.
Modes
Featuring three different modes, the iRobot Braava Jet 240 can leave your floors wet, damp or dry – your choice. It works on hardwood, tile, laminate, linoleum and stone floors. Even better? It has a precision jet spray to loosen dirt and stains so that if you're hosting a party and a friend spills their drink, there's no need to whip out your mop and bucket. Before spraying, this robot mop will even check for obstacles in its path to avoid soaking them.
Boundaries
Intelligently, this robot mop maps out your home and knows when to avoid stairs, rugs and bulky furniture it may not fit under. Also, thanks to the fact it's square, it can get right into corners. It also features i-adapt 2. 0 Navigation inside to track where it has cleaned so knows not to clean an area twice. Smart.
Charging
When low on battery, pop the charger that came in the box into an outlet and place the mop's battery into the charger. Leave for around two hours and you're set for another clean.
Quiet
While it can't be controlled via your smartphone so you won't be able to turn it on after you've left the house, this robot mop is quiet when in operation so you can set it off once the kids are asleep and finally sit down with a cuppa.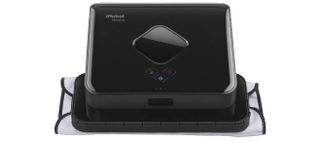 Designed to mop and sweep hardwood, tile and stone, the iRobot Braava 380T is a great time and space saver. It can also run for a long four hours without needing to charge, making it a superb option if you live in a large home comprising several rooms. Or if you're after something to help with daily cleaning – you won't have to charge it every single day, too! Because it doesn't have a jet mode or a brushroll, we call this one our best pick for everyday cleaning - it's great for keeping floors dirt-free, but it's not the best for scrubbing.
Modes
The iRobot Braava 380T comes with a wet cloth to mop everyday dirt and grime, and a dry cloth to efficiently sweep up dust, dirt, hair and allergens. It can sweep for 210 minutes, or mop for 150 minutes on a single charge.
Navigation
With built-in iAdapt 2.0 Navigation, this robot mop maps out your entire home to know where to clean and where to avoid. This means it'll know when to go around furniture and to avoid rugs, shoes and other objects. And, it knows where your floor transitions to carpet.
Charging
Complete with a fast and convenient Turbo Charge Cradle, you'll need to pop the mop on here when it's in need of a charge. It'll need to sit there for two hours, and afterwards will be ready to work for double that time.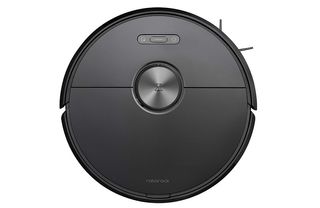 The Roborock S6 hybrid robot vac and mop is packed with a combination of features and performance and is marked with a competitive price tag, too. It boasts incredible suction, laser-guided navigation, home mapping capabilities and can be altered to either vacuum or mop your floors.
Modes
The Roborock S6 has four cleaning modes: Quiet, Balanced, Turbo and Max, plus a floor mopping function. It has a runtime of three hours which will comfortably cover a few rooms in the house.
Converting from a vac to a mop
Once you're satisfied that all the dirt has been sucked up from your carpets, you can then affix a cleaning cloth so the robot mop can get to work... mopping. Both a disposable and reusable cleaning cloth is provided so you can choose which will work best for you.
There's no cleaning chemicals deployed with this one either, just a small amount of water which will have a similar affect to when you run a damp cloth over the floor.
Charging
When the R6 runs out of battery, you can place it on the compact plastic charging dock so it's off the floor when charging – this will also help to allow the underside dry off.
Buy the Roborock S6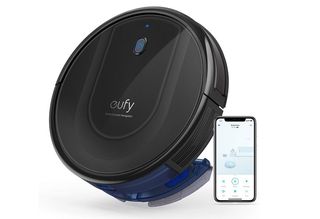 This two-in-one Robovac has been specially engineered to clean hard floors, so comes without a brush roller or carpet sensors. It gets our vote for a budget-friendly robot mop because it's so easy to use, and is quiet while it's working on making your floors shine.
2-in-1
This hybrid model will sweep and mop your hard floors so they are crumb-free and squeaky clean. There are two modes to opt for, depending on which floor chore needs tackling first; in vacuum mode it will suck dirt directly into the 0.5L bin, and then you switch it to mopping by attaching the reservoir and pad underneath.
Auto-return cleaning
Although, perhaps, not the longest of run times you need for your home, you needn't worry because the RoboVac will automatically return to the charging base if the battery gets too low. Once charged to 80 per cent battery, it will resume cleaning in precisely the same areas at which it stopped.
Smart navigation
This little vac comes with Gyro Navigation which means that it has up to 2-times the efficiency of standard robotic vacuums. A clean which would usually take 100 minutes with bounce will now be completed in 50 minutes with gyro, which is good news all round.
Which robot mop is best?
Where to buy a robot mop?
Just to recap... we highly recommend the iRobot Braava M6 as the best robot mop you can buy. To name a few reasons: it can wet mop and dry sweep your home; it's controllable through a smartphone; it works with voice assistants and it charges itself when needed.
More cleaning recommendations: