Finding the best mattress topper will make climbing into bed at the end of the day exciting again. In fact, a new mattress topper might be the quick fix you're in need of to tailor your bed to your needs if your bed isn't quite just like it used to be.
A new mattress might not be part of your budget, but a mattress topper can very well be a way to make your bed feel brand-new. We've gathered the best mattress toppers for you depending on your needs and budget, that will essentially revive your existing mattress.
Many top mattress brands make a version similar to their full-sized counterparts or that will complement their lineup of mattresses as a way for you to try out their mattress without having to buy a whole new one. Also, with choosing a mattress topper, you don't have to deal with all the logistics of disposing of an old mattress, as mattress toppers are simply placed on top of your existing mattress.
Just like choosing the best mattress, finding the right topper for you is a personal experience, and you need to take all of your aches and pains into consideration. Side-sleepers might not be looking for the same option that back-sleepers might be looking for, or vice-versa. Moreover, in those cases, you need to know which one would work best for you, and that's where we come in.
To help you find the best mattress topper of 2022, our team has ranked and reviewed the best toppers available. Below, you'll find suitable options that won't just fit your individual needs but your desired price point, too.
Best mattress toppers 2022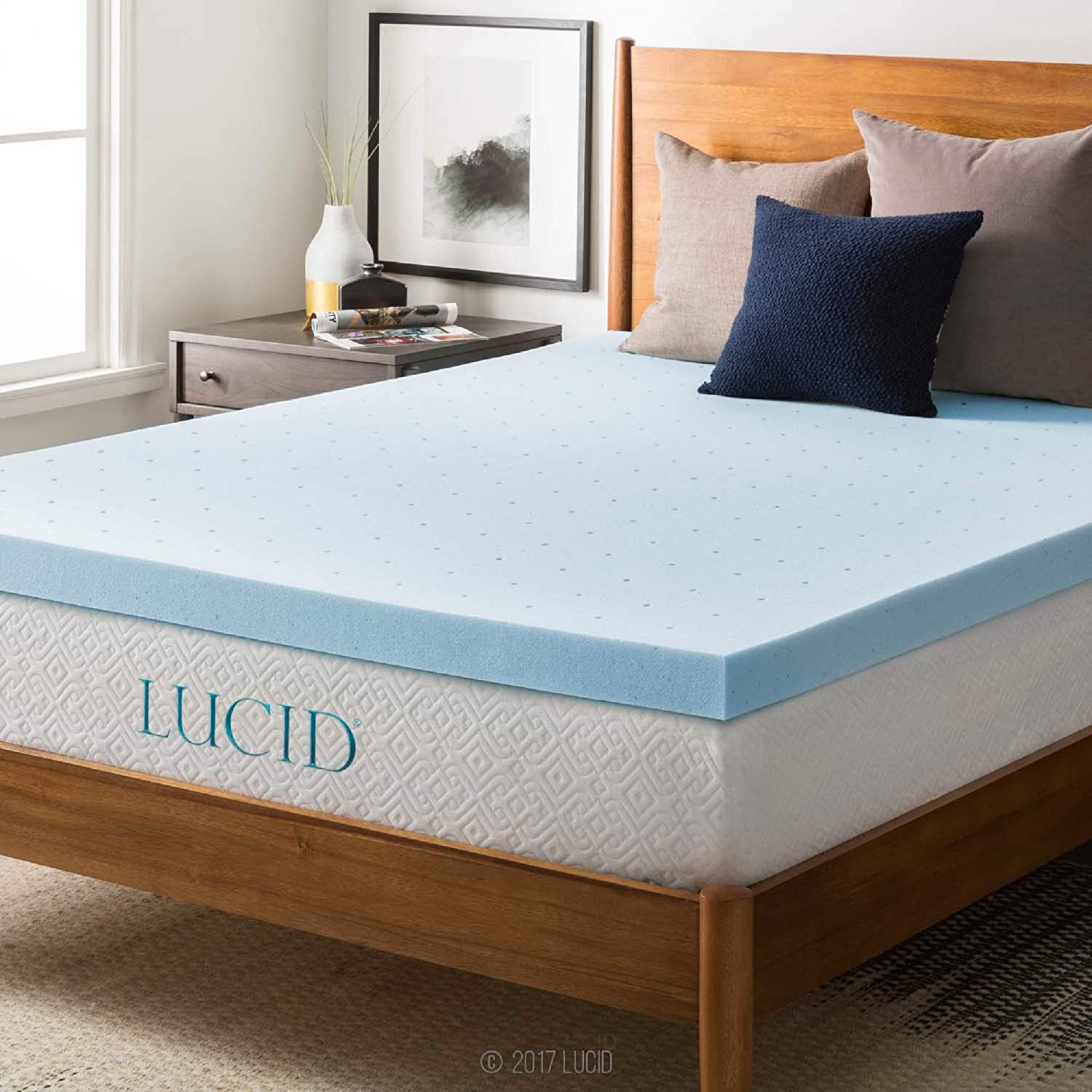 Coming in at the top of our best mattress topper list is the Lucid 3" Ventilated Gel Memory Foam Mattress Topper. There are so many reasons for choosing this mattress topper: It's super comfortable and supportive, hypoallergenic, and gel-infused for a cooling effect —and the largest size (California King) comes in at under $125.
Why we love this mattress topper
One of the top reasons we're obsessing over this topper has to do with its 3-inch thick, gel-infused memory foam. Similar to standard memory foam mattresses, the way this topper molds to your body is unmatched. It looks to improve the comfort of any current mattress and adds support to help reduce any pain, joint pressure, and other discomforts. Also: minimal motion transfer.
But this isn't the only major plus. The gel-infused and ventilated nature of this mattress topper packs an extra benefit: it also helps you keep cool throughout the night. And if that's not enough? It also meets CertiPUR-US standards and is made without the use of harsh chemicals, so you can rest (and breathe) easily.
Finally, there's the price. This mattress topper's affordability makes it a winner on multiple levels, and we appreciate the three-year warranty.
Care instructions
It's pivotal to note: this mattress topper can't be washed. Instead, we recommend adding a mattress protector to ensure longevity.
You've always wanted a Tempur-Pedic, but it's always felt just out of budget. Turn to the Tempur-Topper Supreme as the next best thing for Tempur-Pedic's unparalleled pressure relief and support. It is admittedly a bit of a splurge, costing around $450 for a king, but you can frequently find it on sale.
What we love about this mattress topper
This Tempur-Pedic topper ticks off all the boxes for what we look for in a topper to make a mattress feel new again: minimal motion transfer, hypoallergenic, and breathable. Plus, it's made with the same proprietary material, Tempur foam, that Tempur-Pedic mattresses are renowned for that uniquely responds to your weight, shape, and temperature for personalized support. This topper will have you saying goodbye to aches and pains as you know it. As a bonus, it also works with adjustable bases, which are rapidly growing in popularity, and provides even additional support and customization.
Unpacking is easy, just roll onto the bed and give it time to inflate. The Tempur-Pedic Tempur-Topper also comes with a 10-year warranty, so you know it is built to last, and perhaps help you hold off from buying another mattress for another decade.
Care instructions
The removable cover can withstand a cold water wash cycle. Then, air dry or use a cool dryer setting.
Read the full Tempur-Topper Supreme review.
For anyone who's looking to save the life of their current mattress without a costly investment, this Allswell 4" memory foam mattress topper is the perfect pick.
Why we love this mattress topper
The Allswell brand prides itself on blending state-of-the-art materials with smart technology and doing so without breaking the bank. The Allswell 4" Memory Foam Mattress Topper Infused with Copper Gel is the innovative solution everyone needs. With 4-inches of open-cell memory foam, this topper offers equal parts plush comfort and superb support. The cool foam promotes airflow and wicks away moisture, while antimicrobial copper gel keeps your sleep surface cool and fresh.
Here, this topper offers layers of luxe memory foam and a refreshingly cool feeling that will not only extend the life of your current mattress but transform the feel of your sleep foundation.
Care instructions
Spot clean with mild detergent and warm water. Do not machine wash or machine dry.
Read the full Allswell 4" mattress topper review
For anyone seeking respite from persistent back pain, or simply looking to ease up on pressure points, the Nolah Mattress Topper utilizes two inches of Airfoam to turn your bed into paradise. Airfoam differs from the memory foam in that it is more durable, responsive, and not temperature sensitive.
What we love about this mattress topper
The two-inches is the perfect depth to relieve pressure without dealing with any sink-in feelings. Beyond being incredibly comfortable, the topper sleeps temperature neutral, meaning it won't contribute to causing you to overheat and motion transfer is absolutely minimal. Depending on your desired outcome, a softer or a firmer bed, you also have the option to choose from plush and luxury firm firmness options. The Plush version has a 3/10 firmness level, while the Luxury Firm feels like a 5-7/10 for a true medium feel.
While not a fully organic topper (no foam is truly organic), all foam meets CERTIPUR-US standards, and it is encased in an organic cotton cover that is soft, breathable, and also wicks away moisture. Elastic bands at each corner securely connect to the bed.
Care instructions
This topper can be spot cleaned, but we recommend using it with one of our best mattress protectors.
Real Homes Rated: 4.5 out of 5 stars | Read our full Nolah Mattress Topper Review
If lining your bed with ice packs once crossed your mind, well you're going to need a mattress topper that does the absolute most in keeping you cool and regulating your temperature throughout the night. This subrtex gel-infused topper will help you sleep comfortably, and maybe even give your bed a new lease on life, with three-thickness options to choose from.
What we love about this mattress topper
The memory foam mattress has been infused with gel that is ventilated with purpose-made holes. This allows the air to flow and your body to cool as you sleep. The washable bamboo cover is also breathable, helping to keep your body temperature neutral. It also utilizes between two and four sumptuous inches of memory foam that deftly relieve pressure, allow airflow, and minimize motion transfer making way for a good night's sleep.
Care Instructions
The bamboo cover is removable for easy washing.
Subrtex has a 10-year guarantee with all their mattress toppers so if there is anything that compromises your sleep quality then they are there to put it right.
This particular ViscoSoft hybrid mattress topper combines memory foam with a down-alternative topper. It's designed for anyone who loves the luxurious feel of a pillow top with the support of memory foam.
What we love about this mattress topper
Sometimes choosing between two different materials can feel like a compromise, but with a hybrid, but that's certainly not the case. This topper features a 2.5-inch gel memory foam that relieves pressure points, eliminates motion transfer, and keeps you cool, paired with a 1.5-inch down-alternative quilted pillowtop. The quilted pillowtop cover also acts as a cover to keep the topper secure with elastic straps and a full elastic skirt to stretch over your mattress, up to 18 inches.
It's also made in the United States with CertiPUR-US foam, and comes with a five-year warranty should the topper not perform as expected.
Care instructions
The removable down alternative cover is machine washable.
We're big fans of the Avocado Green mattress, so of course, we were intrigued by their topper. The good news is, the Avocado Green mattress topper is every bit as high-quality as the full-size version.
Why we love this mattress topper
The best part about Avocado as a company is its commitment to sustainability and quality, and it shows in literally every element of the design of this mattress topper.
The core of the mattress is made from sustainably harvested, 100 percent GOLS-certified organic latex, which is designed to contour to your body for supreme comfort. Then there's the removable cover, which is made with a layer of organic wool to offer all-natural heat and moisture control, and a casing made from 100 percent organic-certified cotton.
The mattress topper also comes in two firmness levels — plush and firm — so you can choose the best option for you.
Finally, the anti-slip canvas base means the topper won't move or slip when you sleep. That's a great bonus if you or your partner fidget in your sleep.
Care instructions
The organic wool cover comes off for spot cleaning.
Want a latex mattress topper without shelling out $400+? This Sleep on Latex mattress topper is a pared-down version of the Avocado topper and has excellent value all around. Plus you can choose from three thickness options, depending on how much change you want to feel in your existing mattress.
Why we love this mattress topper
This mattress topper is made from 100 percent natural latex, which is ideal if you're looking for a product made without harsh chemicals. It's also OEKO-TEX class 1 certified, Greenguard Gold Certified, and Eco-Institut Certified.
We also love that you get to choose the firmness of this mattress topper (ranging from soft to firm) and its thickness. We like the thickest 3" option, but the thinner 2" and 1" options can save you money and, if you already have a thick mattress, may keep you from having to buy special deep-pocket sheets.
Air channels help enhance this mattress pad's breathability, and it's made of Earthfoam latex foam — a specialized version that is meant to combine the best elements of Dunlop and Talalay latex foams, for a springy feel without too much bounce to it.
Care instructions
This mattress topper is spot clean only and does not come with a cover.
This sumptuous, dual-layer down-alternative mattress topper from Parachute Home will soften up your mattress in no time.
What we love about this mattress topper
Not everyone loves memory foam and latex; if you're after the best mattress topper that delivers on that sleeping on a cloud feeling, this is the one. Just keep in mind that down and feather mattress toppers tend to feel cloud-like when you lie on them but will flatten during the night — so you'll need to fluff a feather bed like this back up in the morning.
While a featherbed mattress topper won't necessarily suit those suffering from back pain, it can make very firm mattresses feel just that bit more cozy and welcoming.
Another reason to opt for a traditional featherbed design? Temperature control, with down offering a more breathable experience that keeps you cool when you want it, and warmer when you need it.
This 3" Parachute down alternative mattress topper is filled with two layers of super-fine microfiber filling, that closely mimics the best qualities of down and its hypoallergenic. This one also features baffle-box construction to prevent the fill from shifting.
And if you can't resist the traditional feel of down, Parachute also offers a (slightly more expensive) down version with a dual-chamber down and feather design.
Care instructions
Dry Clean only.
You'll also want to use a snug mattress protector to prevent the topper from slipping, as the design does not have any straps.
Wool is highly regarded in bedding for its ability to wick away moisture and provide just the right amount of insulation. It's a natural temperature regulator and will keep you cool in the summer and warm in the winter, making it suitable for year-round use. It also adds a perfectly soft layer of comfort to your bed.
What we love about this mattress topper
At 3 inches, PlushBeds offers one of the thickest wool mattress toppers on the market, making it exceptionally plush. Due to the natural processing, it's also incredibly soft to the touch. In addition to offering necessary pressure-relieving comfort, the wool topper has natural anti-microbial properties that prevent mold, mildew, and dust mites, something those who suffer from allergies will want to consider.
Each wool topper is made to order, handcrafted, and sourced from farms with a sustained commitment to humane treatment and natural processing. PlushBeds also regularly takes part in third-party laboratory testing to ensure the quality, cleanliness, and integrity of the fibers. The wool batting is encased in a 100 percent organic cotton sateen cover that is also hand-tufted. This definitely drives up the price tag of the wool topper, but it's all so worth it.
Care instructions
The topper includes a 100% organic cotton, hand-tufted cover that can be gently "spot cleaned" with a clean cloth and a few drops of mild detergent, then left to air dry.
How to choose the best mattress topper
When choosing the best mattress topper for you, there are a few factors you'll need to consider. Approach buying a mattress topper as you would a mattress.
How thick should my mattress topper be?
The first thing to consider in a mattress topper is its thickness, particularly if you sleep on your side. For most side-sleepers, a thicker, softer mattress topper is best, because it better relieves pressure at the hips and shoulders. Meanwhile, a back sleeper looking to make his or her mattress more firm will want a thinner topper.
Note that, the thicker the mattress topper, the more likely it'll push you beyond the limits of traditional sheets and into the specialized world of deep-pocket sheets, which are needed to cover an extra-thick mattress.
Around 2-inches is an average thickness for most mattress toppers, but the AllSwell 4" Memory Foam Mattress Topper Infused with Copper Gel (opens in new tab) is one of the thickest on our list, coming in at 4 inches of total luxury. Many consider that the thicker the mattress topper, the more transformed the bed will feel.
What materials are mattress toppers made of?
Mattress toppers come in a wide range of materials, but those made from memory foam or body-conforming latex tend to be best for combatting back pain and offering relief from the pressure that a too-firm mattress can place on your joints. The material also influences whether the topper is hypoallergenic (key for allergy sufferers) while others will seek out materials that have been certified non-toxic to you or the environment with certifications such as OEKO-TEX, Greenguard Gold, or CertiPUR-US. Finally, like you would a mattress, consider the mattresses' breathability, as some mattress toppers are better at keeping you cooler than others.
Keep scrolling, because we'll go into greater depth about your choice of materials below.
Will your partner like it?
What if you share a bed with someone who doesn't like the same mattress feel — whether it be soft or firm? The mattress toppers we've chosen strike a nice balance between supporting your body while still contouring to its shape, so they're likely to suit the widest range of people — regardless of whether you or your partner sleep on your back or side.
Front sleepers should get along with these mattress toppers too but might need to swap out their current pillows for flatter ones. See all our best pillow picks (opens in new tab) — there's something there for everyone, whatever your usual sleep position.
If you and your partner share a king-sized bed and have different sleep styles, you can hack your preferred comfort by each selecting a Twin XL-sized mattress topper that is the same height and putting them together on the bed, so you can each choose your firmness and style of the topper. Just make sure those mattress toppers have non-slip bottom layers so they won't slide around beneath you.
How it sits on the mattress
Even if you're not sharing "split" mattress toppers, it's still worth looking for a mattress topper with a non-slip bottom layer, and/or straps that hold the topper in place on the mattress. This can also be a good solution for fixing a mattress topper in place on the best sleeper sofas. Another solution is to choose a mattress protector deep enough to cover both your mattress and your topper.
Are mattress toppers easy to clean?
It's rare to find a washable mattress topper. Some come with washable, removable covers. But for the bulk of mattress toppers, spot-cleaning is your only option. If the ability to wash your topper is a priority, consider a mattress pad for adding softness to your bed,
You can find out more about cleaning a mattress (opens in new tab) (or topper) in our guide. But in the meantime, we recommend using one of our picks for the best mattress protectors (opens in new tab) to protect both mattress and mattress topper against spills and accidents.
Choosing between buying a new mattress topper or a completely new mattress
Mattress toppers are great for adding extra comfort or support to your mattress or to alleviate any aches or pains. However, if your aches and pains stem from a sagging, worn down, or just flat-out unsupportive mattress, it may be time to invest in a new mattress. The harsh reality is that mattresses that have lost support or sag simply can't be fixed with a topper because the topper will just sag in the same areas as the mattress. Other than being a band-aid fix for worn-out beds, you'd be better off putting the money spent on a mattress topper to a new mattress. Solution: one of these best mattresses.
What materials are most mattress toppers made of?
What your mattress topper is made of determines how soft or firm it'll be, along with how well it regulates your body temperature. In general, as we already mentioned, the best mattress toppers for side sleepers or anyone suffering from joint pain is made from memory foam or latex — although hybrid mattress toppers are now available.
The following mattress topper materials usually suit back and stomach sleepers, people with joint pain, and anyone who prefers a medium-firm to firm sleep surface:
Memory foam: Probably the most commonly known mattress topper material is memory foam, which is made of polyurethane. It molds to the shape of your body and tends to offer excellent support. Modern memory foam is more breathable than past varieties, but sensitive sleepers may still find it hotter than other materials.
Latex: Latex mattress toppers are more breathable than those made of memory foam, so they're a great choice for people who tend to feel hot at night. Latex mattress toppers are also firmer and springier than memory foam models — making them a great choice if you wish your mattress were a little more supportive. Be sure to double-check that you're buying eco-friendly natural latex. Latex tends to be more expensive than memory foam.
Other mattress topper materials that you will come across that suit side and back sleepers, which will offer a medium to soft sleep surface, include:
Down/feather: You won't find many down feather toppers on the cheap, and they can aggravate allergies for some people. Sometimes the feathers can poke through the mattress cover, too. But down/feather mattress toppers regulate body temperature very well, and they offer a soft cloud of comfort atop the firmness of your mattress.
Fiberfill or Polyester blends: These "down alternatives" are perfect for those who love the feel of down feathers but either don't like to use animal products, are allergic, or want a more affordable product. However, these toppers are usually not as soft as others and can become lumpy over time.
Wool: Natural wool fleece toppers are soft, durable, and often a great choice for allergy sufferers. That said, they tend to be one of the more expensive materials for a mattress topper. They're also not that thick, and won't offer as much pressure relief as other materials.
Egg crate: Inexpensive, soft(ish), and thin, therefore easy to transport, mattress toppers made of egg crate foam can be perfect for those with a limited budget. But they're not known for being durable.
What is the best mattress topper?
Let us reiterate how much we love the Lucid 3-inch Ventilated Gel Memory Foam Mattress Topper. In addition to its palatable price tag, the three-inch design offers just the right amount of comfort and support, a gel-infused layer of cooling gel to regulate temperatures, and a ventilated design that improves airflow for a more comfortable sleep climate.
What is the best mattress topper for back pain?
If you're dealing with back pain, you'll want to seek out a mattress topper that falls in the medium to firm range to help relieve pressure and provide comfort. Mattress toppers made of memory foam, gel, or latex will offer the most relief.
Luckily, several mattress toppers on our list are excellent picks for those with back issues. For instance, Tempur-Pedic's Tempur Topper Supreme is a sure pick for those with back pain, for its unparalleled pressure relief and support, but it's also on the pricier side of the spectrum. We've found a great middle-ground with the Nolah Mattress Topper, which cushions pressure points and has a breathable organic cotton cover. Meanwhile, our top pick, the Lucid 3-inch Ventilated Gel Memory Foam Mattress Topper seems to do it all, keeping you cool and pain-free.
What is the best cooling mattress topper?
We get it, you want a mattress topper that will keep you cool and comfortable. We've even created a whole guide to the best cooling mattress pads and toppers. Traditional memory foam is known for retaining heat, but we must say, the technology has truly evolved over the years, leaving you with plenty of breathable options at a range of budgets.
At the top of our list, we have the aforementioned Lucid 3-inch Ventilated Gel Memory Foam Mattress Topper with its cooling gel layer and ventilated design that improves airflow.
We also enjoy the subrtex Gel-Infused Memory Foam Bed Mattress Topper. It has a lovely bamboo cover that sleeps so chill and offers great pressure relief too. It feels luxe at four inches, and will truly transform the feel of your mattress.
If you're trying to avoid memory foam, consider Avocado's Organic Latex Topper. The combination of latex, wool, and cotton are a masterclass for temperature regulation, moisture-wicking, and breathability.