In a perfect world, there are a lot of things I'd change about my sleeping situation. For one thing, I'd replace my eight-year-old queen-size mattress with a king, because, more room to starfish, obvi. But in order to do that, I'd need to first get a bigger house or at least a bigger bedroom!
So until those big-picture goals become a reality, I'm always looking for feasible ways to improve my current sleep experience. Enter: a new mattress topper. I've had the pleasure of sleeping on the luxury eco-certified foam mattress topper from Saatva (opens in new tab) for quite some time now, which by the way, is its most affordable foam topper. It's made of 1.5-inch-thick high-density polyurethane foam, with a naturally breathable and moisture-wicking organic cotton cover. The foam is also CertiPUR-US certified, meaning it's guaranteed to be low in volatile organic compounds, and therefore free from off-gassing odors. Yay.
Saatva claims that this *pretty impressive* foam contours to your body in any sleep position. As someone who suffers from frequent stress along with insomnia that can keep me up literally all night, pressure-relieving support sounds like exactly what I need. Paired with a reasonable price of $295, this topper is much cheaper (and much less hassle) than buying a new mattress. Read on for the low down.
TDLR: What I thought of the Saatva foam mattress topper
Saatva is a direct-to-consumer brand founded in 2010 and is known for accessible prices, attentive customer service, and eco-friendly products — and I can see why. The foam mattress topper is noticeably supportive, with a medium-firmness and a 1.5-inch depth. Generously sized elastic loops at the corners make it easy to fit on an existing mattress without a struggle and keep the topper on securely without slippage. I found this Saatva topper to have the capacity to turn an old mattress, like mine, into an impressive sleep surface without the expense or effort of getting a whole new one. Honestly: I slept better than ever.
Testing the Saatva foam mattress topper
Reviewed the Saatva foam mattress topper
Reviewed the Saatva foam mattress topper
Alesandra is a professional product tester who has been writing about lifestyle topics for more than 20 years, with bylines in Good Housekeeping, Woman's Day, Insider, Prevention, Travel + Leisure, and many more. Alesandra and her husband spent two weeks testing the Saatva topper. Find her on Twitter, TikTok, and Instagram at @alicedubin.
"I was first introduced to the brand when I reviewed its luxurious weighted silk eye mask (opens in new tab) for when I went on my travels. I also sleep under a sumptuous velvet quilt (opens in new tab) from the brand and was perfectly impressed with its quality and heft. As you can imagine, I was super excited to give Saatva's mattress topper a try. I received the Saatva mattress for free for review purposes and was not required to return it.
My sleep stats:
Sleep position: Side
Insomnia: Yes
Sleep problems: Insomnia
Average sleep time: 8 hours
I suffer from bouts of insomnia, sleep with a partner who snores, and frequently wake up in the night thanks to my young children's nightmares, cold symptom discomforts, or other concerns. Still, I know I need a lot of sleep — eight hours nightly at a minimum to function well — and I prioritize it."
The techy stuff
Type: High-density foam topper
Material: Foam and organic cotton
Firmness: Medium
Height: 1.5 inches
Sizes: Twin, twin XL, full, queen, king, Cal. king, split king
Cost: $195 to $390
Care: Spot clean only
Unboxing and first impressions
I opened the ~elegantly~ packaged box, removed my older mattress topper, and rolled out the 1.5-inch topper atop my existing mattress. My own mattress is a Casper, FYI, not a Saatva, but these fit on any brand's beds, blending in seamlessly.
Right away, I noticed the generous size of the elastic bands — one at each corner — which were easy to loop over my existing mattress without a struggle. The fit is stable and secure and doesn't allow for any shifting once in place. Nice.
What's the Saatva foam topper like to sleep on?
Instantly, I could tell the difference with the new topper in place. The new foam mattress topper replaced my previous one, which had been more pillowy, made from a down alternative. In comparison, the Saatva foam topper felt much more supportive and genuinely upgraded my sleep surface from lumpy to luxe. It actually elevates sleep to a more hotel-like experience, including the breezy feel of a breathable hotel room, even on an older mattress. I had that new-bed feel without the cost or hassle of a mattress replacement.
I did experience a few wakeful nights on it, but I attribute these more to my stress levels and getting used to a new type of bed, before anything else.
Firmness: This 1.5-inch memory foam topper has a medium firmness suited to all sleep positions — especially side sleepers. Because I'm typically a side sleeper, this was just right as the construction hugs and holds my body without me sinking in, or lying right on top.
Pressure relief and support: The high-density foam used in this topper (at least five pounds per cubic foot, compared with three pounds, more typical of similar foams) does a great job at reducing pressure on the body. It's supportive and cushioning; it honestly feels like it's holding my spine and my joints right where they need to be.
Breathability and cooling: I tested the mattress during a cool wintertime period — unseasonably cool for my home city of Los Angeles. So I was looking for temperature regulation, rather than cooling. Still, this mattress topper's cover is made with naturally breathable and moisture-wicking organic cotton, and I'm optimistic it will fulfill that promise for the hot months soon to come. PS: I'll update my verdict on this soon.
Is the Saatva Foam Mattress Topper right for you?
While this isn't something I struggle with (just yet), foam toppers are recommended for people who deal with back pain or simply cannot get to sleep at night, because they contour to the body which aligns the spine and helps relieve any pressure. As sleeping on your side is also the best position to keep your neck, hips, and knees in line, Saatva state this one is best for side sleepers. But honestly: any sleep position will do, as I find myself sprawling out throughout the night, and still sleeping just fine.
If you're not a memory foam fanatic (sorry!) I can't say this one would be your best option — and it may be worth considering a pillow-top or down alternative topper instead. But if you like the sound of Saatva, too much to let it go, firstly, I wouldn't blame you, and secondly, they've got two other topper options you might like. For the sweaty sleepers, their graphite mattress topper (opens in new tab) seems pretty top-notch, and if you're into anything organic, as you should, they've got a great latex version (opens in new tab), too. FYI: these toppers do have a higher price point than the foam topper I tested.
Here are a few Real Homes rated mattress toppers I'd suggest if you think this foam Saatva just isn't for you: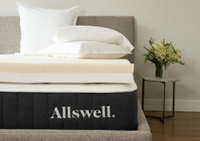 (opens in new tab)
If you want something cheaper
Allswell Memory Foam Mattress Topper (opens in new tab)
Sizes: Twin, full, queen, king
Type: Open-cell memory foam
Care: Spot clean only
Cost: From $99
RH rating: 4 stars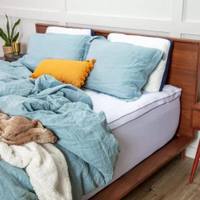 (opens in new tab)
If you'd prefer a hybrid (less foam, more fluff)
Viscosoft Serene Hybrid Mattress Topper (opens in new tab)
Sizes: Twin, twin XL, full, queen, king, Cal. king
Type: Memory foam and down alternative
Care: Machine wash cover only
Cost: From $149
RH rating: 5 stars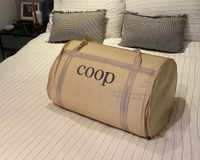 (opens in new tab)
Real Homes' review process
There's much more to how we test mattresses and toppers ICYWW, but for a brief overview, our testers are required to sleep on their bed with the new product for a minimum of three to four weeks before reaching their verdict, testing the topper according to a strict brief. This allows for Real Homes to compare and contrast their mattress topper experiences to find the best product. During the review, we will pay close attention to comfort, support, cost, and how it lives up to claims.