Hello Klean Showerhead: Quick Menu
I always took bathroom hardware for granted... until I received a Hello Klean showerhead to review. You see, I'm a clean girl (in more ways than one). While everyone else cares about branded lotions and potions — I dissect the ingredients list in my food and the formulations in my body care.
Before trialing one of the best high-pressure showerheads, I've been one of those gals who has done the mashed banana and egg in my corkscrew curly hair (rinse with cold water people!) and lived by the Curly Girl Method. I still am the poster girl for it, but notably, my mane is 100% better when I'm abroad. So, I think it's (literally) something in the water.
On the flip side, I haven't been as lucky with the skin lottery. I suffer (with a capital "S") from keratosis pilaris (KP). You don't need to be a derm to know you've got it. You'll recognize it by angry red bumps on your skin, that look like goosebumps even in the peak of summer.
In a bid for dolphin-smooth legs, I've tried laser, smothering myself in tallow (yep, nothing beats smelling like a hamburger), and several acids to improve the appearance. So could a showerhead I saw on TV solve my problems?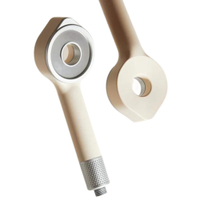 Hello Klean showerhead | Was $85, Now $57 (save $28) at Hello Klean
Save money on an expensive multi-step skincare routine and get your water in check first with this showerhead. This contains amino acids and charcoal to remove toxins and harsh chemicals (including up to 90% of chlorine).
What I thought of the Hello Klean showerhead
This viral showerhead first came to light when co-founders Karlee and Omer Ozener pitched it on Dragons' Den, the UK equivalent of Shark Tank. After they secured a deal with Steven Bartlett, I've since been following its progress on Instagram. I also kept getting targeted with various ads with influencers and other user-generated content promising softer hair and skin if I used the showerhead.
Swipe to scroll horizontally
Hello Klean showerhead test results

| Attributes | Notes | Rating |
| --- | --- | --- |
| Design | A neutral beige color with cut-out design. | ★★★★★ |
| Price | Usually $85, but $57 during sales. Spendy, but not the most expensive out there. | ★★★★ |
| Installation | Screws into existing shower setup. | ★★★★★ |
| Features | Water-purifying cartridge with amino acids and activated carbon fiber to soften water and remove harsh chemicals. | ★★★★★ |
I (Christina) tested the Hello Klean showerhead for exactly a month to determine whether it would be a permanent fixture in my two-bedroom suburban apartment. Though this is my first time professionally reviewing a showerhead, I test small kitchen appliances for a living, so know what to look out for when evaluating the quality of homeware, albeit in the bathroom this time around.
Hello Klean showerhead specifications
Weight: 1.19 lbs
Colors: 1
Filter materials: KDF 55, amino acids, activated carbon fiber
Style: Handheld
Compatibility: With wall-mounted shower spouts/arms
Shape: Round
Price: Usually $87
What I loved about the Hello Klean showerhead
Packaging: The showerhead and wrench come in a cardboard box, but what makes this feel super premium is that the main product comes in a calico dust bag. You know, the type you'd expect a handbag or cute pair of shoes to come in. Is it necessary? Probably not. But it makes the unwrapping experience feel luxe, IMO.
Appearance: A showerhead is a showerhead, right? Well no. I've seen some budget options that are far from stylish and end up in way too many bathrooms. No shade — but you know the ones. They're typically made from white plastic and the holes set off my trypophobia. This bougie beauty has super-fine holes for that hotel spa bathroom experience.
Flow of water: As I mentioned in the verdict, the difference between my old showerhead and this new one was like drinking a hot beverage in a thick clunky mug vs. sipping from fine china. The water touching my skin felt 'more expensive' and the power and pressure were felt... but not so much that it hurts your skin.
The science behind the brand: I'm a bit of a geek, and my resume (before going into journalism) has a lot of pharmaceutical and medical experience. I *get* biology. Hello Klean breaks down the redox process not only on its website but also uses 25% of the box's sleeve to explain how the product works.
TLDR: Heavy metals and chlorine bond with ingredients in its filter to create new elements. Chlorine, for instance, shifts into harmless chloride. In short: This isn't BS. The brand has backed its products up with clinical studies, before and afters, and press snippets. To me, that's the holy trinity of trust.
More simply, the filter contains amino acids and carbon to essentially detox all the crappy stuff in your city's water supply, which can vary from state to state.
The ease of installation: I've already gone over how simple it is to switch out your old head with your brand new one, but honestly — I didn't have to tap my husband on the shoulder (while he was gaming) to "check" my handiwork.
It hasn't clogged up with limescale (yet): Because of the aforementioned science, the showerhead is less likely to be chalked up with calcium carbonate (aka limescale). Obviously, if you neglected to change the filters, I could imagine the hard water scum would build up over the head.
My hair is shinier: OK, so I have had compliments on the shine of my strands before. But friends and family have been quick to try and touch my hair and say nice things. With the showerhead, I've continued to use my "normal" products (a cocktail of Only Curls All Curl Conditioner, Cantu Shea Butter for Natural Hair Sulfate-Free Conditioner from LookFantastic, and Miele pomegranate and honey coil sculpting custard, detangled with a Denman brush (both from Amazon). HMU on Instagram if you want a full routine.
What I didn't love about the Hello Klean showerhead
Honestly, there isn't much I didn't love about it. But if I were to be nitpicky, here's what I'd feedback to the brand.
Limited color options: Please can we have more showerhead hues? There is only so much people can do when decorating and maintaining their apartment, so it'd be great to have some pastel or neutral options... I'm thinking lilac, pink, and taupe to start.
Wrench material: On Real Homes, we're never going to be fans of plastic. And, I get it... it'd cost a lot more for these to be metal. But it gave me the ick.
Size: It's just a smidge bigger than the showerhead I bought from the supermarket.
How to use the Hello Klean showerhead
I'm telling you. It's so simple, it's self-explanatory. Simply screw off your old showerhead, and screw on the Hello Klean model.
The shower filter is refillable, with each capsule lasting around 13,000 liters of water. In layman's terms (because my water bills are paid by direct debit), it means that if you live in a household of three, it'll last three months, and if you live as a couple, it'll be fine for four months. If you live solo, you'll get six months of use before you need to replace the capsules.
Hello Klean does however offer a subscription where it'll send the refills automatically. Like any decent business, you can cancel and amend this agreement at any time. You just need to set up an account and tell it how frequently you want to be sent packages.
Good to know
I reviewed this product during the summer. Warmer months are usually a little bit kinder to my skin and body. Plus, I haven't had to deal with the tug-of-war between colder temperatures and heating in my home and office. I'm looking forward to seeing if using this showerhead stops my skin from feeling tight and itchy in winter. I'd also like to see if my hair will feel less scarecrow-like than it usually does in the fall.
I'm ashamed to say that I wasn't very good at remembering to clean the showerhead I had before this one. It was clogged with limescale, which probably didn't give my skin a chance at thriving, but let's hope that this new-and-improved one will give me and my bathroom the glow-up we deserve.
If it isn't what you're looking for, then these other showerheads might be a better fit for you:
Best pick
Type: Standalone
Finish: Oil-rubbed bronze/premium chrome/satin nickel
Modes: 8
Price: $39.99
Our top pick overall is backed by 9,000 reviewers with many saying it transformed their bathroom for a budget price. It has eight modes to flick between, plus it's fitted with anti-clog nozzles. The best part? It has a separate nozzle on the back of its head, which shoots a powerful jet of water to help clean soap scum from your tub or shower tray with ease. Game changer. It comes with a six-foot hose.
Smart
Type: Handheld
Finish: 6 colors
Modes: Range
Price: Was $199, now $129
What makes this pick unique is its indicator light which turns green when the water is warm and ready and stays that color to notify you if your water consumption is at a sustainable level. It'll turn orange if you've used a little too much. This then links up to an app on your phone to help you lessen your footprint on the planet. There's a small container on the side of the shower head that allows you to pop in capsules for an aromatherapy shower to make you feel as if you're at the spa. Our global editor-in-chief loves the Relax infusion from Hai for de-stressing. Her sister-in-law also said it's the most luxe shower she's ever used. The only reason it's not first is its high price.
Affordable
3. HO2ME Handheld Shower Head
Type: Standalone & wall mounted
Finish: Polished chrome/brushed nickel
Modes: 3
Price: $27.99
If your water pressure is low, you probably can't remember the last time a hot shower relieved your muscle aches and pains. The HO2ME Handheld Shower Head will bring back that sweet feeling of relaxation. It delivers super strong spray action and has a multifunction option that allows you to choose between various spray strengths including powerful shooting and pulse massage. The hose on this shower head is also said to be very neat and compact so it doesn't take up too much space in your shower cubicle. A bracket is included, so you can use it as a standalone head or on a wall-mounted fixture.
Where to buy the Hello Klean showerhead
As well as purchasing straight from Hello Klean directly, you can buy the shower head, filter, haircare and accessories from Cult Beauty. And recently (circa May 2023), its hard water shampoo and clarifying scalp soak are available to buy on Selfridges.com
How we review high-pressure showerheads
I reviewed this showerhead for a month, using it in my bathroom with the aim of calming the appearance of my KP-affected skin and moisturizing my 3B curly hair. I showered once a day (twice when it was warm) and washed my hair around six times during this 30-day period.
We have two showerheads in my shower-over-bath setup, so I was able to compare these to the Hello Klean showerhead. I did also look at feedback from customers on the Hello Klean site, as well as Cult Beauty (one of its third-party suppliers) to see if I resonated with some of the comments they made. And lastly, watched tons of TikTok/Instagram videos about the product, as well as read comments... because we all know that social media can be unhinged at times.
As with everything we review, we make sure to pair our reviewer and the product carefully. I reviewed this showerhead because I have dry, problematic skin and (sometimes) uncontrollably frizzy curly hair. According to research, both of these issues can be aggravated by hard water, so it made sense for me to try the Hello Klean showerhead.
I'm of that age now where I have to get my roots tinted every six to eight weeks, so I'll be updating this review to let you know if the softer water has an effect on my hair in this regard. Apparently, it can keep blonde babes looking brighter too, so they won't necessarily have to reach for the purple shampoo to lessen the risk of dullness.