Hai Showerhead Review: Quick Menu
Of all the boring things in an apartment, a shower head sits right up there — or so I thought. This was my belief until the Hai Smart Showerhead decided to knock on my bathroom door and prove me wrong.
I'll be honest, I don't love showering. Not in a gross way and I do shower obviously, but it's just never been an enjoyable experience for me. It feels like a chore and I hate being cold before, during, and after. Shower heads have always just blended into the background. They often spray out a disappointing drizzle or blast you with hard water that leaves you and your hair feeling shaken and fragile. They're not the cutest fixtures either. All of this was the case until Hai said "ahem, look over here!"
Sleek and silver, this round high-pressure shower head comes in six pretty color options, making Hai's take on the bathroom staple bubbly and fun. At first blush, it's a cute and minimal swap for the plasticky heads of yesteryear and that's before you even know what it can actually do.
Are you also a shower head skeptic? Unfazed by the less-than-impressive stream that stares back at you? Hai won't stand for it. Here are all the deets that converted me.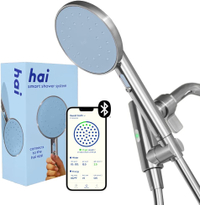 What I thought of the Hai Showerhead
I've served my time with awful shower heads. In one apartment, I dealt with constant cold water and a stream with pressure akin to a broken water fountain. In other rental, my overly powerful shower came off the wall the night before a flight and not even the night manager knew what to do. In between these experiences was a mix of mediocre options, or shower heads so bland I didn't bother to notice them.
The Hai shower head initially caught my eye for two reasons: the soft, glowing indicator light on its handle and the shower Infusions available to add within the shower head system. What was that snazzy little dot of light? And shower steamers built in to your bathroom? Yes, please.
I tested it out that night. The little indicator light flickered on — which is used to tell you when the water is warm and when you've hit your water limit — and I had a little too much fun sliding the pressure button and testing out the mist and rain options.
Swipe to scroll horizontally
Hai Showerhead test results

| Attributes | Notes | Rating |
| --- | --- | --- |
| Design | Sleek, chic, and cute shower head colors available | ★★★★★ |
| Price | It's worth the $200 price, but it is a steep cost. | ★★★★ |
| Installation | DIY installation is a breeze. You might need an extra tool or two. | ★★★★★ |
| Features | Perfection, it has a warm water and usage indicator light, an app, and a pressure slider. | ★★★★★ |
Testing the Hai Showerhead
Reviewed by
Reviewed by
I (Melissa) tested this shower head for six months in my bathroom, which gave me plenty of time to try out the features, test out the Infusions, and see what difference it made in my water usage and hair and skin condition. This is my first time professionally reviewing a showerhead, but I've tried plenty over the years, moving from apartment to apartment.
Hai Showerhead info
Size (in.): L9 x W4.5 x D5
Weight: 3.91 lbs
Material: Brushed stainless steel
Color: Silver and light blue (6 color options)
Style: Handheld
Compatibility: With wall-mounted shower spouts/arms
Shape: Round
Price: $199
Unboxing and installing the Hai Showerhead
Upon arrival, everything was boxed neatly in cardboard and a splash of cobalt blue. One box held the shower head itself and the other had the shower Infusions. There was very little plastic, save for a bag or two.
At first, I tried to remove my old shower head without any tools. It was jammed on there, so as previously mentioned, I did have to buy a wrench to get it off. This won't be the case for everyone, but it is good to know. Once I had the wrench, everything went seamlessly. I twisted off my original model and then simply spun on the new shower head. When I first installed it, I forgot the Fuse compartment, but it was a breeze to add back on. It took me maybe 10 minutes total to do it all. The instruction booklet was short and sweet, but helpful. I was also happy that I didn't have to ask my landlady (because no permanent damage or work was being done) or hire a plumber! It's a renter's dream.
How to use the Hai Showerhead
This Hai shower head is just as user-friendly as any other. Once you've installed it with their handy and easy-to-read DIY instruction manual, you use the handles in your shower like you normally would. Then you have a few other features:
The slider — With your thumb or finger, you can slide this button on the handle up and down to adjust the water pressure.
The Fuse — This cool little compartment can be bought separately or with the shower head. It twists open and allows you to pop in the Hai Infusions (which are essentially shower steamers).
Indicator light — Nothing you need to do here. It will show you orange/red when the water hasn't warmed up yet and green when it's ready for you to jump in! It will then turn orange-red again if you've gone past the set limit for water you're trying to stay under.
The Hai app — This Bluetooth shower head hooks up to your phone and you can track water usage, temperature, and more. It's easy to get obsessed! The app doesn't work outside of the US (and since I'm currently living in the UK, I wasn't able to properly test it out). I'll report back if I get access.
What I love about the Hai Showerhead
Warm water indicator — As much as I'd like to live the life of Wim Hof, I just can't do cold showers or plunges for that matter. I LOVE being warm. With the little light on this shower head, you don't have to stick your hand into an icy waterfall to check if the temp is just right. It'll remain orange when it's heating up and turn green when it's good to go. This saves on water waste and freezing your butt off.
Cute colors — I actually had a really hard time choosing which shower head color I wanted! All of the bodies are silver but the spout face itself is a different color. It's such a fun but subtle way to add color to your bathroom — especially if you live in a rental like me. I ended up opting for surf, which is a light blue, since my bathroom has white, silver, and blue accents. I'm also a beachy gal at heart. I was very tempted by the rose quartz pink and citron yellow though.
Shower steamer "Infusions" — Talk about a shower head that can do it all. What initially had me enamored with this hardware before it even arrived was the capability to add shower steamers to a small compartment that's attached to the shower head. It's called the Fuse, and it takes capsules (what Hai calls Infusions) that fit in the palm of your hand. There are three options, Relax, Energy Boost, and Repair. These add different scents and vitamins to your water — I was all over the Relax one as it smells like lavender plus sandalwood (a personal fave fragrance of mine). It also has vitamin B12 which my mom tells me to take all the time anyway. Plus, anything that claims to reduce stress instantly gets a spot in my routine. The soothing steam made my bathroom feel like a mini spa!
You'll impress guests — I never thought I'd hear myself say this, but my shower really does impress my friends and fam! In fact, I'm pretty sure people visit just to use it now. One of my best friends decided to shower again before she left our place just to bask in the glory of this shower head once more. Another pal who stopped by walked into our kitchen afterward looking pretty darn relaxed and stated, "That is the best shower I've ever used in my life." If that's not a win, I don't know what is.
App tracking — The shower head is smart enough as is, but to make things cooler, Hai developed an app you can use to track water usage, temperature, and even how long you took a shower. This definitely gamifies your bathing experience and makes you want to beat your previous record — though I probably won't be taking a shower that's less than four minutes.
Water pressure slider — There is a gorgeous little button on the shower head that slides effortlessly from top to bottom. I prefer this so much more than buttons, dials, or two very distinct pressure options. The lightest setting is a mist, which makes me feel like I'm at a spa or even a water park. The maximum pressure on the other hand is strong enough to feel like all my shampoo really did get rinsed out without feeling like I've been hosed down with a pressure washer. In between is a gradient range of mist-meets-calming-rainshowers. Plus, I know it's saving energy and water, too. I'm in love.
What I don't love about the Hai Showerhead
It's expensive — Now, I'll be the first to convince my friends that paying more and investing in quality home goods and appliances is completely worth it. Fast fashion and home goods fire me up as they're often crap quality and you end up spending more in the long run. That being said, not everyone has the budget to fork out $200 for a shower head, so it's worth noting that the price can be a downside. That being said, I did spot it on sale recently for $149 and $124.99 on Amazon.
Tools are required — I should already have a renter's tool kit on hand but don't. Therefore I had to buy a wrench to actually install this shower head. If your arm and current shower head are easy to remove or you already have a few common tools on hand (you smart cookie, you), you'll be fine and likely won't need to purchase anything extra.
The hose is a little stiff — This is one beautiful shower head, but I do appreciate hoses that are slightly more flexible and lie flat to the wall. The hose on this shower head is smooth and looks sleek, but it's a little short and wraps in on itself because of the stiffness. This is more of an aesthetic preference really.
Good to know
Cleaning the shower head — Keeping this baby clean takes very little maintenance. I really haven't had to do much over the last several months. To keep it free of limescale and mildew I wipe down the head with a stainless steel spray cleaner and will use white vinegar to clean the hose part of it. I've only done this once (but it didn't really need it).
Returns — There is a 60-day return policy if you don't love the shower head. I can't predict the future, but I don't foresee you disliking this cool pick.
Hai memberships — If you're really into your shower routine and water consumption, Hai also offers two membership options: The Hai All Access and All About Hai Infusions. This gets you Infusions every four months, more data on your app, and early access to sales.
Where to buy the Hai Showerhead
You can buy Hai's Smart Showerhead on Amazon or directly through the brand's website.
How we reviewed the Hai Smart Showerhead
Much to the detriment of the people around me (and probably my work), I like to take my time with things! I don't like to jump to conclusions, so I took six months to really test the waters with this shower head — pun totally intended.
I've used it every day that I've been home and it's my main shower head. This is probably TMI, but I shower with it daily, sometimes every other day. All my friends and family who have stayed over have tested it, too, and not a single complaint was had. I'm pretty sure it'll go missing one of these days.
While using the shower head, I've tried it on all settings, tested the indicator light, and used the Infusions. It has remained in perfect working condition and still looks as shiny and clean as the day I got it.