With the best ice cream maker, it's easy to create your own delicious frozen treats from scratch. We've selected five of the very best from the likes of Sage, Cuisinart, and KitchenAid to make your decision as easy as possible, and all you have to do is choose the right one for you.
Buying tubs of ice cream can be pretty expensive, and a lot of the time the ice cream you'll find in the shops comes with a long list of ingredients. With the best ice cream maker, you're in complete control of everything you add to your homemade gelato. Whether it's full-fat cream and egg yolks, or slimline yoghurt and fresh fruit.
The ice cream maker is one of the greatest kitchen gadgets ever invented (in our opinion, anyway) because it will recreate your favourite flavours of summer – think mint choc-chip, raspberry ripple, clotted cream vanilla (yum!) – all in the comfort of your kitchen. There are lots of makes and models to choose from so, to help, we have rounded up the very best ice cream makers in this guide so you can make creamy, smooth, moreish frozen treats with maximum ease. All while knowing that not only have you bagged a bargain machine, but will be saving money on overpriced ice cream stand treats, too.
Looking for more freezing cool appliances? No worries: head over to our best fridge freezer guide to keep food cool and fresh during the warmer months.
Best ice cream makers 2023
Why you can trust Real Homes Our expert reviewers spend hours testing and comparing products and services so you can choose the best for you. Find out more about how we test.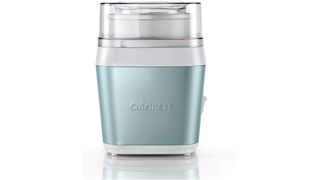 If you're an ultra-creative chef hell-bent on making endless prototypes, a more expensive ice cream maker is likely to be your best bet, but if you'd rather have ice cream, sorbet, or frozen yoghurt at the touch of a button, it may well be this model from Cuisinart.
Easy to use
There's one button on the whole machine. To make ice cream you need to prep and chill your ingredients and freeze the churning bowl overnight. Then add them in, choose between the frozen fruit or the ice cream paddles, and turn the machine on. It will work continuously until you're happy with the consistency of your ice cream, and in testing it only took about 15 to 20 minutes of churning to reach the texture we wanted.
A stylish choice
The Cuisinart Iced Dessert Maker looks the part in any kitchen. It has a glossy surface in the shade 'Light Pistachio', and has a more compact design that will tuck away easily. Apart from the bowl, the removable parts are dishwasher-safe.
Real Homes rating 5 out of 5 stars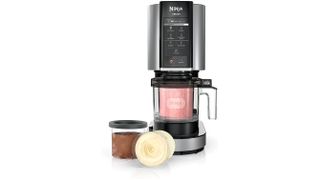 When we put the Ninja Creami Ice Cream Maker to the test it impressed us with its ability to make delicious sorbet and even smoothie bowls. Turning its expert abilities in making the best blenders to frozen desserts, this Ninja pick is a potential game-changer.
A fresh take
The Ninja Ice Cream Maker is an unconventional one. It has three freezing tubs that need to go in the freezer overnight, before you insert them into the machine to be churned.
We say churned, but the Ninja Creami Ice Cream Maker actually has a blade that finely shaves frozen ingredients to make more thick and creamy ice cream than we're used to with other ice cream makers.
Easy cleaning
The tubs can go through the dishwasher, as can the lids, which makes the process very easy. There are also modes for milkshakes and smoothie bowls, and we enjoyed the thorough recipe book which made it easy to get started.
Real Homes rating 4 out of 5 stars. Read our full Ninja Creami ice cream maker review for more details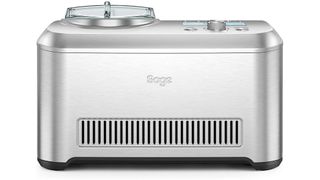 The Sage The Smart Scoop comes with 12 hardness settings, so the possibilities are practically endless.
Settings
The Sage The Smart Scoop allows you to create sorbets, gelatos, frozen yoghurt, and ice cream with either the simple-to-use presets or. If you're feeling brave, there are also manual settings for total control over your final product.
There is a keep cool setting that keeps your dessert at the perfect consistency once it's finished, up to three hours. Many ice cream makers will require you to freeze your ice cream as soon as it's finished, but this can often cause it to harden to the point
Fun extras
The pre-cool function allows the generous one-litre bowl to get down to 30℃ to give you a good head start, but best of all, it plays an ice cream van tune when your concoction is ready. Worth every penny.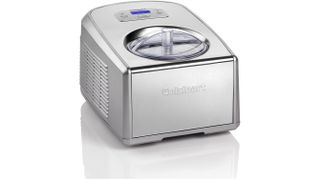 If you're whipping up frozen treats for a hungry crowd, this Cuisinart Gelato and Ice Cream Maker may fit the bill perfectly.
How it works
With a very ample 1.5-litre bowl, it's our best ice cream maker for parties, as it churns ice cream, sorbet, gelato or frozen yogurt in as little as 40 minutes. The professional compressor system also means that there's no need to pre-freeze or wait between batches, giving you the double benefits of a quick start and the ability to keep up with the inevitable demand.
But speed doesn't mean skimping on quality, and the two separate paddles for gelato and ice cream are engineered to get the ideal amount of air in for perfect texture.
Features
All parts are removable, which makes the Cuisinart ICE100BCU easy to clean. The dimensions are as follows: H23 x W29 x D56cm. It's smaller than the Sage the Smart Scoop but still quite a large ice cream maker to sit permanently in your kitchen.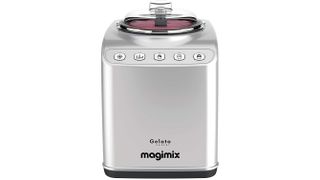 This Magimix ice cream maker incorporates a built-in freezer, which means no pre-freezing, which means you can get started straight away.
Quick desserts
With an equally generous capacity as our previous Cuisinart pick, and an even more impressive operation time – when you can make ice cream in as little as 20 minutes, or around 30 minutes for sorbet, there's hardly any point nipping to the shops – it's a real contender for best party guest.
There are two bowls to choose from, one fixed and one removable, so you can make two batches at once.
How it functions
The ice cream maker handles add-ins well, but it is quite noisy. It's got five settings including presets for gelato, ice cream, and granita.
With a transparent top, you can watch your ice cream maker as it works and keep an eye for the perfect texture. It has an in-built freezer unit which means no advance chilling is needed.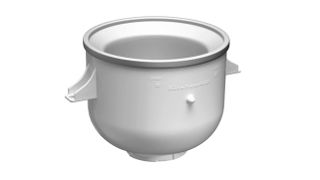 While not technically an ice cream maker in its own right, this KitchenAid attachment is a must for anyone who already owns one of the best stand mixers and can't justify any more chunky gadgets out on the worktop.
How it works
Second only to the Cuisinart ICE100BCU in terms of capacity, it makes 1.9 litres of ice cream or sorbet with what reviewers say is the greatest of ease.
Speedy ice cream
Of course, as an attachment rather than a standalone ice cream maker, it does need a few hours to chill in the freezer before you start, but users found that with a little preparation they could make some fabulously toothsome ice creams in as little as 15 minutes.
What is the best ice cream maker?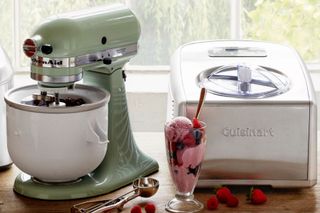 To recap... if you're serious about sorbet and fanatical about frozen yogurt, the best ice cream maker 2022 has to offer is the Cuisinart Style Collection Ice Cream and Dessert Maker. It's brilliant for those who are just getting started, and won't break the bank.
While all of the ice cream machines on our list offer provision for more than one kind of frozen dessert, the Sage the Smart Scoop is unbeatable in its variety, with 12 hardness pre-sets and manual settings for an ice cream that's tailored down to the last detail.