Pick up one of the best pasta makers with our guide of the top 5 on the market. We've chosen a selection of manual and electric machines that can sit pretty in any kitchen, so whether you prefer to make your ravioli by hand, or you just want something that can make foolproof noodles in 15 minutes, our roundup has something for you.
If you've ever tried making fresh pasta by hand, you'll know that rolling it out to an even thickness can be a real struggle. The best pasta makers come with adjustable thickness for noodles as thin as 0.5mm, perfect for impressing your friends with your latest creations. It's also easy to make colorful or flavored pasta using a pasta maker, because it will make your dough less easy to break and keep it cold by minimising your need to handle it.
There are two main types of the best pasta makers, and while we're keen to try every pasta maker in this guide (imagine the taste test!) we've not yet been able to get them all in the kitchen to test by hand. Our top picks of the best electric pasta makers come recommended by experts and by online reviewers, who rave about the different shapes these machines can make (penne? fettuccini? No problem). The best manual pasta makers have a legacy of traditional Italian craftsmanship behind them, and we took their sturdiness and how easy they were to use and clean into account. For more delicious kitchen must-haves, take a look at the best bread maker.
Best pasta maker 2023
Why you can trust Real Homes Our expert reviewers spend hours testing and comparing products and services so you can choose the best for you. Find out more about how we test.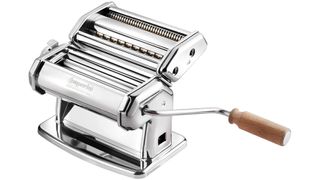 If you are after a pasta maker that's easy to use, set up and doesn't cost a fortune, the CucinaPro Imperia pasta machine is the one to go for – and it's our pick of the bunch.
What do we like about it?
It's from an Italian brand for starters, always a good sign (generally, take an Italian make as an indicator of quality). It offers six pasta thicknesses and includes tagliatelle and fettuccini cutters.
Plus this model is particularly easy to clean which is always a bonus; less time cleaning, more time eating.
What does it do well?
Like most pasta makers, its roller width is 15cm wide, which means it can cope at making most pasta types, including lasagne and ravioli sheets.
Weight is important with pasta makers: it needs to stay put on the worktop while you use it without being too hefty to get out of the cupboard. At 3.6kg, the CucinaPro Imperia 150 is heavy enough to be used without moving about – plus it comes with a table clamp for added solidity. That said, if half a stone of pasta maker is too much for you to lift in and out of a drawer, this is something to be considered.
Let's talk attachments. Some pasta makers come with a roller only, leaving you to fashion your shapes with a knife; the Imperia's attachments allow you to create just about every pasta type you can imagine. Usefully, the CucinaPro also comes with a starter guide for making dough and pasta recipes.
What we're not keen on
As with the majority of proper pasta makers, this one can't be washed in your sink or dishwasher – or with water. The theory is that you get your dough just right and it slides off the roller, leaving nothing behind, and allowing you to simply dust off the any floury residue with a brush before returning it to the cupboard. That might not happen without practice, so we'd recommend a wipe over with a just-damp cloth and allowing a proper air-dry until you've perfected your technique.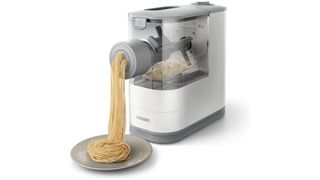 Want pasta-making without the elbow grease? Go electric. If you are buying a manual pasta machine, think Italian; but if you are buying an electric one, go Dutch, with the Philips Viva Pasta Maker our best buy.
What do we like about it?
It's so easy to use: just add the ingredients (don't worry, you get a recipe book with measurements included), and let the machine take the strain.
We also love how compact this electric pasta maker is. You would think it would be a pretty bulky piece of kit, but it's actually really easy to store so won't clog up space on your worktop or in kitchen cupboards.
How about cleaning? Our top pick was non-washable; by contrast, all the washable parts of this one are dishwasher friendly. The only downside is that the pasta shaping disks are a little tricksy to clean, but Philips has added small metal nubs on the side of the cutting tools to make it easier.
What does it do well?
With an electric pasta maker, you get to skip the tedious mixing, kneading, waiting, and rolling out. It can also create all the pasta types and shapes you can with a manual pasta maker, but also penne pasta, which is much harder with a traditional pasta maker.
What we're not keen on
You might find that there's some leftover dough in the machine after each use; swapping to the extrusion-only program can sort this, though. Also, it's not entirely hands-off, as it won't automatically cut pasta to length; you'll need to use the pasta cutter tool to do that yourself.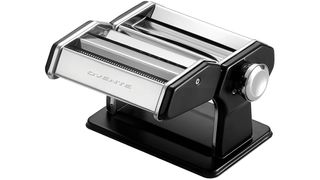 Looking for a really affordable pasta maker? This Ovente Manual Stainless Steel Pasta Maker is under $50 and it has everything you could want from a pasta maker.
What do we like about it?
Price is a big one. And, despite its simple design it can still make a good range of pasta types, including spaghetti, fettuccine, and lasagne sheets. There are seven thickness settings for kneading and rolling.
What does it do well?
Remember what we said about weight above? This model's not the heaviest of pasta makers, but that could be seen as a good thing if you aren't up for struggling to lift it out of the drawer every time you want to use it. It does, however, come with a hefty clamp to secure it to your worktop, so it's lightweight but stable to use – win win, in our eyes.
What we're not keen on
This is an affordable model, so it's never going to be hitch-free, but be aware that after a time, the cutting attachment might begin to dull, so you may have to gently pull apart your pasta strips (think fettuccine or tagliatelle) once they have passed through the machine.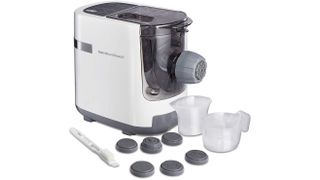 Back to electronic pasta makers. The Hamilton Beach Electric Pasta and Noodle Maker can make seven types of pasta. Seven types! Need we say more?
What do we like about it?
There are seven shaping discs, which means you can make a range of pastas, from tagliatelle to penne. There is also no need to leave your pasta to dry before boiling it, which is a major time saver. Not one for traditionalists, maybe, but we reckon it's one of the best pasta makers available.
What does it do well?
The internal scale will make sure you always follow the recipe perfectly, and it has an in-built drawer to store the seven pasta discs when not in use.
What we're not keen on
LED control panel is not the most user-friendly, because it all looks a little complicated. If you're willing to learn though, we think it's worth the investment.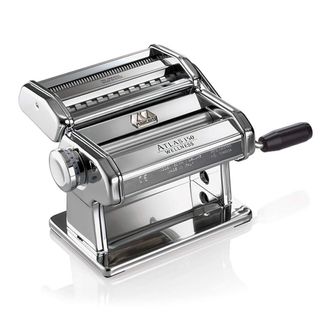 Back to one for you traditionalists. The Marcato Atlas 150 pasta machine is made by an Italian company (good sign) that has been producing pasta makers for almost a century (another good sign).
What do we like about it?
The handle is super comfortable to use, something you don't often get with cheaper pasta makers. There are 10 thickness settings (0.6mm to 6mm) and the standard two cutters, which makes it a really good buy for the price. Plus, you can also buy vermicelli and ravioli cutters if you find you are becoming a bit of a pasta pro.
We also love that this pasta maker produces pasta with a slightly roughened surface, which makes it perfect for mopping up those sauces you're no doubt cooking up, too. It also comes in a variety of colours, which we always appreciate.
What does it do well?
Apart from making fresh pasta easily, it also comes with an amazing 10 year warranty (most pasta makers only come with two); proof, if you need it that this one is really going to last.
What we're not keen on
Shoulder ache. Which is why this pasta maker's attachable motor is a bit of a bonus, feeding the pasta through the machine for you.
How to buy the best pasta maker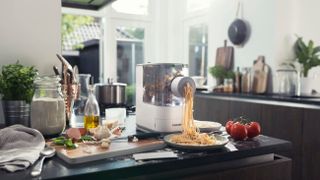 Manual or electric?
The first thing you want to think about is whether you want a manual or electric pasta maker. Both obviously have their plus points. If you are a traditionalist and have visions of spending the weekend making pasta, flour on your nose, surrounding by hundreds of metres of drying spaghetti, then you will want to go for a manual pasta maker. These are also the best option if you are looking for a cheap pasta maker.
Electric pasta makers on the other hand can produce fresh pasta in as little as six minutes. All you do is throw in the ingredients and the machine does the work for you. The result are just as good, so no one needs to know you didn't spend all that time slaving in the kitchen to make the perfect ravioli. Just pop a smudge of flour on your cheek before the guests arrive to allude to the above scenario.
We haven't included any in our round up of the best pasta makers, but you can get pasta-making attachments for a food mixer you already have (or are thinking of buying). KitchenAid, for example, has a three piece attachment set, as does Cuisinart. Check out our guide to the best stand mixers for more on this.
Extra attachments?
Most of the best pasta makers tackle spaghetti, tagliatelle and sheets for either lasagne or ravioli. Some of the electric options we have picked out will do shorter pasta, too, such as fusilli or penne – and you can buy extra attachments for manual pasta makers to expand your recipes.