Looking for the best pasta maker for your kitchen? If you've ever tried making fresh pasta without one, hopefully rolling the dough as thinly as possible, looping it round your hands in the desperate expectation that spaghetti will magically appear, you'll know it's a non-starter. So, just accept defeat and invest in a pasta machine; it still counts as homemade, of course, but there is just so much less faff, less mess, and more eating!
Here, we've listed the best pasta makers you can buy. For more kitchen buys, see our dedicated appliances page.
What is the best pasta maker?
The most important question in your life right now. Well, we went with the Imperia pasta maker as our top pasta maker. Chosen mainly for how easy to is to use, the Imperia produces perfect pasta on the first use, no matter how much of a novice you are.
If you are after something that's a bit more snazzy and easy to use, go for an electric option. We've chosen the Philips 'Viva' pasta and noodle maker as the best electric pasta maker. You literally stick in the ingredients and the machine does the work for you. Fresh pasta in just 15 minutes, what's not to love?
Find out more about both below.
How to buy the best pasta maker
Manual or electric?
The first thing you want to think about is whether you want a manual or electric pasta maker. Both obviously have their plus points. If you are a traditionalist and have visions of spending the weekend making pasta, flour on your nose, surrounding by hundreds of metres of drying spaghetti, then you will want to go for a manual pasta maker. These are also the best option if you are looking for a cheap pasta maker.
Electric pasta makers on the other hand can produce fresh pasta in as little as six minutes. All you do is throw in the ingredients and the machine does the work for you. The result are just as good, so no one needs to know you didn't spend all that time slaving in the kitchen to make the perfect ravioli. Just pop a smudge of flour on your cheek before the guests arrive to allude to the above scenario.
We haven't included any in our round up of the best pasta makers because we know not everyone will have a stand mixer, but you can also get some great pasta attachments for food mixers. KitchenAid, for example, has a three piece attachment set, as does Kenwood. Check out our guide to the best food mixers for more on this.
Extra attachments?
Most of the best pasta makers, manual or electric, can churn out the basics – spaghetti, tagliatelle and sheets for either lasagne or ravioli. If you think you will need more than just those options you will need to get picky. Some of the electric options we have picked out will do shorter pasta too, like fusilli or penne and you can buy extra attachments for manual pasta makers that will expand your repertoire.
1. Imperia Pasta Machine
Best pasta maker: affordable (ish) and so easy to use, this takes our top spot
Specifications
Size: H12cm x W20.5cm x D12cm
Thicknesses: 6
Shapes: spaghetti, lasagne sheets, tagliatelle and fettuccini
Dishwasher safe?: no
Reasons to buy
+Easy to use+Simple to assemble
Reasons to avoid
-Empty List
If you are after a pasta maker that's easy to use from the get go, takes very little time to set up and is relatively affordable, the CucinaPro Imperia pasta machine is the one.
What do we like about it?
It's from an Italian brand for starters, always a good sign (generally, take an Italian make as an indicator of quality, a Chinese make as an indicator of poorer quality). It offers six pasta thicknesses and includes tagliatelle and fettuccini cutters. Plus this model is particularly easy to clean which is always a bonus; less time cleaning, more time eating.
What does it do well?
Like most pasta makers, its roller width is 15cm wide, which means it can cope proficiently with most pasta types, including lasagne sheets and ravioli.
Weight is important with pasta makers, and at 3.6kg, the CucinaPro Imperia 150 is hefty enough to be used without moving about, plus it comes with a table clamp. That said, if half a stone of pasta maker is too much for you to lift in and out of a drawer, this is something to be considered.
Let's talk attachments. Some pasta makers come with a roller only, leaving you to fashion your shapes with a knife; the Imperia's attachments allow you to create just about every pasta type you can imagine. Usefully, the pasta maker also comes with a starter guide for making dough and the perfect pasta recipes.
What to watch for
As with the majority of proper pasta makers, this one can't be washed in your sink or dishwasher – or with water. The theory is that you get your dough just right and it slides cleanly off the roller, allowing you to dust off the pasta maker with a brush and return it to the kitchen cupboard. That might take some practice and we'd recommend a just-damp cloth and a proper air-dry while you practise making pasta to perfection.
2. Philips 'Viva' pasta and noodle maker
The best electronic pasta maker: easy to use and compact
Specifications
Size: H28.7cm x W13.5cm x D35cm
Shapes: spaghetti, lasagne sheets, tagliatelle and fettuccini
Dishwasher safe?: no
Reasons to buy
+Works quickly +Very easy+Surprisingly compact
Reasons to avoid
-Empty List
You are probably thinking, 'what an earth is that contraption?' Let us introduce you to the world of electric pasta makers. If you are buying an manual pasta machine, think Italian; if you are buying an electric one, think Dutch, specifically the Philips Viva Pasta Maker.
What do we like about it?
Well, obviously fresh pasta in 15 minutes is a major plus. And the ease of use is another: basically, all you do is add the ingredients to the Philips Viva (don't worry you get a recipe book with measurements included) and the machine does the work for you. We also love how compact this electric pasta maker is. You would think it would be a pretty bulky piece of kit, but it's actually really easy to store so won't clog up space on your work top or in kitchen cupboards.
This is also very easy to clean since all the washable parts are dishwasher friendly. The trickiest parts to clean are the pasta shaping disks, but Philips has thought of this and added small metal nubs on the side of the cutting tools for you to use on the discs.
What does it do well?
Obviously, with an electric pasta maker you get to skip the the tedious mixing, kneading, waiting, and rolling out, and this pasta maker makes light work of all those steps. It's also capable of creating all the pasta types you would get from a manual pasta maker, but the Phillips model will also make penne pasta, which is much more tricky to do if you are using a traditional pasta maker (for that you would need a Garganelli board and a fair bit of skill).
What to watch for
There will be some wasted dough left in the machine each time you use it, but you can feed this through by switching to the the extrusion-only program. Also, this pasta machine doesn't automatically cut your pasta to length; that is something to you will have to do yourself with the pasta cutter than comes included.
3. John Lewis Pasta Machine
Best budget pasta maker: an affordable option that does the job
Specifications
Size: H20cm x W34cm x D25cm
Shapes: spaghetti, lasagne sheets and fettucini
Dishwasher safe?: no
Reasons to buy
+Empty List
Reasons to avoid
-Empty List
Looking for a really affordable pasta maker? This John Lewis pasta maker is only £35 and it has everything you could want from a pasta maker.
What do we like about it?
Price is a big one. It's a simple, straightforward design that still makes a variety of pastas, including spaghetti, fettuccine and sheets for ravioli or lasagne. It has eight thickness settings for kneading and rolling, and then you can feed it through the tagliatelle or fettuccine roller-blades, slicing it in long strands.
What does it do well?
It's not the heaviest of pasta makers, but that could be seen as a good thing if you aren't up for struggling to lift it out of the drawer every time you want to use it. It comes with a hefty clamp to secure it to your countertop, so despite it being lightweight it's still stable to use.
What to watch for
As you might expect with such a budget-friendly option, there are a few snags. Nothing to put you off, especially if you have gone for a cheaper option because you are going to be using it that frequently, but just be aware that after multiple uses, the cutting attachment begins to lose its sharpness, so you may find you have to just gently pull apart your tagliatelle or fettuccine once it has gone through the machine.
4. Smart Pasta Maker
Best electric pasta maker: the quickest electric pasta maker out there
Specifications
Size: H35cm x W33cm x D19cm
Capacity: 3.5ltrs
Shapes: penne, spaghetti, tagliatelle and fettucini
Dishwasher safe?: no
Reasons to buy
+Incredibly quick +Easy to use
Reasons to avoid
-Empty List
Back to electronic pasta makers. The Smart pasta maker makes fresh pasta in just six minutes. Six minutes! Need we say more? Not really, but we will anyway.
What do we like about it?
There are six shaping discs for making everything from tagliatelle and spaghetti to penne. It also has a built-in fan to dry the pasta so you won't have to wait before you cook it. It's perhaps not one for the traditionalists, but we reckon it's one of the best pasta makers available.
What does it do well?
The LED control panel is clear and easy to understand, all the buttons are clearly labelled and they even have diagrams, working in a kind of traffic light system, red being on/off and green being the final step, fan.
What to watch for
Like many electric pasta makers, this won't make sheets, so no lasagne or ravioli from this guy. Plus, the chamber is a touch on the smaller size, so if you are making pasta for more than four people at a time, you will have to add more dough as you go.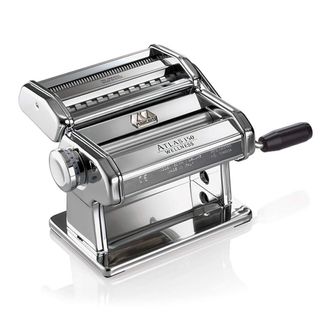 5. Marcato Atlas 150 pasta machine
Best combination pasta maker: add an electric extra to speed things up
Specifications
Size: H20.3cm x W20.3cm x D17.8 cm
Capacity: 10ltrs
Shapes: spaghetti, lasagne sheets, tagliatelle and fettucini
Dishwasher safe?: no
Reasons to buy
+Empty List
Reasons to avoid
-Empty List
Back to one for you traditionalists. The Marcato Atlas 150 pasta machine is made by an Italian company (good sign) that has been producing pasta makers for almost a century (another good sign).
What do we like about it?
It's super comfortable to use, and feels so much more expensive than it is. The handle makes cranking out your pasta smooth and easy, something you don't often get with cheaper pasta makers. With 10 thickness settings (0.6mm to 4.8mm) and the standard two cutters, it's definitely one of the best pasta makers for the price. Plus, you can buy vermicelli and ravioli cutters if you find you are becoming a bit of a pasta pro.
We also love that this pasta machine produces pasta with a slightly rough surface, perfect for absorbing sauces. It also comes in a variety of colours, which we always appreciate.
What does it do well?
All the obvious things stated above. It makes fresh pasta easily. But the Marcato Atlas 150 pasta machine also comes with an amazing 10 year warranty (most pasta makers only come with two), so you you know you are buying a pasta machine that is really going to last.
What to watch for
If you want to give your shoulder a bit of a break, you can buy an attachable motor that will feed the pasta through the machine automatically. Just something to bear in mind if you know you realistically aren't going to spend an afternoon coaxing pasta through a machine, but don't want to fork out for an electric one, this is a good compromise.
More kitchen cooking aids: