When it comes to the world of home appliances, there are a few brands than stand out for their fan following. Miele is one of them, and as with many of their products, owning a Miele vacuum cleaner is something that turns many homeowners into lifelong Miele buyers. It isn't just the gravitas of German engineering or the hard to pronounce name that sounds a bit posh that makes their vacs so coveted. Ask anyone in the home cleaning industry and they will confirm that they relish turning up at a home with a Miele vac in the cupboard.
So if you are looking to get your hands on one of the best vacuum cleaners around and have opted for a Miele, how do you choose? Available in a choice of bagged or cordless vacuums, and even a robot vacuum cleaner, there is sure to be a model to suit your needs.
With that, you'll be pleased to hear that we have conducted our very own Miele vacuum cleaner comparison to help you select the best MIele vacuum for you. Keep scrolling to see our top five which have all either been tried and tested by our appliance expert Sarah, or tested by our sister titles to be considered for inclusion in this guide.
Which is the best Miele vacuum cleaner to buy?
Why you can trust Real Homes Our expert reviewers spend hours testing and comparing products and services so you can choose the best for you. Find out more about how we test.
Choosing the best Miele vacuum will largely come down to personal preference about the type of vacuum you like to use. Unless you live in the USA, you won't get a classic corded upright from Miele, so your choices are bagged or bagless cylinder vacuum, robot or one of their range of cordless stick vacuum cleaners.
Their cylinder vacs are part of the reason they are so well known, but their later models in stick and robot form show how they have transferred their suction and cleaning power into various styles of vacuum. All of the Miele vacuums we have reviewed in person have been given a gold star rating by our testers. These are what form the list of the best Miele vacuums below.
Is Miele worth the money?
Miele vacuums are not overpriced, but definitely don't fall into the budget category either. If you can afford the initial outlay though, they are definitely worth the money as they are very much designed to stand the test of time. Miele are one of the only manufacturers to test their products to the equivalent of 20 years use. It is also easy to get hold of replacement parts should you need them, so they are not only cost efficient, but low waste too. That should be of interest to those looking at their next purchase from an ecological standpoint.
On top of their longevity and durability, their cleaning power is highly rated so you should be more than happy to commit to the longterm relationship a Miele vacuum cleaner offers. Attention to detail is not lost on us either – most Miele vacs have on-board tool storage and we are rather fond of the retractable cord on their cylinder models.
Best Miele vacuum cleaner 2021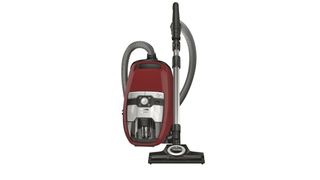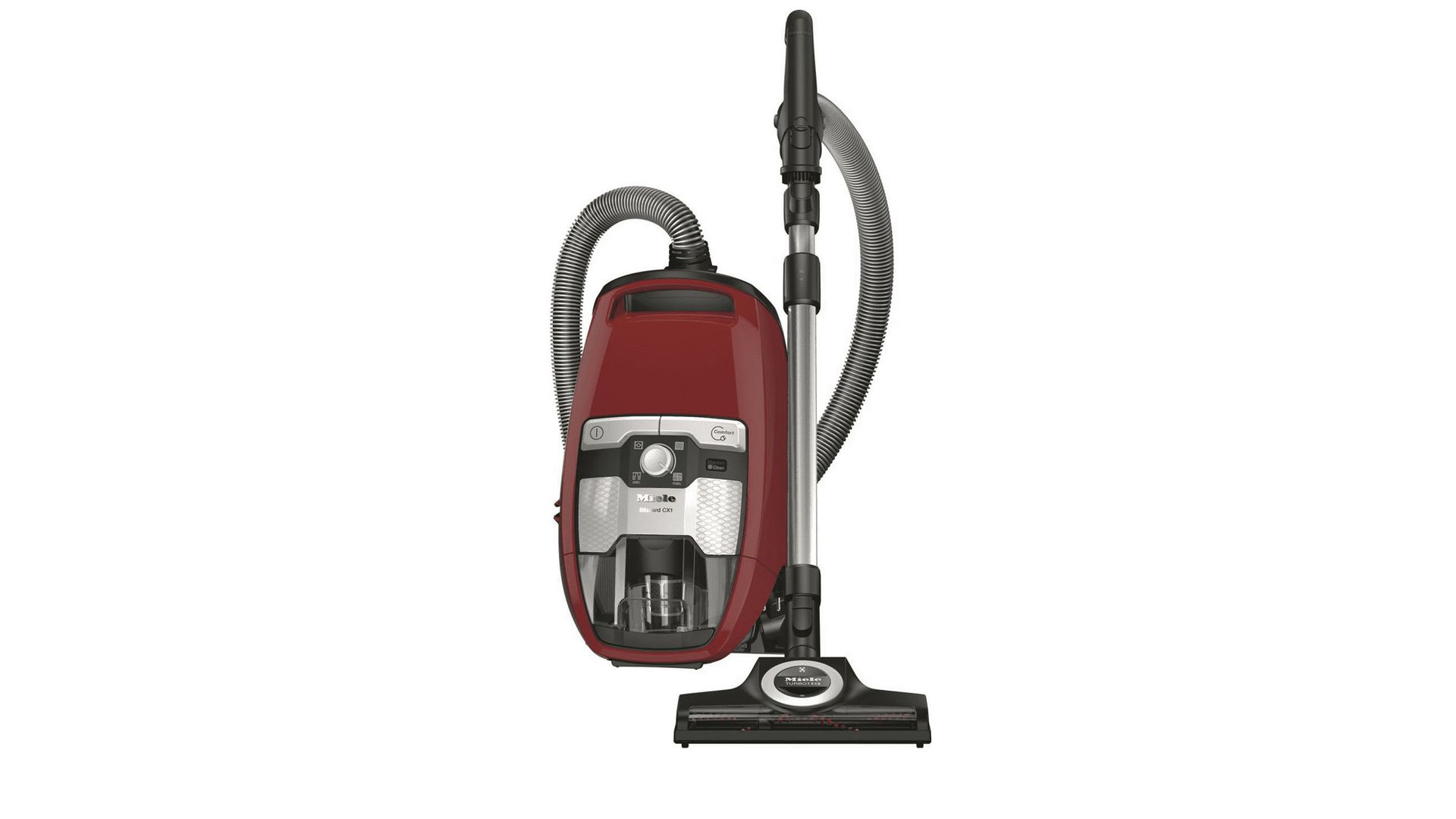 This vac shows that you don't have to join team Dyson to enjoy going bagless. Although it did not score quite as highly as the Miele Complete C3 in our vacuum cleaner review, it's our top option if you don't want to be tied to buying vacuum bags and know you want a compact vacuum.
Ease of use
As well as a great clean, this has been designed for a super easy clean, too. As with nearly all Miele vacuum cleaners the tools are stored in the body of the vac so you shouldn't lose them as you go. While it isn't the smallest of models (or the lightest), the unit is efficiently designed and won't take up too much space either.
You flip the foot control to adjust the brushes and the cable retracts at the push of a button so using the machine is quick and low-labour. It works really well on all surfaces, but like other super-suction models, you might want to turn it down to make carpet easier to clean.
Pet hair and allergies
Pet hair is no problem for the Miele Blizzard CX1 Cat&Dog. And, if you have a mucky pup you will be pleased with how it copes with dried mud, too. A lifetime HEPA AirClean filter (approved by Allergy UK) makes it a good choice for asthmatics or allergy sufferers, and while a bagless model can be a worry for these users, emptying the bin was mess-free. The model also has a self-cleaning function that can be activated when you've tackled a dust storm. The dust tank is also an impressive size for a bagless.
Manoeuvrability
Easy to move with a telescopic tube, people with back problems won't find this vacuum hard to use. However, it is on the weighty side, so if you have lots of stairs, you might prefer a lighter model – for a large bungalow though, it would be perfect.
Check out the Miele Blizzard CX1 Cat&Dog PowerLine review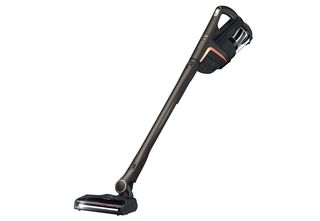 It's the first EVER cordless vacuum cleaner from Miele which has incredible suction and an epic battery life. If we were looking to buy a cordless vacuum then we certainly wouldn't hesitate to get our hands on this Miele vacuum.
Versatile cleaning
This cordless vacuum has a 3-in-1 design which will solve multiple cleaning conundrums around the home. It has three cleaning modes: compact, range and comfort, which can reach high and low to give you a result to be proud of.
It does a fab job when cleaning carpets, and our reviewer found that it worked well when tackling dust, feathers, dog (and human) hairs, too. This vac even has an automatic detection when you glide over different floor types, so it adjusts its suction accordingly.
Suction and battery life
What we like about this vacuum cleaner is that, like the Dyson, it has incredible suction power, and is achieved without sacrificing battery life. And it's this battery life, with a run-time of up to 120 minutes, which rivals the high-end vacuum cleaners on our list so we feel it is very well suited to large, busy family homes.
Tools
The Triflex HX1 Pro comes with three attachments; a crevice nozzle, dusting nozzle and upholstery brush, all with a home on the wall mounting unit, which covers all cleaning bases.
What don't we like?
Although it is not the smallest capacity on our vacuum cleaner comparison, for the run-time the 0.5L the dust cylinder is annoyingly small and needs emptying far too often. The emptying action is easy enough, though, if a little stiff so if you don't mind frequently emptying the cylinder then you'll have no other quibbles.
Read the Miele Triflex HX1 Pro cordless vacuum review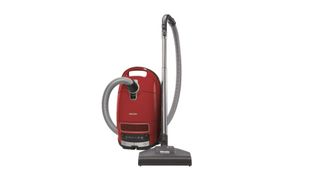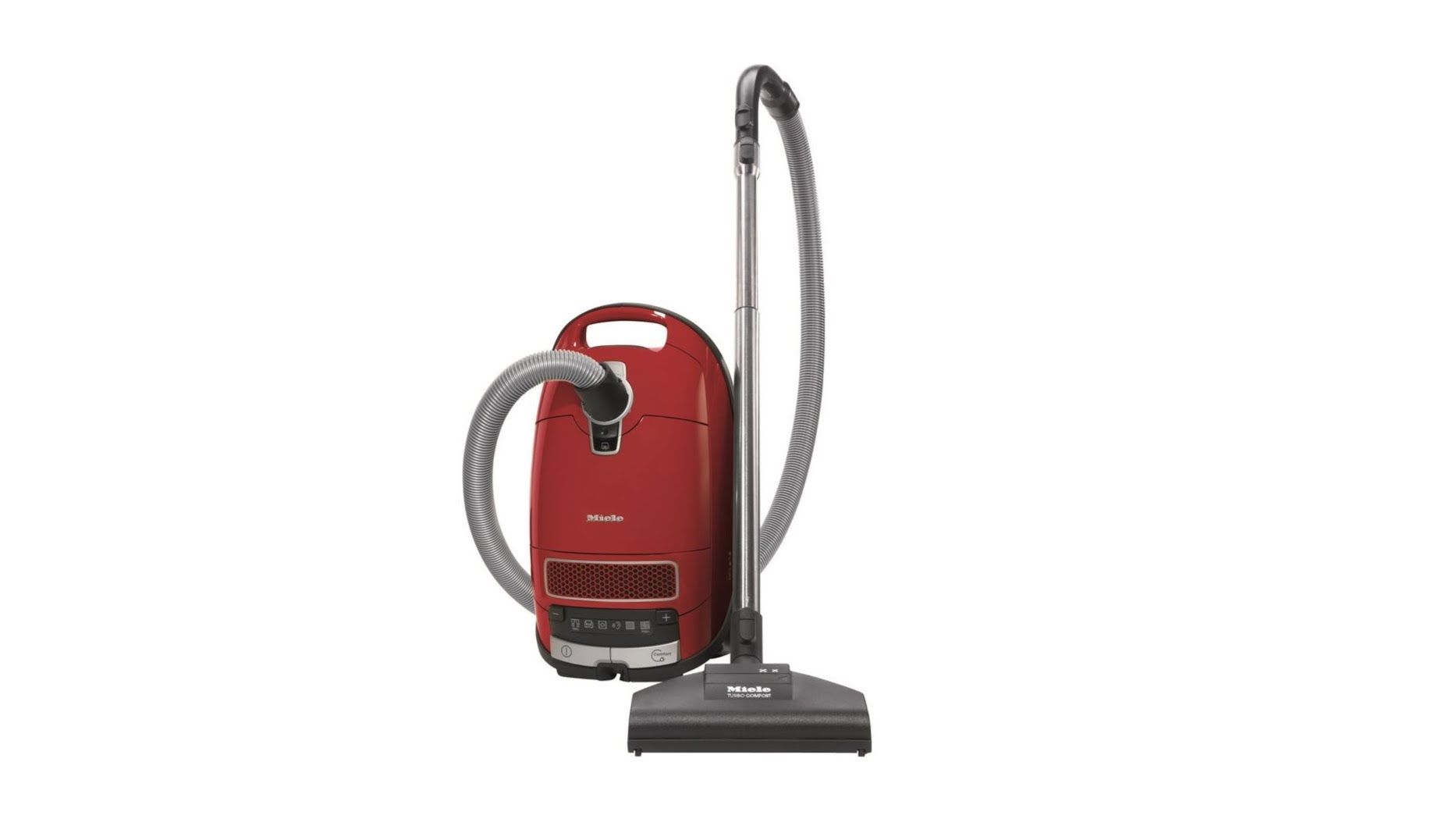 We've awarded the Complete C3 Cat & Dog PowerLine our vote for the best Miele vacuum for allergy sufferers. And it's easy to see why...
AirClean filter
The filter system means carpets and homes in general feel fresher. This is thanks to the AirClean filter system, which filters 99.9 per cent of fine dust from the air, and has a charcoal layer that helps absorb odours. The filter has a useful TimeStrip, too, which tells you when it needs to be changed.
This vac also has a special bag fleece, which retains more fine dust and small particles than a normal bag. Combined with an auto-shut mechanism that closes the bag when the vacuum is opened for emptying and prevents dust from escaping back into the air, this is a good choice for allergy sufferers and neat freaks alike.
Turbobrush
As for picking up hair and lint, the Turbobrush attachment's beater brush is really effective. Reviewers do note that it's very powerful, making vacuuming shag pile carpets and area rugs a little bit of a challenge. However, you can change the settings on the vacuum cleaner to suit the floor type with the conveniently placed foot controls.
Attachments
As you'd expect for a vacuum cleaner of this quality, there's a useful selection of attachments including a crevice nozzle, upholstery nozzle and dusting brush. They're all usefully stored inside the body of the vacuum cleaner, which is a time- and effort-saving feature we approve of.
There is a wide range of extra attachments available including a parquet floor tool which is less likely to scratch wood and an extra-large hardwood floor brush to speed up the cleaning in large homes. They are quite expensive (the most expensive brush is just shy of £100), but for a machine that is built to last, it is worth investing in the extras for the most professional job possible.
Ease of use
This vacuum cleaner has a large operating radius of 12m (the one-touch retractable power cord is 7.5m long), meaning you can clean large rooms and long hallways, without the need to constantly change plugs. The extra long hose will make vacuuming up and down stairs easier than with heftier or upright models. When you're done cleaning, a handy foot pedal lets you wind in the cable without having to bend over. The only downside? You have to change the bag when it's full, although its capacity is a decent 4.5ltrs.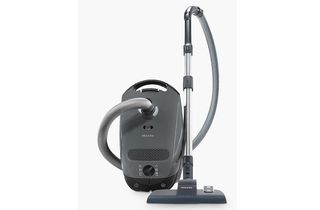 If you're in need of a lightweight, compact and bagged vacuum cleaner, then the Miele Classic C1 has your name on it – not literally, of course, but it could be in your house which is close enough!
Mega cleaning power
This vac has incredible suction power and thorough pickup ability across hard floors AND carpets. With just the press of a button, this Miele vacuum will pick up all sorts of crumbs, grains, dust and hair.
It has six power settings to choose from and a three-piece accessory kit so it's a mega versatile choice; one day you could be cleaning upholstery, and the next you could be lifting stray hairs from your textile and hard floors.
Easy to operate
Weighing in at just 5.8kg, this Miele vacuum gets our vote for the best for manoeuvrability out of the bagged vacuum cleaners in this iconic brands range. It's also compact which will not only make it easy to take up and down the stairs, but also stow away in the cupboard for when you next need it. And the cable is 5.5m long, which is plenty long enough for most large rooms.
Attachments
Complete with a host of onboard attachments such as a crevice nozzle, upholstery nozzle and dusting brush, you'll be able to clean high and low in the home with ease, too.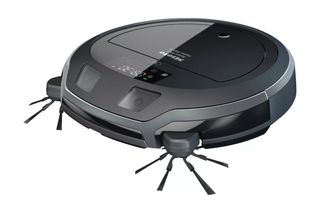 With two extra-long sweeper arms, a powerful brush bar and class leading battery life, the Miele Scout RX2 is a wonder for big houses and pets.
Cleaning prowess
It picks up dust and pet hair brilliantly and the slim design navigates easily under the furniture, and while the navigation seems incredibly haphazard, and does bump around quite a bit compared to some well known Roomba models, it gets the job done and covers an awful lot of floor space. It really shines on hard flooring, so is a great buy for people with tile, wood and laminate.
Great design
The bin is easy to empty, and we like the onboard brush that lets you give the filter a quick clean. It's a neat, stylish design we'd be happy to have on display. The side brushes sweep debris into the path of the brush bar below, so it does a good job up to walls and skirting.
Smart controls
The Miele is Alexa compatible and can be used with Android, Apple and Google operating systems, too. From here you can program different cleaning modes, timers and track cleaning progress. Connecting to the app isn't as smart or intuitive as some devices we have tested, but it does come with a good remote control that can allow you to direct the vacuum, start/stop, set basic timers and send it back to its cleaning station. If you want versatile control, this is for you.
---
What to look out for when buying a Miele vacuum
Already certain of which Miele vacuum best suits you? Perfect. Not sure yet? Miele sell three types of vacuums: cylinder, robot and cordless-stick. Vacuums with names starting with C refer to cylinders, and R for robots. Simple.
As for whether they're bagged or bagless, Blizzard models are bagless for your convenience. They have a wide range of features on their models that many look for including but not limited to:
Cat & Dog and Allergy filters
Retractable powerline
On board tool storage
Easy to buy accessories and spares
Adjustable suction
Motorised brush heads
Looking for a bargain? Browse our vacuum cleaner sale page which is regularly updated with the best deals around
Is Miele better than Dyson?
Miele and Dyson have different specialities when it comes to making vacuum cleaners. Miele have long been renowned for their corded bagged models while Dyson historically put all of their efforts into bagless technology. Still, Miele has some very good bagless models now that stack up well against the Dyson range.
In recent years, Dyson have focussed on cordless technology with loads of stick models to choose from. Their best sellers rate slightly higher than the Miele Triflex range, though this is still one of the best cordless vacuum cleaners out there.
However cordless vacuums have their drawbacks – for example you are at the mercy of the dust tank and battery. So if you need a much longer run time and no trips to the bin as you clean, we highly recommend the Miele bagged and corded models for a supreme clean. Plus, they aren't that much of a pain to plug and unplug with their long, retractable cords.
Is Miele better than Shark?
Again, Miele and Shark have focussed their product development in different areas. Shark have also been big proponents of cordless tech, but offering it at a much more affordable price bracket. Their cordless models always score well and while they don't tend to offer the battery life you get from a Dyson, you can get multiple batteries for each model which can be removed, so you can always have a couple on charge to avoid running out of juice.
The other thing Shark have focussed on is offering a flexible cleaning style. Some of their stick vacuums have a middle that you can angle to get better reach under furniture. Their LiftAway models are a hybrid between uprights and cylinders – you can use like an upright then lift the canister away for an easy to carry cylinder that is great for stairs. They also have Anti Hair Wrap technology which prevents hair from clogging the brush. This is something people with long hair and/or pets can appreciate.
However, from our tests, we have found that while Shark vacuums have great suction, Miele has an edge when it comes to dust-busting, cleaning power and offering that next level clean. You also get a more durable product from Miele, which is reflected by the price difference. In short, Shark will give you an amazing (and easy) clean for a fraction of the price, but Miele promises a very deep clean with parts built to last 20 years.
You've reach the end of the page. Jump back up to the top ^