If you're a klutz and you WFH like me, you're gonna need some sort of cable management for desks. I'm ashamed to admit that not only did my office space look like spaghetti junction once upon a time — but I've also almost tripped over it all with my hot coffee in hand... whoops!
As well as a good desk organizer, you'll want to invest in more home office organization ideas to ensure you can boss your day and be productive as poss. One easy way to do this is to make sure your laptop and phone chargers aren't wrapped up in a French braid or a knot that you can only remember how to untie thanks to your Girl Scout days.
I've got my eye on nine cable management fixtures. Some merely stop your wires from wrapping around each other, while other products work to keep cords completely out of sight. I've also tried to separate this out by purpose so that you have items that function well in, on, and under your desk, as well as some pretty cool boxed options.
9 of the best cable management fixtures
On desk cable management
Why you can trust Real Homes Our expert reviewers spend hours testing and comparing products and services so you can choose the best for you. Find out more about how we test.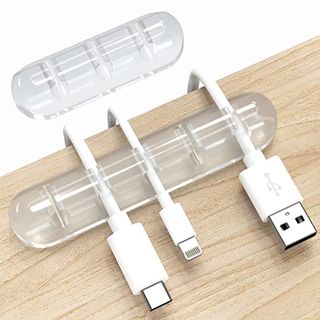 $6.55
The best cable management for your desk
Size (in): H0.51 x W3.82 x L6.89
Made from: Plastic
Everyone and their mom are obsessed with acrylic home decor on TikTok, so I can see why people love these clips. The device comes with a strong 3M adhesive pad that can adhere to any smooth and clean surface at home, which means no drilling or stressy installation. If the clear version isn't for you, there's also a cute patterned one, too.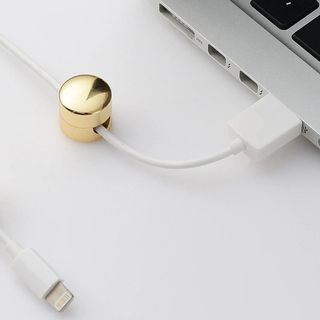 $15.58 for 2
2. Etsy Gold Cable Organizer Buttons
The best cable management clips
Size (in): 0.63 diameter, 0.63 height
Material: Coated brass
And the award for best on-desk cable management goes to... these little guys. Aren't they as cute as a button? As well as the glam gold color, they also come in glossy gunmetal, rose gold, chrome, matte brass, matte black, matte white, and matte gunmetal.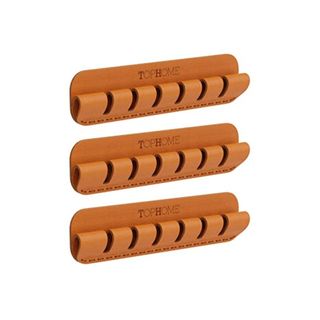 $9.99 for 3
3. Tophome Leather Cable Clips
The best luxury cable management clips
Size (in): H1.18 x W3.15 x D4.72
Material: Leather
Okay, vegans — look away now. Apparently, these are the same leather cable clips that Bobby Berk (from Queer Eye) uses in his home office. So if you want your cable management to match your handbag or sunglasses cover — this is a super-chic option. Pick from tan, coffee, and dark coffee colors.
Cable management boxes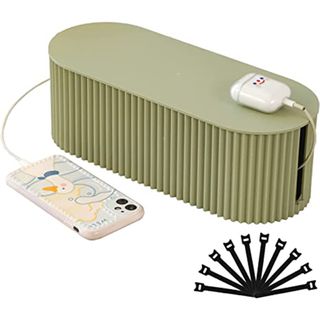 $23.99
4. Fabrok Cable Management Box
Best Amazon cable management box
Size (in): H4.37 x W5.16 x D12.99
Material: Plastic
Fluted details aren't going anywhere RN. But while we commonly see it on glasses and vases, manufacturers rarely make ribbed cable management systems that come with reusable cable ties. I also like that this Amazon find comes in colors I'm likely to see in real homes. I'll take them both in white and sage, please!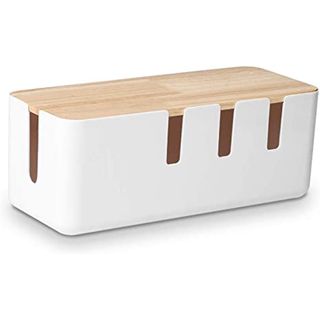 $16.19
5. Baskiss Cable Management Box with Wooden Lid
Best desktop cable management box
Size (in): W4.57 x H4.72 x L11.81
Material: Plastic/wood
Pretty stationery sitting in a desk organizer is one thing, but if you're struggling to tame your unruly wires, chances are, you're going to be unproductive. I love the look of this wood-topped box that feels a little Scandi or Japandi.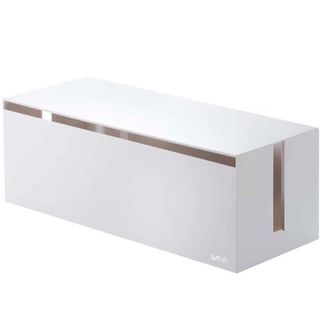 $40
6. Yamazaki Home Cable Box
The best cable management for minimalist spaces
Size (in): H5.7 x W15.7 x L6.1
Material: PC-ABS resin
This cable box isn't like those doom boxes full of weird wires that might come in handy one day. Instead, it's a chic compartment where you can keep your cords dust-free and out of sight. Got a seven-plug extension cord you want to hide? This box is big enough for it. It also has anti-slip rubber feet to keep it gripped to the floor.
Under desk cable management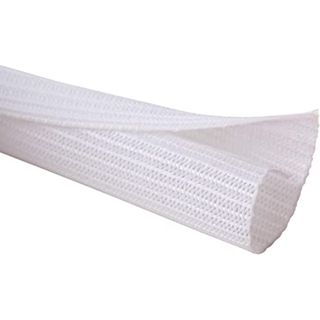 $9.99
7. Alex Tech Cable Sleeve
The best cable management sleeve
Size (in): H0.63 x W10.43 x L10.43
Material: Polyethylene
Pet parents rejoice! If your kitty or pooch likes to chew on cords, consider this idea for your expensive electrical items. For under $10, this sleeve conceals and organizes all your wires and cables. BTW, the material is heat-resistant, so don't worry about your wires getting hot.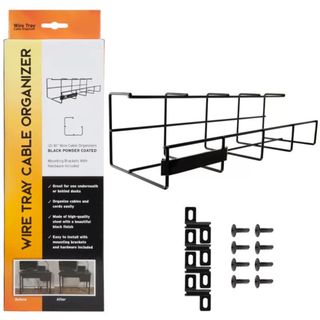 $28.99
8. Wayfair Wire Tray Desk Cable Organizer
The best cable management rack
Size (in): H4 x W16 x D5
Material: Cold-rolled steel
When I'm WFH, I like to roam around different rooms for a change of atmosphere, which means I need easy access to my laptop or phone charger. This is where this bad boy would come in handy! It's an industrial-chic design that would work in most modern home offices. I particularly like that the 32-inch accessory splits into two 16-inch raceways, making it perfect for power cables, HDMI cords, and AV wires.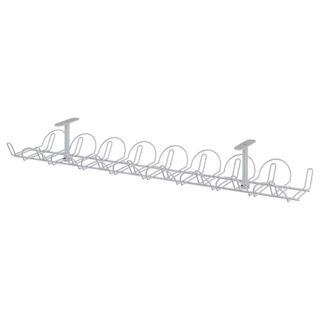 $19.99
9. IKEA SIGNUM Cable Management
Best IKEA cable management
Size (in): W6.25 x L27.5
Material: Pigmented powder-coated steel
So it turns out the Swedes know a thing or two about under-desk cable management. So say bye-bye to cable clutter and hej to overhauling your desk space with this IKEA must-have. The curved metal design means that your wires won't dangle on your sweatpants while you're smashing your work goals. FYI, you might need to drill holes into your desk.
---
FAQs
How much does cable management cost?
Hopefully, you'll see from this cable management guide that you don't need to spend big bucks on accessories. Unless you're buying a desk with built-in features, expect to pay less than $50! Our cheapest option in this round-up is under $7.
How do you manage cables in a bedroom?
You might be asking this question if your sleep space and office are one and the same. Cord covers are a great way to hide ugly attachments while keeping a clean aesthetic. Some options are suitable for painting over if you want to camouflage them using a bit of leftover emulsion.
How we chose these cable management accessories
Unfortunately, we don't have an unlimited budget to test out the best cable management accessories. So in this case, we've relied on verified reviews from retailers. We've filtered search results by the number of stars and also identified what customers like most about these specific items, identifying trends when undertaking our qualitative research.
We'll look at things like how big the accessory is and how it fits into your living space. For example, does it need to be drilled in or does it have an adhesive attachment? Plus, if it does have a sticky backing, can this be removed without causing damage to your furniture?
Where to buy cable management accessories
Generally speaking, most homeware stores that sell electrical items will stock some sort of cable management system. Here are a few outlets to get you started: