Okay, so we always knew that Next lighting was a winner. But, what we didn't know was that – if you look hard enough – you'll find some pretty impressive designer dupes for a fraction of their regular retail price. If, like us, you're going for a high end look (but don't necessarily have the budget to suit it), this will be music to your ears.
Whether you're looking to kit out your living room, bedroom, kitchen or elsewhere you're sure to find inspiration with our round up of the best Next lighting. Despite the super affordable price points, our favourite finds look way more expensive than they really are, which is why we couldn't wait to share them with you.
When you're done browsing our top picks below, find more inspiration with our living room lighting ideas. Or head, over to our lighting hub page if you're looking for guidance on planning a lighting scheme for a specific space.
1. Make the most of the feathered lamp shade trend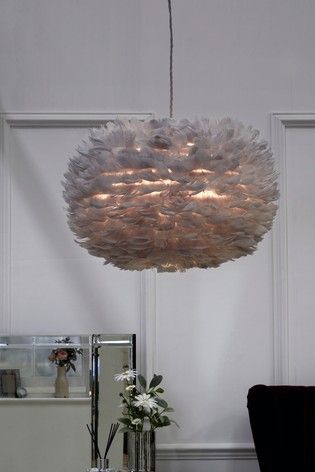 We've seen these gorgeous feathered lamp shades everywhere over the past year and a half, but often with a pretty hefty price tag attached. Either that, or the bargain friendly options we have seen have been a little cheap looking. Until now...
This Lipsy Feather Easy Fit Pendant looks just like its designer counterparts, but costs a mere £40 at Next. For a super serene, boho feel in your bedroom or living room, we don't think it gets much better than that.
2. Pick up this stunning Abigail Ahern inspired chandelier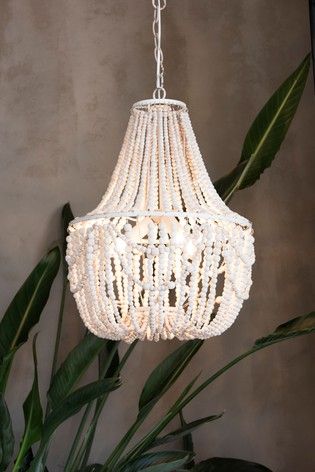 You may remember that we talked about this stunning Next lighting that reminds us of a pretty spendy Abigail Ahern chandelier, once before. And, to be honest, we're still so into it that we wanted to share it with you again.
This gorgeous Tahlia 3 Light Chandelier is just what you need to add texture to an all white, boho inspired scheme, enhance the feminine feel of a bedroom or create a striking focal point in a hallway. And we think it's a pretty impressive (and much more affordable) alternative to this stunningly beautiful Mud Beaded Chandelier, £2,255 from Abigail Ahern.
3. Embrace the trend for fringing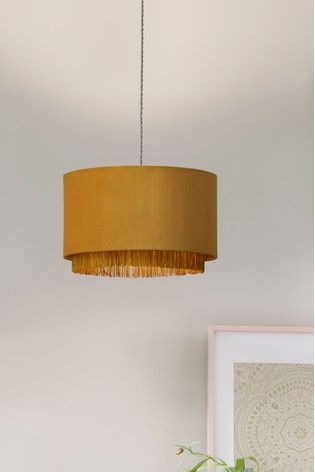 No, we're not talking about your hair. We're talking about your lamp shades. While many of us didn't imagine seeing fringed lamps coming back into fashion any time soon, it appears we've been proven wrong. And, you know what, we're actually really into them...
This super stylish Clarendon Fringed Easy Fit Shade is available in four shades – grey, navy, ochre and pink – and at just £35 is a super easy way to incorporate the trend into your home without breaking the bank. For reference, a similar style of lamp – the Marais Table Lamp from Abigail Ahern – retails at £125.
4. Channel the industrial look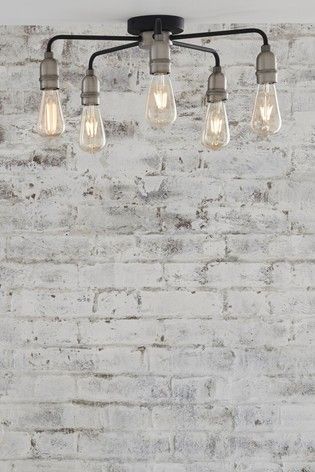 Another popular look we've seen just about everywhere are industrial style, exposed bulb light fittings and fixtures. And while you can certainly pick up some gorgeous – and super unique – pieces for a pretty penny, why would you when Next are offering similarly gorgeous industrial style lighting at a fraction of the price.
This Brooklyn 5 Light Fitting is one of our favourite examples. It looks way more expensive than it is and channels the industrial look without being too over the top. Plus, we think it would look perfect in a kitchen.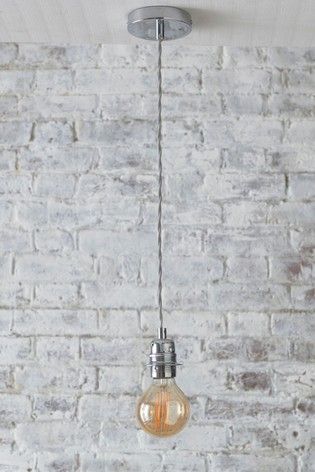 Looking for something super stripped back and simple? This Cable Kit is just £15. From there, all you need to do is add a statement filament bulb.
5. Use rattan to create a boho feel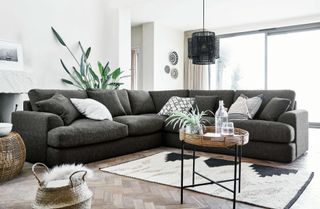 Looking to create a boho feel in your home? Rattan might just be your best friend. And for just £40, this Kai Rattan Easy Fit Shade is everything we've ever wanted (and more).
Looking for more lighting ideas?