Is your garden looking a bit lacklustre? Are you desperately trying to get it ready for the summer months we are all spending at home? Well worry not – this month's Real Homes magazine has everything you need with a fantastic bumper garden giveaway.
From stunning outdoor furniture and toys for the kids to must-have garden tools and the latest tech, you could win a package worth more than £2,300. It takes just minutes to enter but could result in a win that allows you to spend hours chilling in your beautiful garden. Enter by filling in the form below, or scroll on to see what is included in the prize bundle. Good luck!
For ideas on how to put your win to good use, check out our gardens hub for advice and inspiration.
Competition ends: 31st May.
Enter now!
Garden prize bundle
One lucky winner will EVERYTHING listed below. Yep, from tools to get your garden in shape, to stunning garden furnishings and a bumper BBQ bundle, you could win £2,300 worth of garden goodies. They are....
Win! A robot lawnmower from Flymo
Want to make mowing the lawn even easier? Get your hands on Flymo's (opens in new tab) brand new EasiLife fully automatic robotic lawnmower (opens in new tab) (worth £649.99) and you'll have even more time for relaxing outdoors. The mower can make its way around every corner of the garden without human intervention, trimming the tips of the grass to let micro clippings form mulch to feed the lawn, meaning no more emptying grass boxes or collecting cuttings.
With an easy-to-follow installation, the efficient, Lithium-Ion battery-powered EasiLife is quiet, emission free and capable of effectively mowing a lawn area up to a maximum of 200m2, negotiating itself around trees and fences. The device boasts additional features including the intuitive Assist-U interface for easy scheduling, monitoring and communication, all of which can be done from an on-board keypad and LCD display or via the smartphone app.
With LawnSense and FrostSense technology, the robotic mower also automatically adapts the cutting schedule based on the weather and lawn growth conditions.
Win! A hanging chair from Cox & Cox
What better way to sit back and enjoy a moment of calm than curled up in this on-trend hanging chair (opens in new tab) from Cox & Cox (opens in new tab) worth £375. The smooth egg design is intricately crafted from a woven, rattan-look lace fastened to a strong metal frame, and it is suitable for both indoor and outdoor use.
A stunning addition to any home, each chair comes complete with an armchair-shaped cream cushion and headrest for ultimate comfort. A stand is included for the choice to either anchor your chair, or hang it – for a gentle movement when you're nestled inside with a good read.
Win! A complete barbecue package from Weber
Enjoy cooking outdoors this summer with this barbecue package from Weber (opens in new tab) worth £437.99. The Master-Touch GBS Premium E-5775 charcoal barbecue (opens in new tab) is the ultimate 3-in-1 charcoal barbecue as it grills, roasts and smokes 'low and slow'.
Whether you're looking to sear the perfect steak (GBS Sear Grate included), enjoy a juicy roast chicken or feast on melt-in-the-mouth pulled pork, this barbecue can do it all. The new 'smoke' setting on the air vents gives you even more control of the heat to create ideal temperatures for smoking and roasting.
Plus, you'll also receive a Weber Charcoal Cleaning Kit (opens in new tab), which includes a grill brush, cleaning products, sponge, cloth and non-stick spray, to keep your new barbecue looking its best, as well as a copy of the Weber Barbecue Bible (opens in new tab), with more than 125 recipes for you to try at home.
Win! A garden tool bundle from Fiskars
Keep your garden looking its best this summer and tackle your to-do list with ease with this fantastic bundle of tools from Fiskars (opens in new tab), worth £370. This state-of-the-art package consists of a PowerGear X Telescopic Tree Pruner, PowerGear X Lopper Bypass (M) (opens in new tab), PowerGear X Hedge Shears (opens in new tab), Solid Rounded Spade (opens in new tab), Solid Fork, XL Leaf Rake and an Xact Weed Puller (opens in new tab).
The tools in the innovative PowerGear X range (opens in new tab) are designed with a unique PowerGear mechanism that triples the power of every cut, and have been carefully considered and rigorously tested to enhance the power, precision and longevity of each product while guaranteeing great results.
The revolutionary Xact Weed Puller (opens in new tab) will take care of those pesky perennial weeds that blight your lawn, its robust design taking on the toughest enemies by getting to the very root of the problem. It is also eco-friendly, as it will remove those troublesome weeds without the use of harmful pesticides.
Win! Gardening watering tools from Gardena
Spending time in the fresh air, caring for your garden and learning new skills are all positive steps you can take to keep occupied, and an excellent way to get some all-important exercise. Get your outdoor space in order this summer with a selection of useful gardening tools from Gardena (opens in new tab), worth £352.
This prize package includes a Micro-Drip-System Starter Set (opens in new tab) (an irrigation system for seven pot plants and three planters); a 35m wall-mounted hose box, a 30m textile hose Liano, which is made from a highly durable yet lightweight fabric, and a premium multisprayer with five spray patterns for watering flower beds, pot plants and delicate seedlings, as well as for powerful cleaning tasks.
Win! Fun kids' accessories from Great Little Trading Company
Give little ones their own fun outdoor space with Great Little Trading Company's (opens in new tab) range of play tents (opens in new tab), designed for children who love to make dens. Team one with the Spectrum picnic rug (opens in new tab) and the Lolly & Scoop ice cream shop (opens in new tab), and you'll have everything you need to keep kids entertained on sunny days in the garden. This fantastic package is worth more than £165.
GLTC is an award-winning British business which designs and produces high-quality toys, furniture and storage ideas for families. Its aim is to help parents create happy, comfortable homes for their children, helping them learn through fun, healthy play.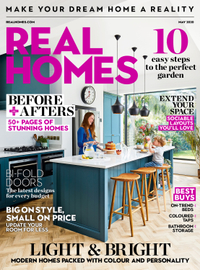 (opens in new tab)
Get Real Homes magazine delivered direct to your door or device (opens in new tab)
Can't get to the shops but don't want to miss out on the latest issue of your favourite homes magazine? Don't worry as you can subscribe in our Spring Sale and have every issue of Real Homes magazine delivered direct to either your door or your device.
From stunning completed projects to the latest decorating ideas you can try in your own space, you'll find plenty to keep you entertained and inspired inside each issue. Don't miss our special deal – subscribe to either our print or digital subscription offer today and you'll receive five issues for just £5.