In search of the best tablet for video calling? It's no surprise: lots of us haven't seen loved ones in a few weeks now. And there's only one (safe) way to solve this – video calling! New to this world? No worries: we've done our research and found three top deals on tablets, which allow you to video call your loved ones with ease. This way you can see them and speak to them without the risk of anyone getting COVID-19. A dream come true in the current climate.
From Samsung to Apple and Amazon devices, these top three models are our top picks to buy today. And, we've listed the cheapest prices of each one, below.
Head over to The Hub, our technology page for product recommendations, reviews and advice on everything from televisions to smart speakers and more.
How to buy the best tablet for video calling
When choosing the best tablet for video calling, be sure to bear these specs in mind:
Camera Megapixel: The higher, the better the picture quality.
Screen size: Speaks for itself. The larger it is, the easier it is to see your favourite people. And to navigate the touch screen.
Speakers: Opt for a tablet with high quality speakers so you can hear voices clearer and also, music! Dolby are probably the best.
Battery: A long lasting battery life is something to look out for in any piece of tech you purchase that features a battery.
1. Apple iPad Pro 11 (2018)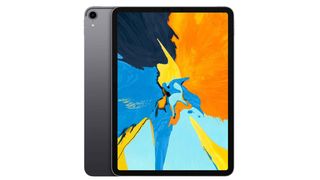 The Apple iPad Pro 11 features an 11in screen, it features face recognition technology and it has a back and front camera – the back camera is 12MP and the front 7MP. It also features four-speaker audio for the best sound quality around so you can hear whoever you're video calling even if you're in one room and the iPad is in another. The best part? 10 hours of battery life means less charging and more using. Oh, and it's on sale at Amazon!
How to video call on an iPad
To start a video call on your iPad, find the application called FaceTime. This can only be used to call others with an Apple smartphone, tablet or other device.
2. Samsung Galaxy Tab S6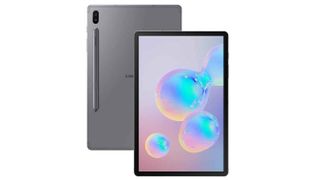 Already have a Samsung smartphone? It'd be a good idea to get a Samsung tablet too, then! The S6 is our top pick for you, for a number of reasons: it has 14 hours battery life, a 10.5 inch screen and it features three cameras – two at the back and one at the front. Megapixel-wise, the front camera is 8MP and as for the two at the back, the ultra wide one is 8MP, too, while the wide camera is 13MP. With four Dolby Atmos-enabled speakers dotted around its screen, the sound is as good or if not better than that of the iPad Pro. The only reason it didn't get our top spot is because it doesn't have a headphone jack. This means if you want a private video call for your ears only, you'll need to own wireless headphones. It's also on sale at Amazon right now!
How to video call on a Samsung Galaxy Tab
The Samsung Galaxy Tab S6 needs to be linked to your Samsung mobile to make any type of call. Find the Phone application to do so.
3. Fire HD 8
If you're after a slightly more budget-friendly option, the Amazon Fire HD 10 is it. This Amazon tablet is a quarter of the price of the other two, which means that the features aren't quite as amazing. Two cameras, each at 2MP and a 10.1 inch screen will do the job if you're not hoping to call your entire address book for hours on end. It also has a 12-hour battery life and works hands-free if you have an Alexa. Lots of reviewers have reported on the speakers being 'average', but it's all you can really expect for this price tag. They'll do the job for video calling! Clearly, this is a popular item as it's currently sold out at Amazon, but, you can also purchase it from eBay, Very and more...
How to video call on an Amazon Fire tablet
Have the Amazon Alexa App downloaded and open it. Find the communicate tab (at the bottom) and here you have the option to call, message, drop in or announce. Press call and find whoever it is in your contacts you'd like to speak to. This can only be used to call people with Echo Devices, Fire Tablets or the Alexa App.