Given that we still can't be sure when gyms and leisure centres will reopen to the public, more of us are considering investing in home gym gear as a means of keeping active. And the best multi gyms are a great option for those who prefer strength training to running, yoga, or HIIT style workouts as a way of releasing those good endorphins.
So, when we spotted the Wondercore 2 Home Multi Gym retailing for just £89.99 at Argos, we were pretty excited to let you know. After all, it's not often that you can get your hands on a five star piece of fitness equipment for under £90. And especially not a multi-gym that allows you to enjoy full body workouts from the comfort of your own home. Bargain.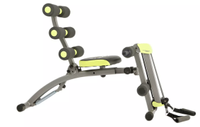 Wondercore 2 Home Multi Gym | £89.99 at Argos
Enjoy a full body workout from the comfort of your own home with the help of this super affordable multi gym available from Argos.
Perfect for full body workouts, this features an extended range of motion, dual resistance, ergonomic back design and deluxe rowing system to target your core and more. Benefit from the following workouts, as well as the ability to design your own.
Bench press.
Butterfly press.
Leg extension.
Arm curl.
Low rowing.
Triceps press.
Leg press.
Shoulder press.
Chest press.
Double pulley system
Discover everything we love about it below, then head over to our fitness hub for more workout essentials.
Looking for more workout inspiration?