After months of delays, Walmart Plus officially launched on September 15. The subscription-based shopping platform akin to Amazon Prime offers members a host of convenient and cost-effective benefits. Among them: free shipping, same-day grocery delivery, and exclusive discounts on everything from food to fuel. So should you sign up?
Here, we're laying out everything we know about Walmart+, including pricing, perks, Prime comparisons, and how to get a 15-day free trial, below.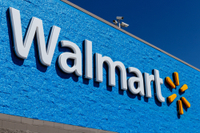 Get a 15-day free trial of Walmart+
Want to try before you buy? Walmart is currently offering a free trial of its new Walmart+ service. You'll get all of the benefits of a full membership, and half a month to decide if it's right for you before you cancel or commit.
How much does Walmart+ cost, and how do costs compare to Amazon Prime?
Walmart+ is $12.95/month or $98 a year, and the annual Amazon Prime subscription is $119. According to Walmart, the subscription covers its monthly cost in just two deliveries.
Want to check it out for free? Walmart is currently offering a 15-day free trial of Walmart+.
What do I get with a Walmart+ membership?
A Walmart+ membership includes:
Free expedited shipping
Same-day grocery delivery with reserved windows (similar to the service they currently offer, but presumably with delivery fees waived)
Exclusive sales and discounts
Discounts on fuel at Walmart's gas stations
In-store checkout on your phone
Amazon Prime, on the other hand, offers shopping and shipping perks, along with a variety of entertainment benefits.
Free shipping (which was free-two day shipping until the pandemic started)
Prime Now 2-hour delivery on certain items
Discounts at Whole Foods
Free access to TV and movies on its streaming platform
Prime reading, which includes access to Kindle books and magazines, and Audible titles
Prime music
Is Walmart+ available everywhere?
Walmart+ isn't available in every market just yet. From what we found, it seems to be accessible to addresses within a few miles of a Walmart store. You can check your Walmart+ eligibility in your area here.
What's better, Amazon Prime or Walmart +?
While the two services are similar in that they offer members free delivery and exclusive discounts, each has its own advantages.
The major advantage to Amazon Prime is that it comes with access to streaming TV, movies, and music, plus its Kindle library. It also allows members to receive exclusive discounts at Whole Foods.
The major advantages to Walmart+, on the other hand, are the access to a fuel discount through Walmart's gas stations, and the fact that the membership fee is more than $20 less than Amazon's. Perhaps the biggest benefit to Walmart+, though, is the access to same-day delivery of groceries and household items, especially as coronavirus persists. Walmart currently offers same-day grocery delivery, but charges $12.95 per month for unlimited deliveries, or $7.95 to $9.95 per order, fees that will be waived with a Walmart+ membership.
While Amazon does offer Amazon Fresh, it's not available nationwide. The fact that 90 percent of Americans live within 10 miles of a Walmart (where Walmart+ grocery deliveries will be sourced from), gives Walmart+ the leg up in the grocery department, in our opinion.
Finally, because Walmart has bricks-and-mortar stores that are so accessible to so many, there's a good chance Walmart+ members will receive in-store perks, too, as the program develops.
Read more:
Get more deals news from Real Homes