Pet owner? Fed up of finding their hair in every nook and cranny in your home? You need this miracle product that Mrs Hinch introduced us to – it dissolves pet hair from clothing, blankets, towels and more, with ease. Just add Vamoosh Pet Hair Dissolverto your washing machine drawer, chuck your clothes or bedding inside, turn up the heat and pop your feet up. No more pet hair clogging up your machine as this product actually dissolves the hair, instead of just removing it from your sheets, towels, clothes...
How does it work? Active oxygen in the ingredients of this miracle formula works to break down the keratin in the pet hair, eventually dissolving the individual strands so that they can wash away without causing blockages. Zero chemicals left behind, and no harmful substances let out into the environment. An easy way to prolong the life of your washing machine, and of your pet's lovely bedding...
Keep scrolling for more on this fantastic cleaning product – click to buy it at Amazon below.
See more on how to get rid of pet hair in our expert guide.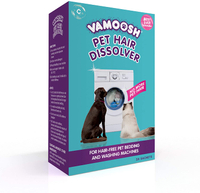 Vamoosh Pet Hair Dissolver | £8 £6.90 at Amazon for 3 sachets
This miracle cleaner is the easiest thing to use, and the results are incredible. Anyone who has ever had to scoop hair from their washing machine due to blocking will understand what a lifesaver this product is – buy it in bulk to ensure you are fully stocked.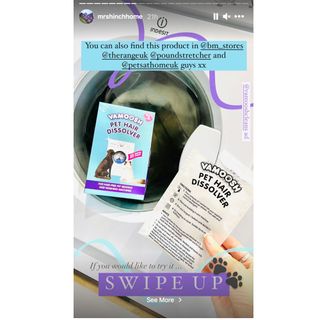 How to use Vamoosh Pet Hair Dissolver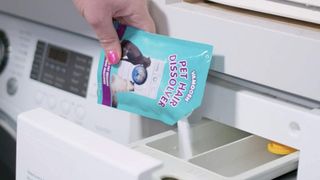 On first use, Vamoosh suggest using two packets – especially if what you are cleaning has ingrained hair, or if it is a larger load. Pop these sachets into your washing machine drawer and set your machine to its hottest and longest cycle. Once finished, you can dry as normal...
Otherwise, after the first use, you can just use one sachet of this stuff in your machine's drawer – along with your usual detergent – and select a long, hot cycle between 85-95°C. It's that simple!
How often should I clean my pet's bed?
According to the experts, your pets bed, towels, blankets, jumpers – etc – should be cleaned once every one to two weeks. This is because they can harbour a number of germs, and they will eventually start to smell – which will rub off on your pet's coat if you're not careful.