Get ready to baste the turkey and fluff the stuffing: Thanksgiving dinner will be here before you know it. If you want to buy all your Thanksgiving grocery list essentials in one fell swoop, Trader Joe's is here to help. Not only does the beloved grocery store have all the Thanksgiving dinner basics—think turkey stock and fried onions for your green bean casserole—but has also given your favorite shopping list essentials a fun, festive twist.
But, hurry! Like all of the best seasonal TJ's buys, we don't expect these limited-edition finds to be in stock for much longer. To help make the most of your next trip to the grocery store, we scoured the shelves and are sharing our favorite Trader Joe's Thanksgiving must-haves below. From starters, to sides, to desserts, these picks are downright delicious. Bon appétit!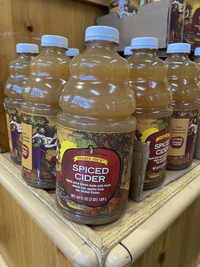 Spiced Apple Cider|Currently, $3.29
Looking for a delicious beverage the entire family can enjoy? Trader Joe's ridiculously popular Spiced Apple Cider is back and better than ever. With hints of cinnamon, allspice, and cloves, this special concoction hits a happy medium between sweet and savory. Whether you drink it chilled or pipin' hot, you'll definitely be craving seconds. (Go ahead, pick up a few jugs. No judgements over here!)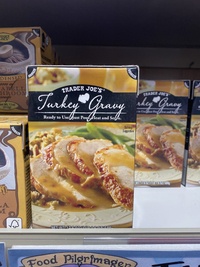 Turkey Gravy|Currently $1.49
Whether you want to make a tender slice of turkey even juicier or and some oomph to mashed potatoes, gravy is the gift that keeps on giving. Of course, Trader Joe's take on the staple is nothing to scoff at. Not only is this pick incredibly flavorful, but it's also incredibly easy to prepare. (Read: It'll come in handy when prepping multiple courses.)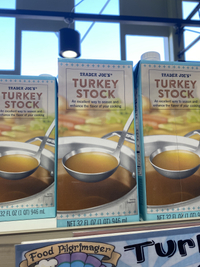 Turkey Stock|Currently $2.29
Anyone who wants to make their Thanksgiving feast from scratch will find a lot to love about Trader Joe's Turkey Stock. Though this pick is packed with flavor, it's versatile enough to be used for an array of recipes. From homemade gravy, to savory stuffing, to a stew that's bursting with leftovers, this stock will be the unsung hero of your big feast.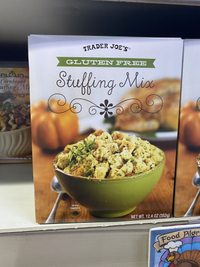 Gluten-Free Stuffing Mix|Currently $5.99
As far as we're concerned, every Thanksgiving dinner needs heaping piles of stuffing. Problem is, traditional stuffing can raise some problem if guests have food allergies or sensitivities. Fortunately, Trader Joe's has an excellent gluten-free stuffing mix that offers the taste you know and love—minus any of the harsh side effects.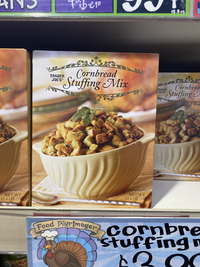 Cornbread Stuffing Mix|Currently $3.99
Or, if you have a hankering for the real deal, this cornbread option will satisfy your tastebuds. Trader Joe's paired toasted cornbread croutons with oregano, sage, garlic, and various veggies to create a winning combination.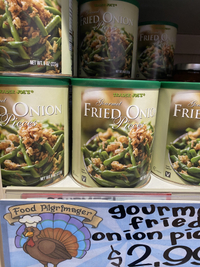 Gourmet Fried Onion Pieces|Currently $2.99
If you want to make your veggie dish feel a little fancy, consider adding some crunch. Whether you want to whip up green bean casserole or sauté some legumes, these fried onion pieces will give your sides a fun spin. (Bonus points: They'll double as a mid-cooking snack.)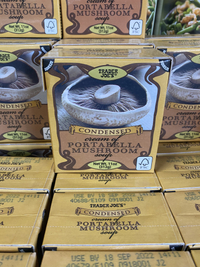 Condensed Cream of Portabella Mushroom Soup|Currently $1.99
Unless you're feeding a small army, there's a good chance you'll have lots of leftovers from your Thanksgiving dinner. Thanks to Trader Joe's umami-packed soup, you can turn remnants into a hearty stew or turkey pot pie.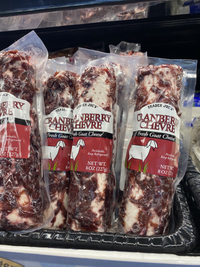 Cranberry Chevre|Currently $3.99
As far as we're concerned, no decadent dinner party is complete without an awesome cheese boards. If you want to bring some holiday cheer to your charcuterie, Trader Joe's infused some sweetened, dried cranberries into this log of chevre. Whether you eat it solo or pair with your favorite crackers and salami, this varietal will rule the cheese board.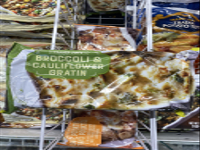 Broccoli & Cauliflower Gratin|Currently $3.99
If you want to bring that ooey, gooey flavor to your main course, grab Trader Joe's broccoli and cauliflower gratin from the freezer aisle. With the slices of mozzarella and Grana Padano-based white sauce, this option offers an indulgent take on your favorite vegetables.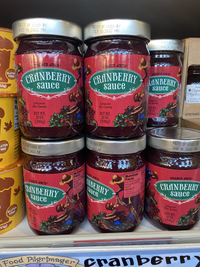 Cranberry Sauce|Currently $1.99
For most foodies, cranberry sauce is just as integral to their Thanksgiving dinner as the turkey itself. Made with the skins intact, this small-batch cranberry sauce will taste like it was homemade. But, in reality? You bought it at Trader Joe's for under $2!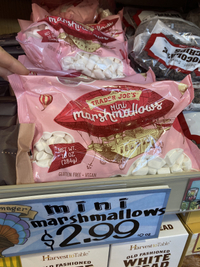 Mini Marshmallows|Currently $1.99
Added sweet potato casserole to your Thanksgiving dinner menu? Trader Joe's rolled out mini marshmallows to make this sweet side shine.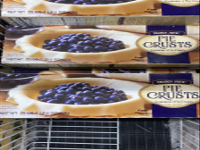 Pie Crusts|Currently $3.99
Just because the main course is a labor of love doesn't mean your desserts have to fall to the wayside. If you want to make a pie from scratch, add these crusts to your cart. Since the crusts have been prepared on your behalf, you can spend more time focusing on that delicious filling.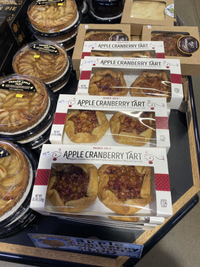 Apple Cranberry Rustic Tarts|Currently $4.99
Don't have time to whip up a homemade dessert? Don't worry: Trader Joe's Cranberry Rustic Tarts will not disappoint. Between the flaky pastry, crisp apples, to the seasonal sprinkling, this confectionary will satisfy your sweet tooth. (Pro tip: Stick them in the oven for a few minutes and serve with ice cream.)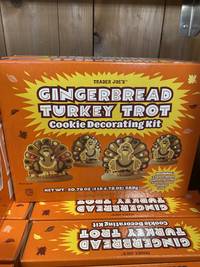 Gingerbread Turkey Trot Cookie Decorating Kit|Currently $5.99
After Thanksgiving dinner—and that epic, turkey-induced nap—it's officially time to prepare for the holiday season. And, what better way to get excited than with this cookie decorating kit? With turkey-shaped cookies and a delightful, gingerbread flavor, this kit offers the best of both celebrations.