Aldi is back again with a garden buy you can set up in your own garden, take camping, or even set up in a local park. We've tried it, we love it – and most of all, it'll keep the kids quiet.
Yep, they're now stocking a fab badminton set so you can enjoy a bit of back and forth with pals. Spending time together while socially distancing is fun when you've got a pop-up badminton net!
Keep scrolling to discover more about this garden buy and its bargain price – and have a look through other models we've found so you can see what the world of pop-up garden sport has to offer! It doesn't matter if you're a seasoned badminton player or just looking for a new outdoor activity to keep your entertained, this is a brill buy and will be an absolute hit!
So, what has this Crane Badminton Set got to offer, then? Score a perfect game with a kit including two rackets, two shuttlecocks, a pop-up net, two telescopic poles, eight soft marking plates to mark out your playing area and a handy carry case so you can pack it up and bring it with you. A portable pop-up kit... could that be any more ideal?! And all for £19.99 – what a bargain!
Can't get one online or get down to Aldi yourself? Don't miss these buys below.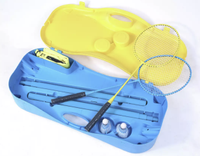 Argos badminton set, £29.99
We like this set, too – it's just like the Aldi one, and you can see from the picture (left) how neatly it stashes away into its carry case, making it perfect for portable fun...
Read more:
Garden ideas: find lots of inspiration for making your garden gorgeous
Garden design: how to plan and design a garden from scratch