Plants are the must-have house accessory. And so, if you ask us, are self watering planters. House plants have obviously been loved, admired and nurtured in homes for aeons, but they seem to have garnered a new appreciation (bordering on obsession by the plant hoarders who can claim 20 or more to a room). They are multifunctional – bringing a breath of nature inside, purifying the air and helping to increase humidity. They can also make a space instantly Instagrammable.
We don't know about you, but when we were young, our families' pre-holiday preparation rituals included rounding up all of the plants in the house and putting them in the bath, which was part-filled with cold water. Once that was full, the overspill would be put in the basin or kitchen sink, so great was our parents' fear of returning from a fortnight away to discover their precious house plants were dried husks of their formerly verdant selves.
Now there is no need for to worry about how to keep your green babies alive, or to turn the bath into something resembling Kew gardens. Self watering planters can slowly feed moisture to the plants from little reservoirs in the base or via irrigation systems. They get enough water to sustain them whether you are away or simply forgetful when it comes to maintaining them.
These are the best five self watering planters you can buy to keep your indoor oasis looking lush.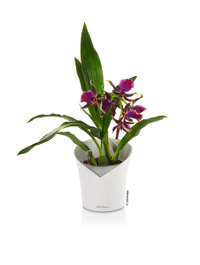 The Orchidea Planter| £16.99 from Lechuza
Perfect for preventing damage to the blooms through incorrect watering. A semi-transparent inner-pot allows light to reach the roots while the substrate gives a balanced supply of air and water. The pots come in white, slate matt or scarlet red matt.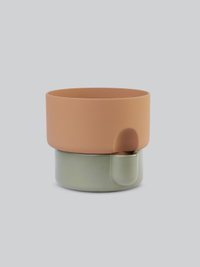 Opumo Green Oasis planter by Northern|£55 (sml), £190 (lg)
A glazed base with water reservoir interlocks with the terracotta top, which is unglazed to absorb water directly into the soil. The bases come in green, white and dark brown. The planters can take plants, shrubs, or even small trees, and are filled via an opening at the side.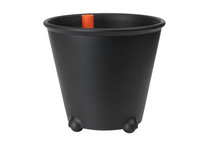 PS Fejo self-watering pot |£17 from Ikea
The large plastic pot has a self-watering insert in the base to keep the soil moist. An orange pipe through the middle can be used to top the water up. Available in black or white, the pot is on casters meaning you can move it around easily.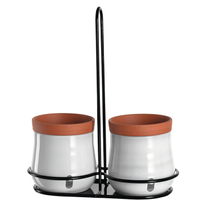 Serra three-piece self-watering plant pot set|£61.99, Wayfair
Keep herbs fresh and to hand in these glass and terracotta containers. They come in their own metal holder with looped centre, so they can stand alone or be hung from a hook or beam.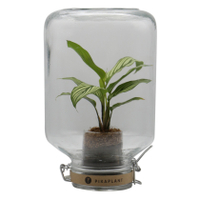 Pikaplant Jar|£59 from PAD Lifestyle
A plant you never have to water and it still stays green. It is sealed in an airtight upside down Mason jar. This keeps all of the water in the jar's ecosphere inside, and the plant continues to recycle it.
More plant reading:
Why you can trust Real Homes Our expert reviewers spend hours testing and comparing products and services so you can choose the best for you. Find out more about how we test.