These John Lewis Christmas trees will definitely put you in a festive mood (can you believe it's mid-November already?), and if you don't want a real tree this year, they really are the next best thing.
John Lewis make high-quality, realistic Christmas trees every year, with this year no exception. From ultra-believable green pines to frosted offerings, these are guaranteed to make a gorgeous Christmas centrepiece in your house.
Our tip for choosing the best artificial Christmas trees is to think whether you'll want to use the same one every year, or whether you want two or three different ones (storage permitting) for that novelty factor. If the former is the case, choose a classic, green pine. If you do want to rotate several, you can go for a more unusual tree.
1. The best John Lewis Christmas tree for realistic looks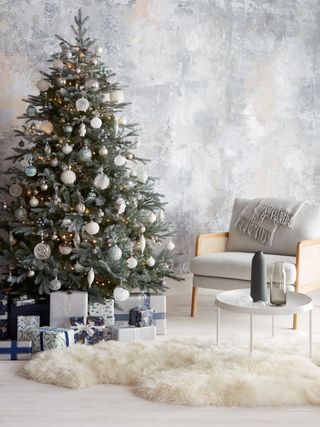 St. Petersburg Unlit Christmas Tree, Blue, 7ft | £259
A very atmospheric yet realistic looking tree, the St Petersburg has that frosted look without actually being a frosted tree – the snowy effect comes from the silvery blue colour. What we really like about this one is the irregular branches, some of which hang freely, just like a real tree's would. A beautiful centrepiece for a Scandinavian-themed Christmas living room.
2. The best pre-list John Lewis Christmas tree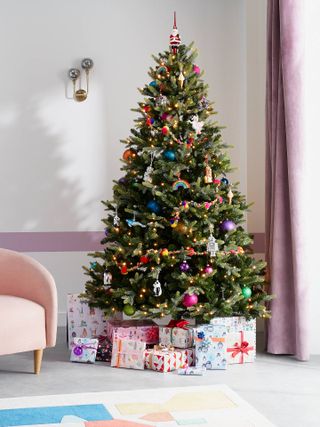 Belgravia Pre-lit Christmas Tree, 7ft | £349
The ultimate classic fir, this tree has a delightfully full shape and delicate branches that have been two-tone dyed for a more realistic effect. But what makes this tree really special is the amazingly generous LED offering: it comes pre-lit with 500 LED lights.
3. The best traditional-looking John Lewis Christmas tree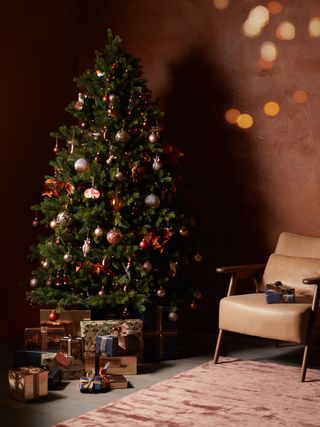 Brunswick Spruce Unlit Christmas Tree, 7ft | £229
Love the flatter, fluffier branches characteristic of spruce? This one's for you: what makes this tree different is that it's full in shape throughout, including in the upper branches, and the tips have been dyed a slightly lighter green in order to imitate new growth. This one will look great in a traditional Christmas decorating scheme.
4. The best contemporary John Lewis Christmas tree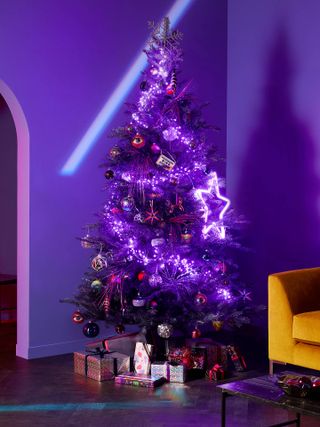 Isla Diamond Smoke Fir Unlit Christmas Tree, 7ft | £199
Feel like something a bit different this year? The Isla is John Lewis's funkiest Christmas tree offering this season, with a 'smoked' look that's achieved by dyeing the branches a deep blue (the colour is shown in the image below). Style this with bright, novelty decorations for a contemporary look.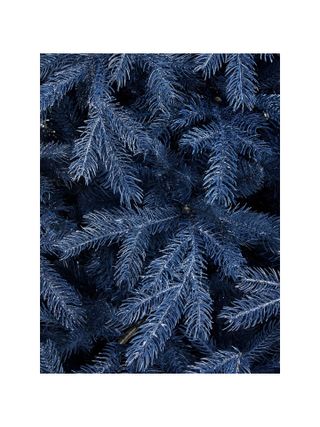 5. The best John Lewis Christmas tree for big living rooms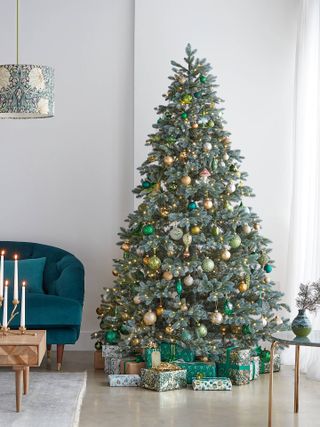 Blue Spruce Pre-lit Christmas Tree, 7ft | £499
Incredibly gorgeous, this large tree has densely packed, rounded branches that are very delicate. Two things really make this tree stand out. One is the very pretty colour – a cool, sage/eucalyptus green that looks very vibrant. The other is the fact that this tree comes pre-lit with 1000 micro LEDs. Light it up, and you'll see what you paid for. An amazing statement tree for a large living room.