It may feel like a while off until you get the Christmas decorations down from the loft – dust off the star topper, untangle the fairy lights, reminisce over the blobby salt dough ornaments – but that doesn't mean you can't get inspired now about how you are going to make your house look more festively gorgeous than ever this year.
Of course, everyone already has a way of 'doing' Christmas decorating. A real tree or a fake tree? White lights or multi-coloured? Meticulously planned or just whack it all up?
But it is nice to add to the collection every year and do something new, so we have rounded up the best Christmas trends of 2019 to get you inspired...
1. Mini Christmas trees
We saw a couple of these pop up last year and we thought they were adorable and this year they look to be an even bigger Christmas decorating trend. They are perfect if you have a small flat that just can't handle a whole tree. Or maybe you are Christmas mad and like a touch of festiveness in every room? They would look lovely on top of a chest of drawers to bring Christmas into a bedroom.
These lovely mini Christmas trees are from Bloom & Wild. They can fit through a letterbox and you get all the cute little decs with them too. You can also replant them come January so they are a more eco-friendly way to decorate, too.
2. Rustic woodland scenes
A big Christmas decoration theme at both H&M and John Lewis, the rustic, woodland. John Lewis calls it 'Garden Retreat'. The vibe is all about bringing the outdoors in. There's lots of evergreens, (fake) fur and woodland animal prints. What we love about this trend is you can start sneaking bits into your home right now as it has more of a wintery feel than full-on Christmas.
We actually rounded up all of our fave pieces from the H&M Home Christmas collection, so go and check that out for more inspiring ideas.
3. Kitschmas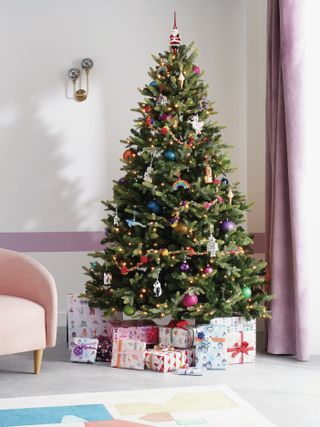 Yay kitschmas is back for 2019! And it's madder than ever. John Lewis are selling bright blue dinosaurs, Paperchase have glittery UFOs with dolphins inside and Anthropologie has got sparkling hot dogs. We ADORE this Christmas decorating trend – you can really just do whatever, really mix and match, the wackier the better.
4. Neon everything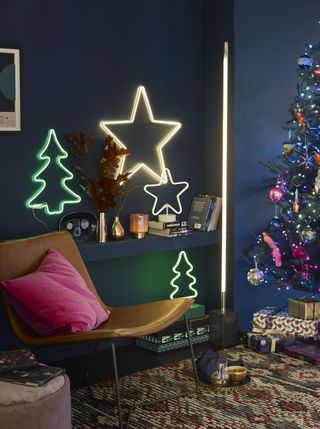 A great Christmas decorating trend to mix in with all that kitschiness is a bit of neon. We love these neon star-shaped lights from John Lewis, and they so don't have to just be for Christmas. There is, however, a very festive neon penguin light, too, if stars just aren't obviously Christmassy enough for you.
5. Fresh but festive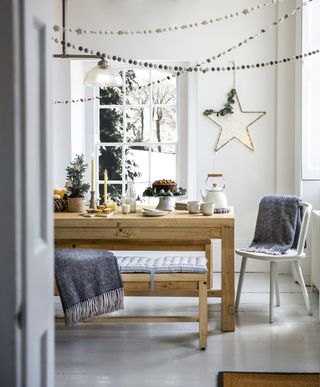 And on the other end of the spectrum, we have this Christmas trend. Fresh and white and simple, with a few bits of foliage thrown in. Garden Trading have embraced this trend for 2019 and we are loving it. They have loads of lovely decorations – a mix of metal, ceramic and felt that work perfectly together. If you prefer a more... subtle Christmas, this is the trend for you.
6. Copious amounts of paper Christmas decorations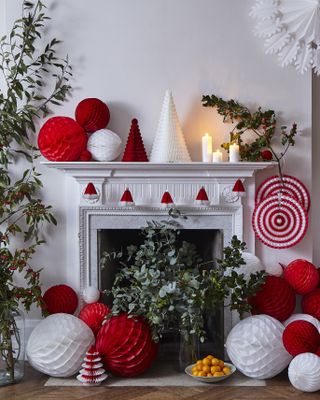 Subscribe to Real Homes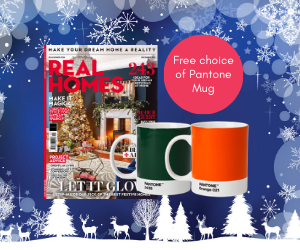 Love your daily dose of Real Homes? Then why not subscribe to our magazine? It's the perfect Christmas gift for you or a friend, and with our fantastic festive offer you can subscribe for just £7.50 for three issues and also receive a free Pantone mug. Packed with fabulous readers' homes, trend features and project advice, you'll wonder how you lived without it.
Cheap, easy to make and super effective, paper decorations are going to be our go-to this year. This lovely lot are from Paper Dreams, but you can pick them up in bulk from Amazon if you want to create a huge display.
They always look really cool bunched together up a staircase or suspended over a dining room table. Or just pile them into an unused fireplace for a bright, chaotic display. Love it.
Read more: