Summer isn't officially over, but we're already thinking about the holiday season. Though most of us have spent the bulk of 2020 inside, we have to admit time has been moving pretty quickly. Soon enough, you'll be decking the halls with menorahs, string lights, and, of course, boughs of holly.
If you want to get a head start on your holiday decorations, you're in luck. West Elm recently unveiled its holiday collection—and we can confirm it is gorgeous (not to mention much of it is on sale!) From cool ornaments to versatile wreaths, and everything in between, the West Elm holiday line is filled with decorations you'll actually want to hang up year-round.
We know you don't have all day to shop, so we're sharing some of our favorite finds below. All you need to do is add them to your cart and wait until it's socially acceptable to start hanging up holiday decorations. (Or not, no judgement here!)
We're keeping an eye on all the best home decor deals year 'round on our deals hub!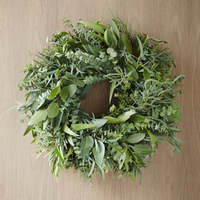 Mixed Eucalyptus Wreath|Currently $120
Want to bring the holiday cheer straight to your doorstep? Pick up a wreath. West Elm's mixed eucalyptus style is a welcomed change form the traditional pine wreath. Since it's free of a predictable red bow, it'll still look good well into the new year.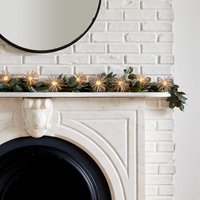 Glitter Starburst LED Garland|Was $40, now $28
Give Santa the grand entrance he deserves by lining your fireplace mantle with some string lights. Whether you pair it with leafy garland or keep these strands solo, this starburst style will rival the roaring fire below. Plus, this garland is made with LED lights, so Mother Nature will be happy, too.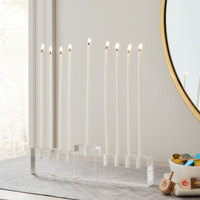 Glass Menorah|Was $60, now $42
Consider West Elm's menorah a crucial addition to your Hanukkah set up. Not only will this glass style give your eight nights of light a cool, modern edge, but it's versatile enough to look good in every home.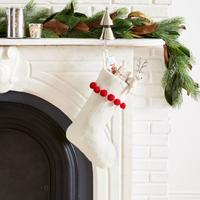 Pom Pom Felt Stocking|Was $30, now $21
When it comes to Christmas stockings, there's a fine line between cute and kitschy. Fortunately, West Elm's felt stocking offer the right amount of holiday cheer. Decked out with a sweet, pom pom trim, this option is festive but won't cramp your year-round decor.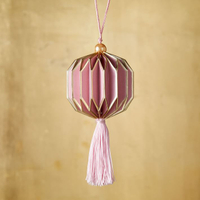 Paper Accordion Tassel Ornament|Was $6, now $4.20
For many people, decorating a Christmas tree is more than a seasonal rite of passage; it's a clever way to show off your style. If you want to shake up your Christmas setup, check out these cute tasseled ornaments. Not only are they incredibly affordable, but they're also made out of paper so you won't have to worry about them breaking in storage.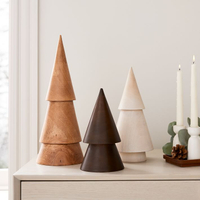 Stacked Wood Trees|Was $30-$50, now $21-$35
Small tree figurines are a great way to spruce up a bookshelf, side table, or fireplace mantle. Why buy mini, glitzy trees that will look out of place on December 26 when you could pick up West Elm's stacked wooden option. Between the sleek silhouette and neutral color palette, you can totally get away with leaving these out year-round.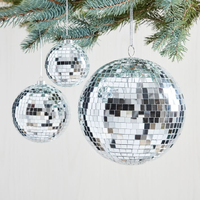 Disco ball ornaments|Was $7-25, now $4.90-$17.50
Forget classic glass ball ornaments. Add a little bling to your tree this year, instead, with these fun disco ball versions. They come in three sizes, and silver, red, and green color options.
Read more: