A vacuum cleaner which can flex? Well I never. This shark cordless vacuum cleaner with flexology can bend and stretch in any way you want it to. It will help you to reach under the baron lands of under the sofa and extend up to the top of the blinds for sweeping up anything which lays in waiting.
It's super handy if you suffer from a bad back because it will do (most) of the strenuous movements for you. And the suction is pretty impressive with anti-hair wrap technology to boot so you don't need to worry about long or short hair getting in a tangle around the brushes. What's more... it's on offer! Yep really. The Shark Anti Hair Wrap Cordless Stick Vacuum Cleaner with Flexology and TruePet (Single Battery) IZ201UKT can now be yours for just £219.99 (RRP £379.99) which is a mega saving of £160. Just think of all those extra things for the house you could buy, especially with the Black Friday and Christmas sales looming.
We're not sure how long this offer will be on for so we advise you checkout with it sooner rather than later. Keep scrolling to see the deal...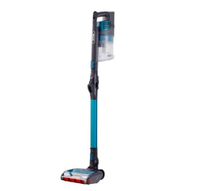 Shark Anti Hair Wrap Cordless Stick Vacuum Cleaner with Flexology and TruePet (Single Battery) IZ201UKT | £379.99 £219.99 at Shark
This stick vacuum cleaner offers tremendous value for money. It can be a handheld or an upright cleaner, which can clean a multitude of surfaces with ease. And it's got £160 off. WOW. Order today for next day delivery.
Need more convincing?
You're probably still wondering what on earth flexology means to a vacuum cleaner. Well, allow me to explain...
A bendable tube is used in their stick vacuum cleaner designs which enables you to release it from a vertical position to bend inwards, a little like a knee bending the wrong way. This allows you to easily reach sections of floor without having to lower yourself and the handle to do so. Plus store it anywhere in the home because you can bend the top of the vacuum 180 degrees to face the ground so it's reduced in size for putting away in a cupboard, or leaning against the wall closer to a power socket for charging.
It's a super useful choice of vac which is ideal stair cleaning, de-cobwebbing ceilings, removing crumbs from household and car upholstery and other soft furnishings using the handy tools included in the box which would have previously been unreachable.
Looking for alternative vacuum cleaners? No worries: head to our best vacuum cleaners guide for more top corded and cordless vacuum options.