Are you the owner of a drawer – or, worse, many drawers – of kitchen clutter? Then it's time to get some expert utensil drawer organization help. Rummaging for the right utensil when you're in the middle of preparing a meal is frustrating. Even worse, it could cause a recipe failure if time is of the essence.
Step forward then to save us from our messy ways The Home Edit's Clea Shearer and Joanna Teplin. These professional organizers, tidiers, and home stylers would never tolerate a cluttered kitchen drawer and they have the answer.
The clutter-banishing and home-organizing supremos showed a top solution on Insta that can help us all avoid last minute location failures and the danger of spearing ourselves with a kitchen knife as we rummage around. And if more solutions are what you need, get kitchen storage ideas in our dedicated feature.
What's the secret?
You don't need a brand-new kitchen to improve your storage. Just follow Clea and Joanna's lead with expandable dividers that'll fit your drawer and section your items.
This is such a simple solution that admittedly has left us kicking ourselves a bit, because how didn't we think of it first?
But, it very much is a representation of The Home Edit way.
A small edit? Check. Categorized? Check. Contained? Check.
And, in addition to these fundamentals, it's also pretty visually appealing – I mean, how much do you want to pick up that peeler right now?
Anyhow, the point is that this simple utensil drawer organization hack doesn't even need labels because you can see everything there, so clearly. To recreate the look and the magic, keep scrolling and sort out your kitchen drawers, no matter how many you have or how messy they are, with one of these brilliant dividers. They are all available on Amazon so can be delivered soon.
Best expandable kitchen drawer organizers
Utensil drawer organizers US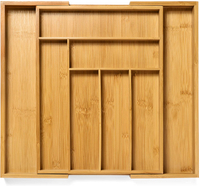 Bamboo Adjustable Silverware Drawer Organizer | $18.97 on Amazon
Made from 100% bamboo, with slip resistant feet, this expanding organizer is perfect for maximizing space in any drawer. It expands from 17–19in, is 13in wide and 2in deep, so perfect for all your silverware and kitchen tools.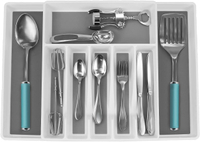 Sorbus Flatware Drawer Organizer | $19.99 on Amazon
This expandable organizer features 8 sections, including two longer ends for tongs or spatulas. It is made from durable plastic and is easy to wipe clean so would be great for use in garages, bathrooms and even desks.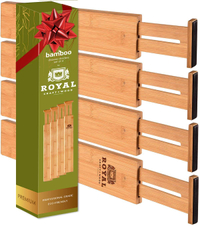 Adjustable Bamboo Drawer Dividers | $29.97 on Amazon
These are designed to fit drawers sizes from 17 to 22 inches and are perfect for making the exact compartments you need.
---
Utensil drawer organisers UK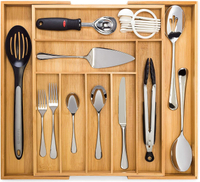 Dynamic Gear Bamboo Expandable Drawer Organizer | £16.99 on Amazon
This bamboo design will fit most standard-sized drawers. It can offer from seven to nine compartments to divide your utensils tidily, and can be cleaned with a damp cloth.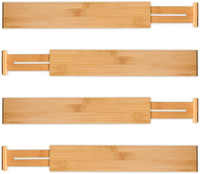 Utoplike 4pcs Bamboo Drawer Dividers | £19.99 on Amazon
If you just need to divide up the space from the front to the back of the drawer rather than adding compartments, these should tickle your fancy. They expand from 31.1 to 43.8cm in length to make handy sections.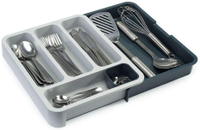 Joseph Joseph Drawer Store | £14.69 on Amazon
Pick this clever design to organize smaller items as well as big utensils in the expandable area. The two halves adjust to fit a variety of drawer sizes from 29 to 48cm and lock securely together once in place.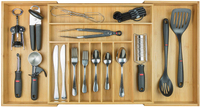 KitchenEdge Cutlery Tray and Utensil Organiser | £43.95 on Amazon
Go big with this design. It expands from 45.7 to a maximum 83.8cm wide. There are 11 compartments with nine fixed and two adjustable. It has anti-slip pads so it won't move around in the drawer.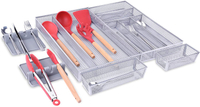 WuGe Mesh Cutlery Drawer Organiser | £23.99 on Amazon
Get super organized with this smart number. As well as the expandable tray with seven compartments, you'll get two separate compartments. There are two spoon rest designs, too.