Can you guess where the fastest-growing US cities are? And what does fastest-growing mean, anyway? Well, as it turns out, measuring how well a city is doing and whether it's growing or declining is quite a precise science.
Visit our property hub for financial advice on buying property, stunning dream homes, and more
A recent analysis by WalletHub used 17 different metrics to identify America's fastest-developing places, and they range from job growth to population growth and the influx of college-educated residents. Interestingly, the winners seem to mostly be located in the West or down South. The Census Bureau reports that 13 of the 15 cities with the largest population gains between 2010 and 2019 are in those regions – could it be time to rethink where you'll be moving next? Apart from everything else, many of the places on the list are in stunning locations, so are worth a thought just for that reason alone. Here are our top five picks.
1. Fort Myers, Florida: fastest-growing overall
Gorgeous in every way imaginable, For Meyers has it all: a good mix of people of all ages, restaurants, and great public schools, making it our top choice for families. It's buzzing with shops, restaurants, and bars, and is never boring. And, of course, there is the drop-dead gorgeous beach. What's not to like? The typical property here costs a very affordable $229,157.
2. Enterprise, Nevada: highest population growth
Everyone is moving to Nevada! Often named as the nicest place to live in Nevada, Enterprise is experiencing a population boom, with many new apartments and restaurants going up, expanding this already dense suburban area. There's a park and a handy shopping center, and the place is popular with families. The average property price is $353,000.
3. Midland, Texas: highest GDP growth per capita
Midland is an oil town first and foremost, and its industry is booming. If you're looking for a good job with a chance of promotion and making a decent living fairly quickly, it's definitely worth a look. It neither too big nor too small, with a relaxed feel and plenty of opportunities for bowling and a casual meal out over a weekend. The median house prices stands at a very decent $334,990.
4. San Mateo, California: highest household income increase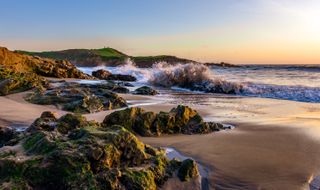 San Mateo is a good place to be if you want to be earning more: household income in this Californian city has increased by 10.61 per cent – now we're talking. It's also an amazing place for families in other ways – there are parks and recreation area to explore with the kids, and a generally family-friendly vibe. Lying just 20 miles south-west of San Francisco, San Mateo is a college town, too, with the College of San Mateo teaching 10,000 students. Property prices aren't cheap here, $1,420,431 for a typical home, but that's Silicon Valley for you. Oh, and we almost forget the beach – isn't it stunning?
5. Frisco, Texas: highest job growth
Frequently voted one of the best places to live in America, Frisco has it all: a prosperous suburban feel, but, at the same time, plenty to do – there are two museums and a a Sci-Tech Discovery Center. The downtown is very pretty and tree-lined, and the average property price is $421,127. Oh, and it's very close to Dallas – even more to do and more jobs to choose from.
Read more: