We may be stuck at home, but that doesn't mean festivities have to stop! Easter is just around the corner (this Sunday, to be precise), and this is the perfect time to show your family some love with the best Easter basket delivery services. You can get lovely deluxe baskets full of edible goodies, stuffed animals and sweet treats sent right to your (or your loved one's) door, which is great for kids and grown-ups alike!
Everyone could use a bit of celebration right now, so sending an Easter basket is a great way to make someone's weekend and top up their snack collection. What's more, if you can't give them a big hug right now, at least they can cuddle up with an adorable stuffed toy.
We've picked our top favorite Easter baskets for children, budget, family and luxury options, so all you have to do is pick the one that's right for you.
The best Easter basket delivery options for kids
The Easter Candy Basket from FromYouFlowers is the perfect treat for kids stuck at home, as a reward for good behavior (or to buy Mom and Dad some peace and quiet). Including an assortment of candy, a blush Bunny toy, keepsake basket and card message, this option is also reduced right now, just in time for festivities to begin.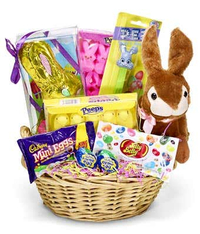 Easter Candy Basket | Was $64.99, now $55.24 at FromYouFlowers.com
Save $9.75 - This kid-friendly basket comes with a classic assortment of Easter candy and a plush bunny. You can even add on some seasonable balloons for extra joy.
Best Easter basket delivery options for the family
If you want to send something suitable for the whole family, a cookie Easter basket is a great option. Oreos are a great crowd-pleaser, as a naughty treat for grown-ups or a reward for kids, so we love this box of Belgian chocolate coated Oreos from 1-800 Flowers. Each one is decorated with adorable festive features and they come in a brightly colored, reusable tin.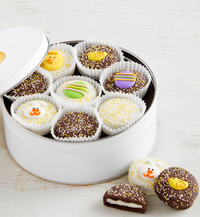 Happy Easter Belgian Chocolate Covered Oreo Tin | $44.99 at 1-800 Flowers
Oreos are a proven crown-pleaser, but with a tin of Easter-themed Oreos coated in luxurious Belgian chocolate, you're onto a winner. The tin comes with 16 festively decorated options and an adorable reusable tin.
Best budget Easter basket
There's an Easter gift basket for every budget, and we've found a brilliant option for under $25. At 1-800 Flowers, you can grab a half pound chocolate egg concealing a seasonal surprise. Cracking open the egg reveals four milk chocolate chicks from artisan chocolatier, Art CoCo.
Best luxury Easter basket delivery
What says 'Easter' more than chocolate? Lots of chocolate, that's what. The Ultimate Chocolate Tower from Harry and David is the ultimate Easter indulgence for the whole family: five boxes stacked high with chocolate goodies. That includes milk chocolate-covered cherries, signature chocolate truffles, Moose Munch Premium Popcorn, a chocolate decadence cake, and loads more.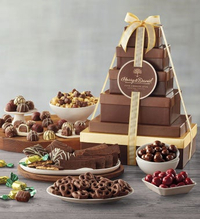 Ultimate Chocolate Tower | $139.99 at Harry and David
The list of contents for this decadent chocolate tower is 14-points long. The total weight of chocolate is 6 lb 7 oz. Does it deserve the title of 'Ultimate Chocolate Tower'? We think so.