Everyone's favorite store is home to a $7 mirror that's transforming shoppers' (and TikTokers') apartments. Yup, Target has a mirror for under $10 that can make your space feel huge. Put one in your bedroom, on the back of the door, or in your entryway and watch your home double in size. It's one of the oldest design tricks out there for making any cramped space feel bigger — no hidden tech or special features needed.
This amazing mirror may look pretty plain, but you really can't go wrong with a simple black or white frame, especially if you're wanting to try the viral #mirror wall hack or if you just desperately need some kind of reflective surface in your rental. Here's the $7 Target mirror everyone's talking about and the hack that's transforming shoppers' homes.
That $7 Target mirror TikTok hack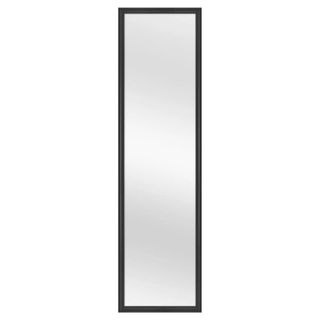 $7
Room Essentials Framed Door Mirror
Dimensions: 13.5" x 49.5"
Color: Black or white
This is the viral $7 Target mirror that's cheap but chic enough to put on your wall as it is. If you buy a few, you can create your very own mirror wall, which will do wonders for maximizing space. Less DIY savvy? Just stick it up with adhesive strips (that's a hack I can get on board with).
How to create a mirror wall
Feeling this TikTok trend? There are a few ways you can go about hanging mirrors on your wall. Determining the best option comes down to what you feel comfortable doing (are you an avid DIYer or prefer leaving things to the experts?) and what your landlord or contract says is okay.
You'll also want to double-check the type of mirror you have and if it already has hardware built in. If it's heavy, a more sturdy hanging method is needed. For lightweight mirrors (like the one above), you can often get away with using adhesive strips.
To follow the hack closely, you'll need to purchase Command strips (or similar). Carefully lay the mirrors facedown on the floor and measure the distance between each hook, then mark this up on the wall. Use a ruler and level to pencil them in before you stick anything on. Then apply the backs to the wall. Once they've set, press your mirrors firmly onto each and hold. Give them time to properly settle and attach to the backings.
If your mirror requires stronger hardware, we have all the tips you need on how to hang a mirror.
Time to get some supplies. After picking out your preferred mirror hanging method, shop the following buys for making it happen. Your TikTok-approved mirror wall is just within reach.