Ring the alarm! Phone a friend! Alert everyone you know — we have an announcement to make! Target's new holiday collection just dropped — we repeat, Target's new holiday collection is available to shop online, and the verdict? It's good.
So good, that if you're sitting at home wondering whether the holidays were canceled? Target is reminding you to: "Think again," because they're not only not cancelled, they may be better than ever. And, to celebrate such a momentous event, the fan-favorite retailer is pulling out all the stops!
Their newest holiday collection includes over 6,000 items. Yes, you read that correctly: 6,000! With everything from Christmas lights to trendy table runners and plenty of the best Christmas decorations we've seen this season, there is certainly something for everyone to add Into their carts. But if that wasn't eye-catching enough?
There's also a slew of different styles and colors that will seamlessly transition in-and-out of every room and aesthetic in your home — and tons, of giftable options, too! Talk about the holiday release to end all other releases!
However, if you're feeling a bit overwhelmed with so many choices? We completely understand we're here to help. To ensure everyone a streamlined shopping process, we've gone ahead and narrowed it down!
Here are the top seven must-haves from Target's new holiday collection for you — and anyone else on your shopping list!
1. This vacation-inspired ornament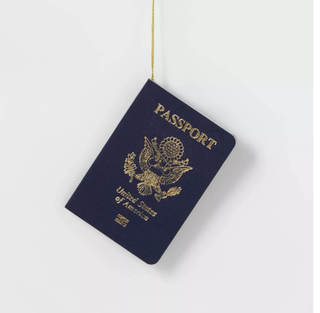 Are you (and) or a loved one dreaming of jet setting off on an exotic vacation? Aren't we all — and this holiday season, the likelihood of us taking one? Slim-to-none, but the one thing we can do? Check our passports off our vacation to-do list for when it comes time to travel – or at least, pretend, too! This passport ornament will not only give everyone hope for a more relaxed future but undoubtedly put a smile on their face, as well!
Shop the Wondershop Passport Christmas Tree Ornament, Navy for $6, at Target
2. This tree topper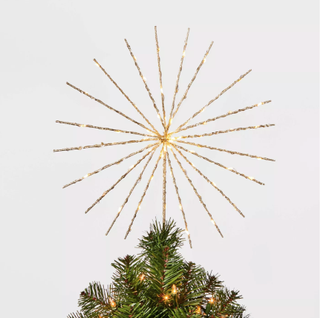 Top your tree off in the most perfect of way, courtesy of this 14inch starburst tree topper. Designed with 70 lights, this twinkling spiked star will bring an extra burst of shine to every tree and any room.
Shop the Wondershop 14in 70Lit Twinkling Starburst Spikes Tree Topper for $35, at Target
3. This all-in-one ornament kit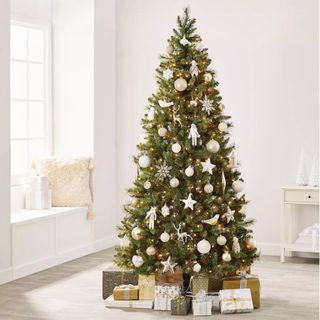 Need something that's high on style but is short on time? This 85-piece ornament set is the one-stop-shop for decorating this holiday season. This collection features a range of items, designs, styles, and colors while boosting elegance and charm. Plus, the only thing better than that? Just how dreamy the faux pinecones and nutcrackers and sparkly snowflakes (to name a few) look together when paired next to each other.
Shop the Wondershop 85pc Winter Whites Christmas Ornament Kit for $100, at Target
4. This gorgeous garland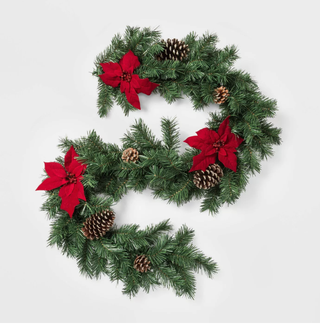 Garland is an absolute staple within any home but finding the 'right' garland? Not for the faint of heart. With tons of options on the market, we're bound to get overwhelmed – or we were until we found this 6ft version. It received a near-perfect rating amongst reviewers, with almost every single one of them calling it "the perfect Christmas garland," and why is that. Aside from the very affordable price, most others loved how "perfect the size" was and how "high quality" the green pine and glittery pine cones were. Plus, we can't help but also mention our favorite detailing: the three red poinsettias!
Shop the Wondershop 6ft Christmas Red Poinsettia & Ornaments Artificial Pine Garland for $30, at Target
5. This gifting kit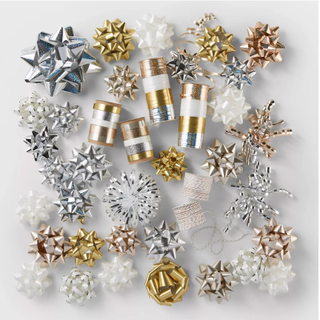 This season keep your gift-giving game on point with this 39-piece set! Here, shoppers will find everything they need to top off any perfectly wrapped gift — from bows to ribbon and twine, plus everything in-between, you'll never be shorthanded again. And, the only thing more favorable than that? The gold, white, and silver color theme!
Shop the Wondershop Gold/White/Silver Bow & Ribbon Kit for $35, at Target
6. This customizable stocking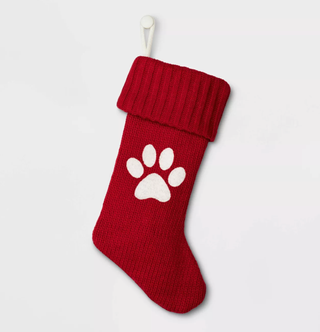 Not sure if you'll have any last-minute guests attending Christmas this year? Stay a step ahead by purchasing this customizable stocking! This red stocking will not only add your personal touch — thanks to a customizable white monogram initial — but at just $15? It's the last-minute add-on that won't break the bank. Oh, and if you don't have any last-minute guests joining you this season? It will create the cutest, most cohesive look above any fireplace mantel for you and your entire family — and even offers an option for your pets, too!
Shop the Wondershop Knit Monogram Christmas Stocking Red for $15, at Target
7. This trendy table runner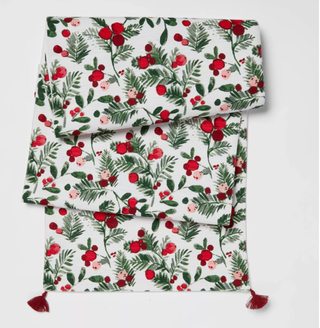 Want to be the hostess with the mostest? Turn to this 72" x 14" inch cotton table runner that's sure to be a crowd-pleaser! The sweet berry print is paired to perfection with traditional Christmas colors, and the 100% cotton fabric is both durable and protective towards the inevitable spills.
Shop the Threshold 72" x 14" Cotton Holly Berries Table Runner Green for $15, at Target
Want more? Here are additional suggestions from Target's new holiday collection: